DeSean Jackson's Arrival Is the Latest Embarrassing Stain for a Once-Proud Raiders Franchise
Article Highlights:
The Las Vegas Raiders embarrassed themselves by signing controversial receiver DeSean Jackson
The 34-year-old has a history of offensive comments
Jackson's arrival is a stain on the diverse and groundbreaking organization Al Davis built
The Las Vegas Raiders have always been known as a diverse and trendsetting organization. Longtime owner Al Davis, a white Jewish man from New York, championed civil rights and hired people of all backgrounds who he believed would best help the organization.
However, new Raiders receiver DeSean Jackson, who has a history of offensive comments and poor decision-making, is the antithesis of everything Davis wanted his franchise to become.
New Raiders receiver DeSean Jackson's most noteworthy accomplishment of late is sharing his ignorance with the world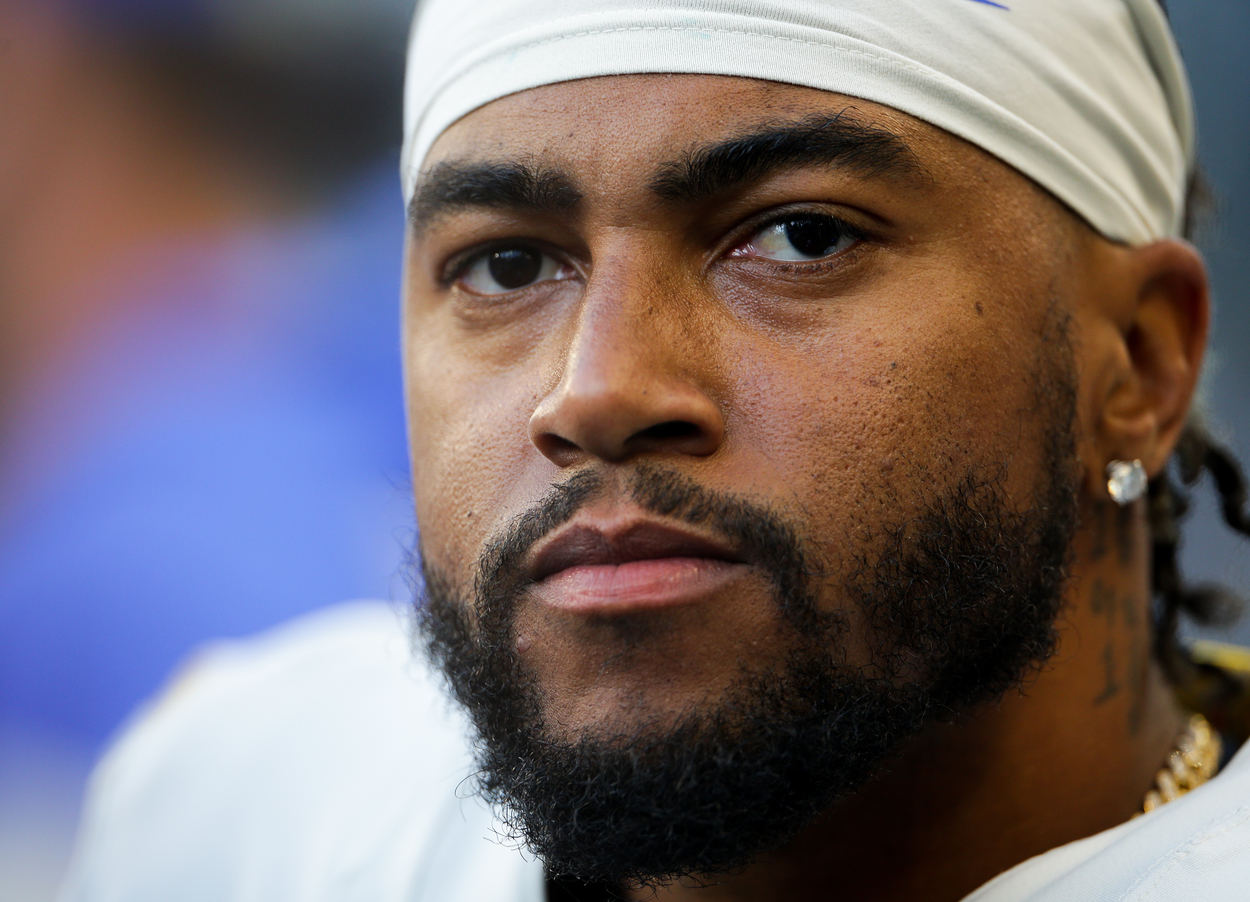 When it became clear Jackson had no future with the Los Angeles Rams, the veteran receiver requested a trade and, subsequently, his release. The 34-year-old posted on Instagram on Sunday, Nov. 7, that he'd continue his career with the Raiders.
Because he only had eight catches for 221 yards and a touchdown in seven games, you'd be forgiven for not knowing Jackson still played in the league. When most people last heard from the three-time Pro Bowler, it was after he proudly shared his ignorance with the world.
In July 2020, Jackson shared anti-Semitic quotes from Nation of Islam leader Louis Farrakhan in a series of Instagram posts. The veteran receiver initially posted a screenshot of a quote widely and incorrectly attributed to Adolf Hitler.
Jackson also shared a video of a Farrakhan speech in which the latter accused Dr. Anthony Fauci and Microsoft founder Bill Gates of using a virus vaccine to "depopulate the Earth."
After receiving critical feedback on social media, Jackson apologized on Instagram and said he "never intended to put down any race or religion." Considering he quoted Hitler and said Jewish people intend to "extort America" and have plans for world domination, it's hard to understand what he actually intended.
Jackson later accepted an offer from a Holocaust survivor to visit the site of a concentration camp. He also agreed to visit the United States Holocaust Memorial Museum in Washington, D.C., with then-New England Patriots receiver Julian Edelman, who is Jewish.
Jackson also planned to take Edelman, who is white, to the National Museum of African American History and Culture.
Jackson's arrival is a stain on everything Al Davis built
People make mistakes, especially in the era of social media. There have been enough instances of people finding celebrities' old and offensive tweets from when they were in high school and lacked maturity.
It'd be inaccurate to say Jackson made a mistake when he, as a 33-year-old, shared a fake Adolf Hitler quote and furthered stereotypes about Jewish people to an Instagram audience of over 1.4 million people. That's not a mistake. That's a choice.
Say whatever you want about Davis' personnel moves, especially later in his life when he infamously pushed for LSU quarterback JaMarcus Russell over Georgia Tech receiver Calvin Johnson in 2007. But no one can take away his dedication to creating the best possible lives for Raiders players and employees.
According to FootballScoop, Davis — then the Raiders' head coach — pulled his team out of a 1963 preseason game in Mobile, Ala., and moved the exhibition to Oakland because of Alabama's segregation laws. He later implemented a policy that the Raiders wouldn't play games in cities that enforced segregated hotels.
Davis hired the first Black head coach in modern history (Art Shell) and the second Latino head coach (Tom Flores). He also named Amy Trask, who worked for the Raiders from 1987-2013, as the NFL's first female front-office executive in 1997.
Davis didn't care about skin color, religion, creed, or anything else. He wanted people who would win games and foster the best possible environment regardless of where they came from. Call it simple, but it worked.
The Raiders' decision to sign Jackson, who publicly chose to quote Adolf Hitler, is an embarrassment to everything he built.
Jackson's arrival looks even worse after Henry Ruggs III and Damon Arnette's legal issues
Considering the Raiders' organizational history, this would have been a move worth criticizing in a vacuum had the team signed Jackson in free agency. Things only look worse now given the organization's recent problems.
Former head coach Jon Gruden stepped down in October after The Washington Post and The New York Times published offensive emails he sent while working at ESPN from 2011-18. Second-year receiver Henry Ruggs III currently faces up to 46 years in prison after a serious car crash left him badly injured and killed a 23-year-old woman and her dog. He faces charges of DUI resulting in death and reckless driving.
The Raiders also waived cornerback Damon Arnette on Monday, Nov. 8, after a video surfaced of him brandishing several guns and threatening to kill someone. Raiders general manager Mike Mayock admitted, per The Washington Post, he "spent an awful lot of time" studying Arnette's character before the 2020 NFL Draft, during which the organization selected him in the first round.
If Mayock has really learned something, he'll cut ties with Jackson and apologize for even adding him. Some players deserve second opportunities after making a mistake. There is no room in the NFL for someone who posted such horrific hate speech — not in 2020 when he made the comments, not in 2021, and not ever.