DeSean Jackson Declares Patrick Mahomes and Tyreek Hill's Explosive Connection Is a Blast From the Past For Andy Reid's Offense
Los Angeles Rams wideout DeSean Jackson played under Andy Reid for five years on the Philadelphia Eagles. He caught passes from Michael Vick in four of those seasons. Jackson notices some similarities in the connection between Kansas City Chiefs teammates Patrick Mahomes and Tyreek Hill.
Patrick Mahomes and Tyreek Hill are a dangerous QB/WR combo
Under Andy Reid and offensive coordinator Eric Bieniemy, the Kansas City Chiefs built the NFL's most explosive offense. The unit is led by an explosive connection between quarterback Patrick Mahomes and wide receiver Tyreek Hill.
The Chiefs drafted Hill in the fifth round of the 2016 NFL Draft. They selected Mahomes with the No. 10 overall pick in 2017. Hill already had a year under his belt in KC. He recorded 61 receptions for 593 yards and six touchdowns as a rookie.
The West Alabama product was primarily catching passes from Alex Smith. Based on the draft capital used to take Mahomes, the front office expected him to be its quarterback of the future.
The former Texas Tech standout took over as the full-time starter in 2018. He had the opportunity to sit for a year and learn the offense. Hill didn't think much of Mahomes when he first saw him in Chiefs training camp. "I thought he was trash," said Hill on Inside the NFL.
It's safe to assume his opinion quickly changed. The tandem has been lethal since Mahomes took over the starting job. In 44 games with the signal-caller, Hill has caught 239 passes for 3,666 yards and 38 touchdowns.
DeSean Jackson compared Mahomes and Hill to his connection with Michael Vick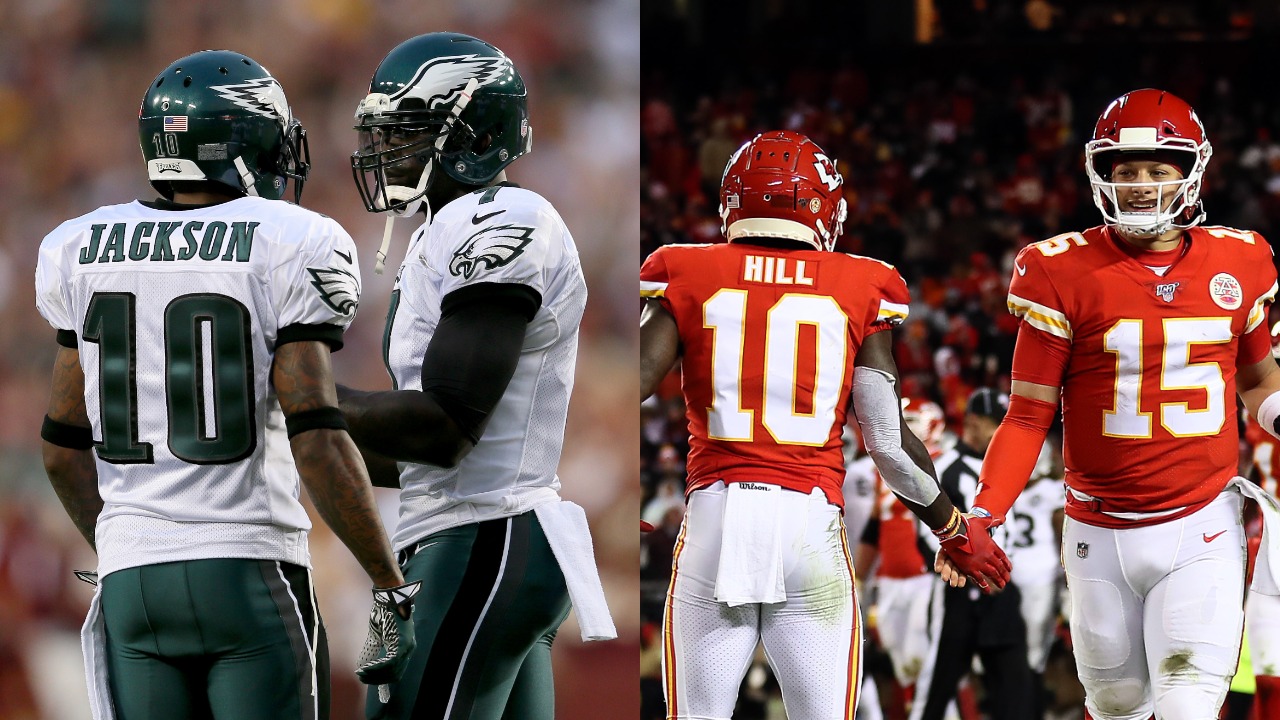 Patrick Mahomes and Tyreek Hill aren't the first duo that Andy Reid has enjoyed the pleasure of calling plays for. Michael Vick and DeSean Jackson played together for four seasons in Philadelphia while Reid was the head coach.
Jackson featured rapper Lil Wayne on an episode of his podcast called Fade the Booth. They discussed the greatness of Mahomes and Hill as a tandem.
"You know Andy Reid was my coach. It's a lot of similarities," said Jackson. "He always calls me like 'You and Tyreek, it's something about y'all."
He continued to say that the Chiefs duo plays like he and Michael Vick did during their time together with the Eagles. While it's not a perfect comparison, there are some similarities between the two tandems.
Patrick Mahomes is a better all-around quarterback than Michael Vick was, but the latter was just as electric because of his tantalizing ability as a runner.
Hill has world-class speed and threatens to take it to the house whenever he has the ball in his hands. Jackson, who ran a 4.35 40-yard-dash, was also a big-play threat. Jackson caught 212 passes for 3,873 yards and 21 touchdowns in four seasons with Vick under Andy Reid.
Andy Reid finds ways to utilize talent to his advantage
Andy Reid is one of the brightest offensive minds in football. He's been coaching in the NFL since 1992 when he got his start with the Green Bay Packers as their tight ends and assistant offensive line coach.
Reid got promoted to Green Bay's quarterbacks coach in 1997 and got his first head coaching gig with the Philadelphia Eagles in 1999. He spent 14 seasons with the franchise, and it was there that he built up his reputation as an offensive mastermind.
He learned the West Coast offensive scheme, which features receivers running short to intermediate routes. The system is very efficient, and Reid has found success with it while maximizing the talent of his players.
During his tenure in Philadelphia, the 63-year-old coached several playmakers, including DeSean Jackson, Michael Vick, Terrell Owens, Brian Westbrook, and Donovan McNabb.
Reid has enjoyed a similar luxury in Kansas City. Patrick Mahomes, Tyreek Hill, and Travis Kelce form an electric Big Three. He's also put lesser-known players in position to succeed, including Demarcus Robinson and Byron Pringle.
Reid's track record speaks for itself. Players have benefited from his offensive scheme for years.
Stats courtesy of Pro Football Reference
RELATED: Von Miller Argues That Patrick Mahomes Is Missing His Secret Weapon in the Kansas City Chiefs Offense