Deshaun Watson to the Eagles Is a Greater Possibility Than Philly Fans May Like to Admit
While he's facing 22 civil lawsuits from women alleging sexual assault and misconduct, the odds of Deshaun Watson suiting up for a professional football game again seem rather slim. The NFL has yet to suspend Watson or put him on the Commissioner's Exempt List as the legal processes continue to play out. However, when considering how NFL Commissioner Roger Goodell has handled instances of sexual assault accusations in the past, one can only assume that Watson will end up missing at least part of the 2021 season — and potentially longer.
With that said, such allegations have reportedly not swayed rival teams around the NFL from checking in on Watson's availability. Quarterback talent is at a premium in today's pass-heavy era, and Watson is coming off a year in which he threw for a career-high 4,823 yards. It's also worth noting that Watson himself requested an official trade out of Houston before the sexual assault allegations came to light.
Multiple teams have been connected to Watson over the course of the offseason, but the Philadelphia Eagles continue to be name-dropped the most. Philly is in quarterback limbo at the moment following the impromptu departure of Carson Wentz a few months back, and general manager Howie Roseman isn't known as someone willing to sit around and not look to improve the position.
Of all the teams in the NFL, the Philadelphia Eagles have been linked to Deshaun Watson the most this offseason
With CBS Sports' Chris Trapasso becoming the latest media member to mention the Eagles in the same sentence as Watson, a sinking reality has started to set in around Philadelphia.
There's a genuine possibility that Watson gets traded to the Eagles.
If it were up to what seems like a majority of the fans, they would've stopped exploring a Watson trade when the allegations were made public. However, Roseman is in charge, and he has a long-established identity of aggressively looking to improve the QB position year after year. He's even gone as far as to label the Eagles a "quarterback factory" in the past.
Howie Roseman is one of the few general managers in the NFL who would make this trade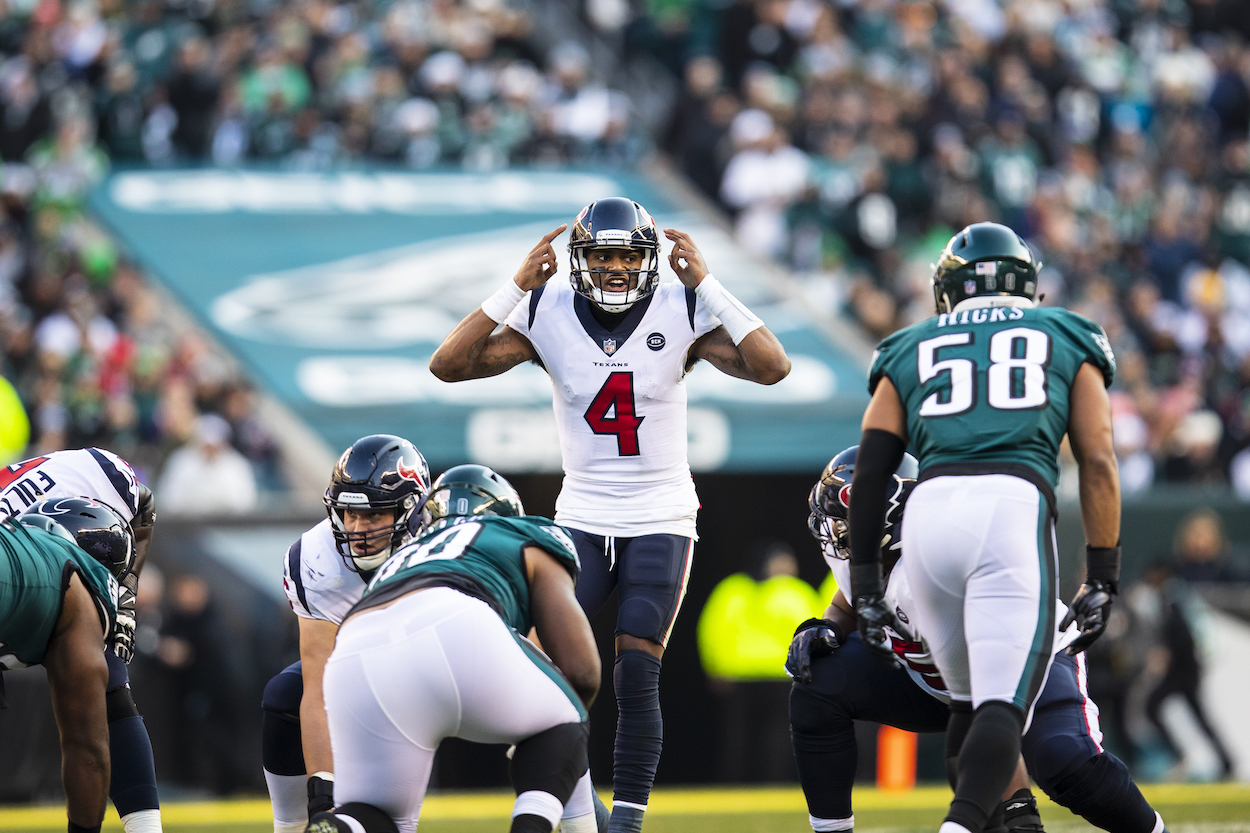 The Eagles are also in the perfect position to pull off a blockbuster trade. They have two first-round picks during next year's draft along with a conditional first-rounder from the Indianapolis Colts, and they have quarterback Jalen Hurts under team control, as well.
Hurts is a Houston native and likely flashed just enough potential during his four starts last season to intrigue the Texans.
The Eagles also recently cleared up $14 million in cap space by restructuring two contracts. They can now afford Watson and his $10.5 million base salary.
The Houston Texans should be jumping at the oppurtunity to trade Deshaun Watson
Conflicting reports emerged following Trapasso's initial tweet. But where there's smoke, there's fire, and there's been smoke surrounding the Eagles' interest in Watson all summer long. One can only assume that Philly is at least talking with Houston regularly about the quarterback's availability.
Due to the legal questions that surround Watson, the Texans should be jumping at the opportunity to deal him away. There's no telling if Watson will even be allowed to play professional football again. Getting value out of him while it's possible to do so would be ideal for a rebuilding Houston franchise.
The Eagles would be taking a huge risk and upsetting a passionate fan base. That's likely not worth the gamble in the grand scheme of things, but Roseman has never been one to stick to the norm.
All stats courtesy of Pro Football Reference.
How to get help: In the U.S., call the RAINN National Sexual Assault Telephone Hotline at 1-800-656-4673 to connect with a trained staff member from a sexual assault service provider in your area.