Deshaun Watson Ended the Houston Texans' Streak of Mediocre and Horrible Starting Quarterbacks
Deshaun Watson has become one of the best quarterbacks in the NFL for the Houston Texans. He has helped the Texans have a lot of success too, leading them to the playoffs each of the last two seasons. The Texans haven't always had a lot of luck with quarterbacks, though. In fact, Watson ended the Texans' streak of mediocre and horrible starting quarterbacks.
Deshaun Watson has become a star with the Houston Texans
After a really special college career at Clemson, Watson went to the Houston Texans with the No. 12 overall pick in the 2017 NFL draft.
During his rookie season, Watson got off to an extremely hot start. In six starts and seven games, Watson threw for 1,699 yards, 19 touchdowns, and eight interceptions. However, he tore his ACL in practice in November 2017 and missed the remainder of the season.
Watson came back in 2018, though, and had an excellent season. He threw for 4,165 yards, 26 touchdowns, and nine interceptions, in addition to running for 551 yards and five touchdowns. His play ultimately earned him a Pro Bowl selection, and the Texans won the AFC South.
In 2019, Watson continued to play really well. He earned another Pro Bowl selection as he threw for 3,852 yards, 26 touchdowns, and 12 interceptions. He also ran for 413 yards and seven touchdowns. The Texans then won the AFC South again and won a playoff game.
He agreed to a new contract extension
According to ESPN, the Texans and Watson recently agreed to a four-year, $160 million contract extension.
In total, his deal will have nearly $111 million in guarantees.
"As a child growing up in Georgia, it was always my dream to play in the NFL," Watson said on Twitter, per ESPN. "Today, I couldn't be more honored and humbled to sign a long-term deal in Houston, the city that I've grown to love so much and now call my home."
He continued by saying, "I promise to do everything I can to not only bring a championship to this great city but also leave a legacy of helping positively impact this community."
Deshaun Watson ended the Texans' streak of mediocre and awful starting quarterbacks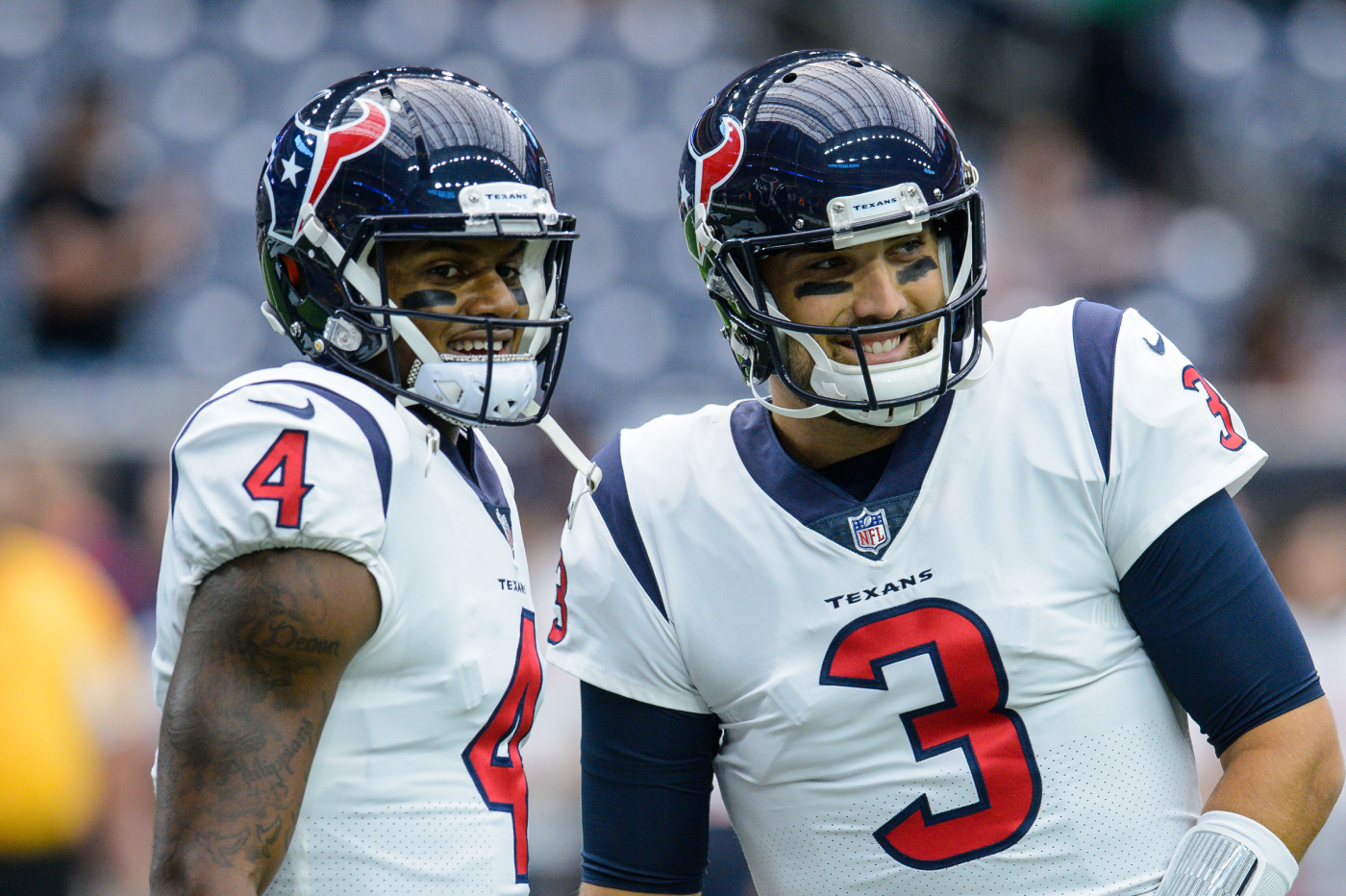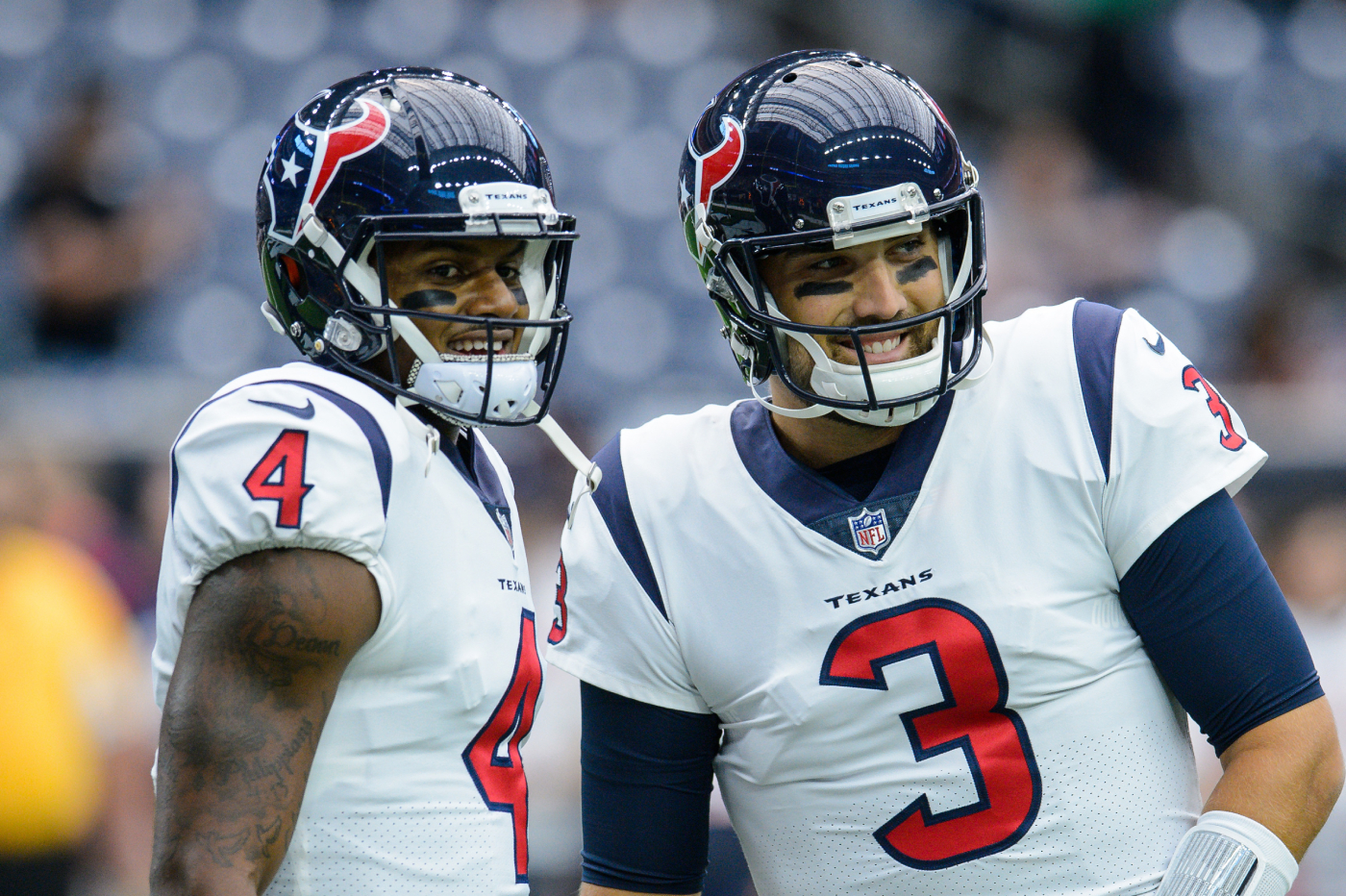 The Texans have just been an NFL team since the 2002 season, and they have not had many good quarterbacks in that time. 
From 2002 through 2006, David Carr was the Texans' primary starter. Combined in those seasons, Carr threw for 13,391 yards, 59 touchdowns, and 65 interceptions. He only threw for 3,000 yards or more once in those seasons, and the most touchdown passes he threw in a season were 16 in 2004.
Matt Schaub was then the primary starter for the Texans from 2007 until the 2013 season (only starting in eight games in 2013). Schaub was much better than Carr as he threw for 23,221 yards, 124 touchdowns, and 78 interceptions in those seasons. He also threw for 4,000 yards or more three times, including the 2009 season, where he led the NFL in passing yards with 4,770. However, he barely won more games than he lost with the Texans as his record was 46-42 as a starter in those seasons.
Schaub then really struggled in 2013, throwing 10 touchdowns and 14 interceptions. He has only started in three games since that season.
Case Keenum also started in eight games in the 2013 season and just threw for 1,760 yards, nine touchdowns, and six interceptions. He also went 0-8 in those starts.
The Texans ultimately had several starting quarterbacks from 2014 through 2017, and they were all mediocre at best (not including Watson). 
Here's what their stats were.
2014 season: Ryan Fitzpatrick (12 starts, 2,483 yards on the season, 17 touchdowns, eight interceptions); Keenum (two starts, 435 yards, two touchdowns, two interceptions); Ryan Mallett (two starts, 400 yards, two touchdowns, two interceptions)
2015 season: Bryan Hoyer (nine starts, 2,606 yards, 19 touchdowns, seven interceptions); Mallett (four starts, 770 yards, three touchdowns, four interceptions); T.J. Yates, (two starts, 370 yards, three touchdowns, one interception); Brandon Weeden (one start, 305 yards, three touchdowns, no interceptions)
2016 season: Brock Osweiler (14 starts, 2,957 yards, 15 touchdowns, 16 interceptions); Tom Savage (two starts, 461 yards, no touchdowns, no interceptions)
2017 season: Watson (six starts, 1,699 yards, 19 touchdowns, eight interceptions); Savage (seven starts, 1,412 yards, five touchdowns, six interceptions); Yates (three starts, 523 yards, four touchdowns, three interceptions)
None of these guys were ultimately consistent enough to lead the Texans to much success. Other than two good seasons with Schaub where they went 10-6 and 12-4, the Texans had a 9-7 record or worse every season until Watson became the main starter in 2018.
The Texans have a mediocre history of quarterbacks. Their future now, though, should be much different.
Stats courtesy of Pro Football Reference