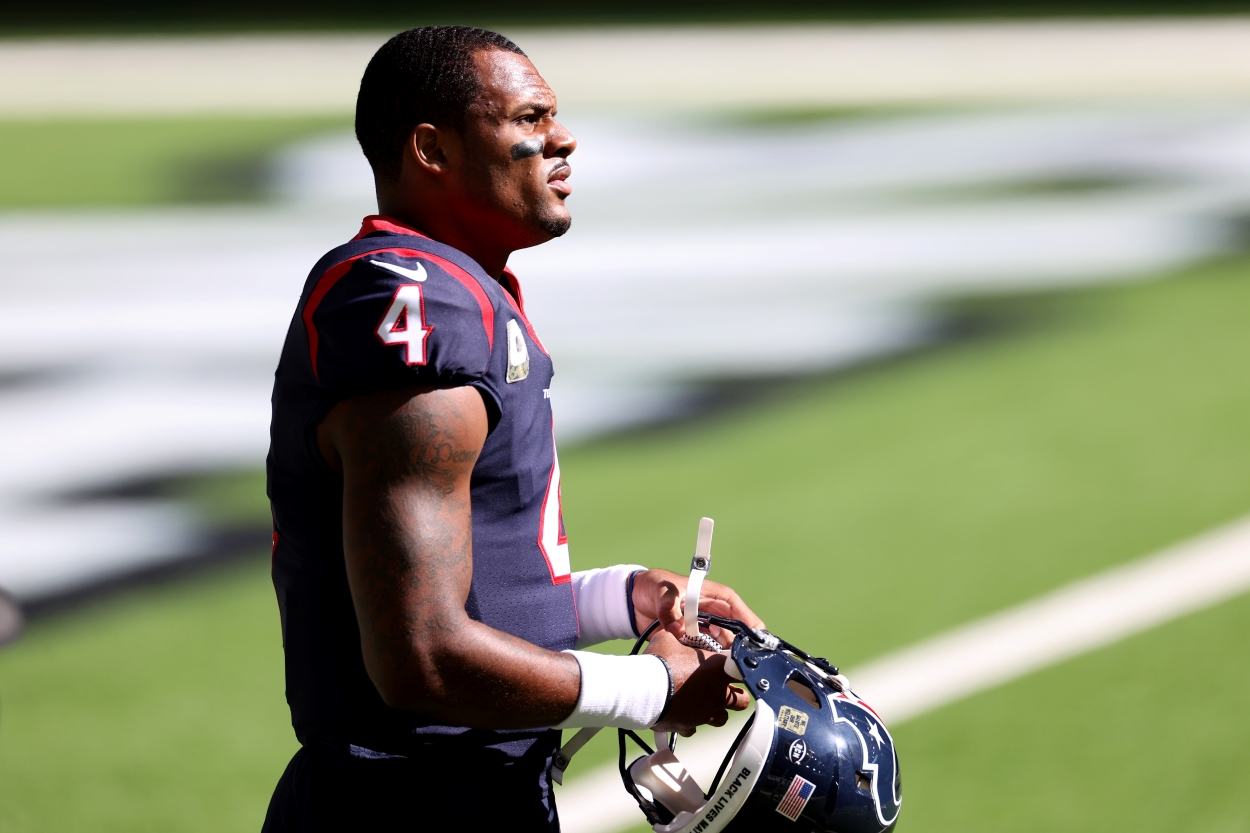 Deshaun Watson Finally Gets Some Good News in His Ever-Growing Legal Battles
Deshaun Watson's career and reputation have taken a serious blow in the past month. Thankfully, he received a piece of good news on Wednesday.
A month ago, Deshaun Watson was the most prized target of the NFL offseason when he demanded a trade from the Houston Texans. That seems like forever ago. Now he's in legal heck, facing 21 lawsuits for alleged past conduct with multiple masseuses. With his reputation and his NFL prospects taking a massive hit, Watson finally received a piece of good news on Wednesday.
Deshaun Watson receives a public vote of confidence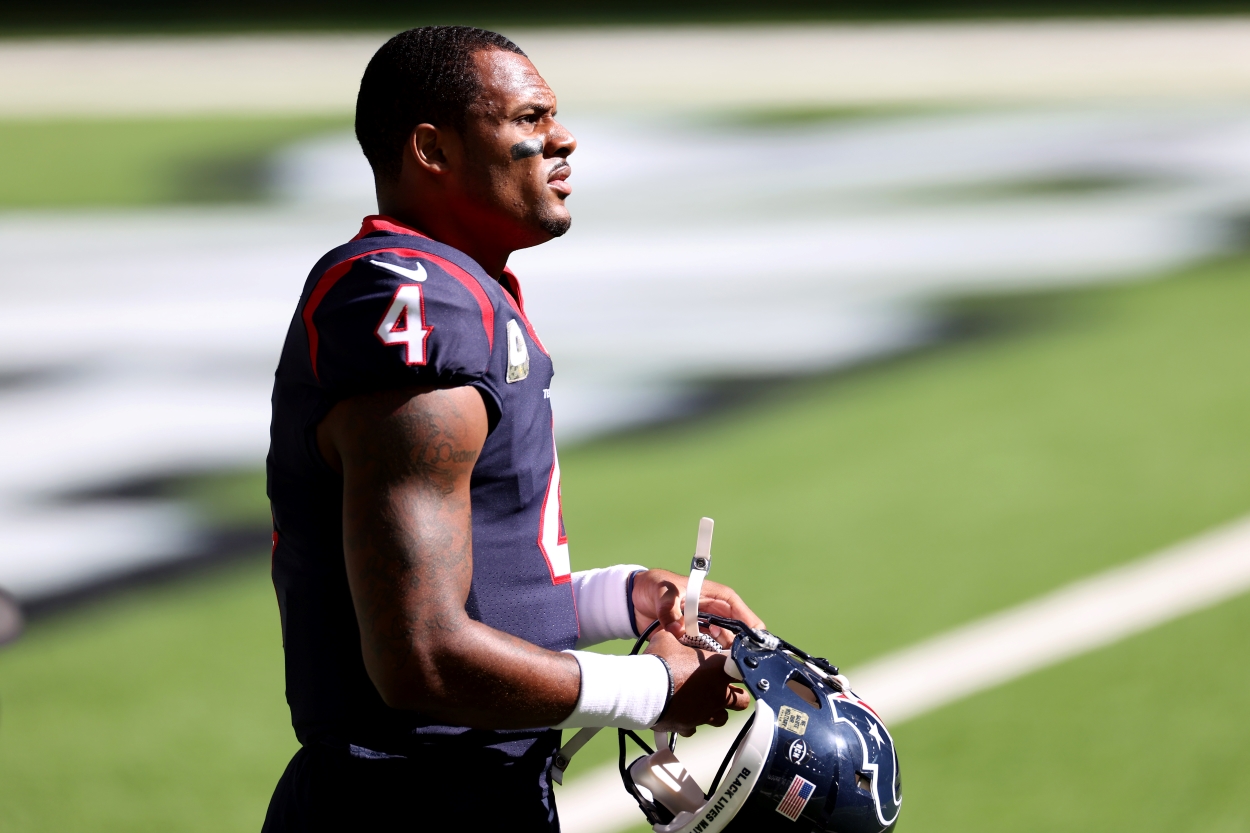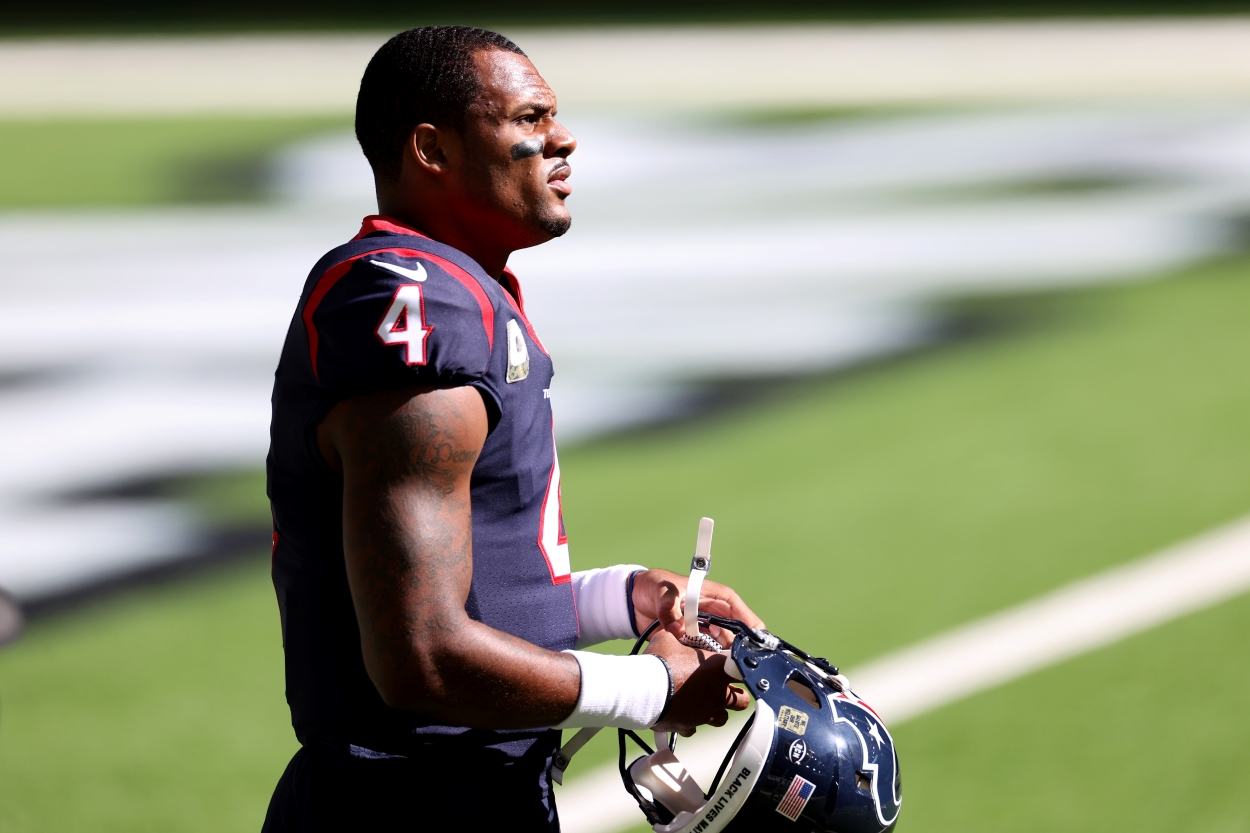 As of Thursday, Houston Texans quarterback Deshaun Watson is facing 21 lawsuits, with two more added on March 31. The suits, all of which come from anonymous female masseuses, accuse Watson of acting inappropriately during or after massage sessions. Some suits also accuse Watson of attempting to cover up evidence by deleting Instagram conversations.
The first lawsuit was filed March 16th in Harris County, Texas. Two days later, the NFL announced that it would open its own investigation into the matter.
On Wednesday, Watson's lawyer, Rusty Hardin, released a list of 18 massage therapists who came to Watson's defense. According to the press release, "the law office of Rusty Hardin and Associates has received dozens of unsolicited phone calls, letters, emails and text messages" who say that they are "deeply troubled" by the accusations against Watson.
Unlike the flurry of lawsuits against Watson, the therapists supporting Deshaun Watson have given out their full names.
"These statements show the other side to this story that has been lacking in the flurry of anonymous complaints filed by opposing counsel," reads the release.
More massage therapists come to Watson's defense
Aside from Rusty Hardin's press release, several other massage therapists came to Watson's defense. One therapist reached out to CBS Sports and told of what happened during her session with the quarterback. According to her, everything went over smoothly.
"I have worked on him two times and in both instances he asked for a sports massage with a focus on his abs, abductors, thighs and glutes," she said to CBSSports.com. "Each session lasted an hour and he supplied the draping towel, which was the size of a beach towel."
Another masseuse, who currently serves as director of rehabilitation services at a Houston hospital, also spoke highly of Deshaun Watson.
"He was very quiet during our sessions, often played his music and zoned out," she said. "Like most athletes, he requested that I focus on his hamstrings, abs and adductors. He never made me uncomfortable and was always professional during our sessions." 
Deshaun Watson will not take this lying down
In any case, both Watson and Hardin have denied any wrongdoing and intend to fight all accusations in court. Both parties have fired shots at the plaintiffs' lawyer, prominent Houston attorney Tony Buzbee.
"As a result of a social media post by a publicity-seeking plaintiff's lawyer, I recently became aware of a lawsuit that has apparently been filed against me," Watson tweeted on March 16, shortly after the first lawsuit was filed.
One week later, Hardin chimed in with this official statement to the press.
"Opposing counsel has orchestrated a circus-like atmosphere by using social media to publicize 14 'Jane Doe' lawsuits during the past seven days in a manner calculated to inflame the public and malign Deshaun's otherwise sterling reputation," wrote Hardin, per CBS Sports. "Anonymity is often necessary as a shield for victims but opposing counsel has used it as a sword to publicly humiliate Deshaun before the truth‑seeking process can even begin."
This case hasn't even reached court yet and it's already become a media circus.