Deshaun Watson Is Trapped in Purgatory With the Houston Texans' Front Office
Super Bowl LV has not even kicked off yet, and teams have already started making deals in the hopes of improving at the quarterback position. While other signal-callers have already moved on or are close to doing so, there have been few signs of movement regarding the top prize of the offseason: disgruntled Houston Texans quarterback Deshaun Watson.
Deshaun Watson wants out of Houston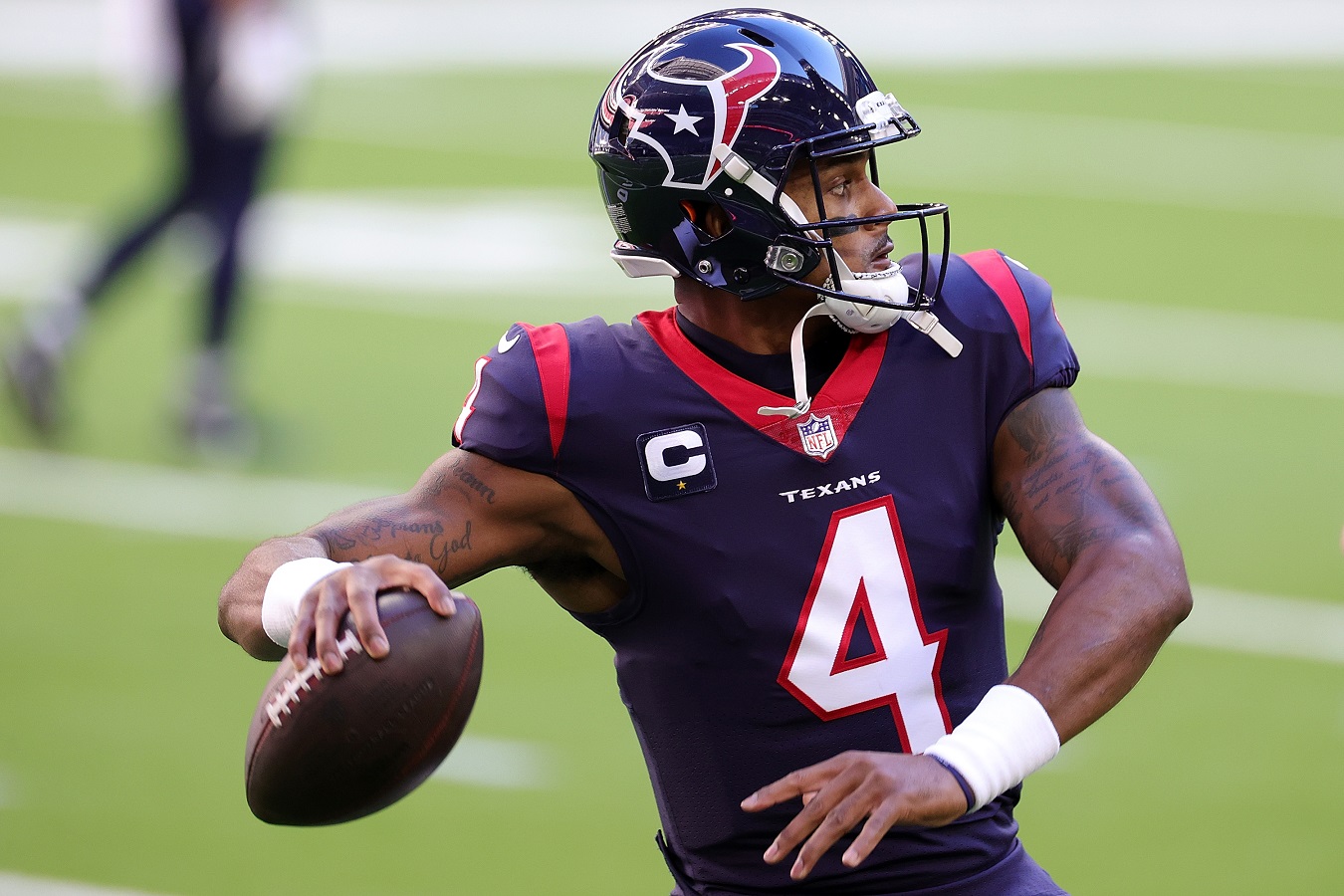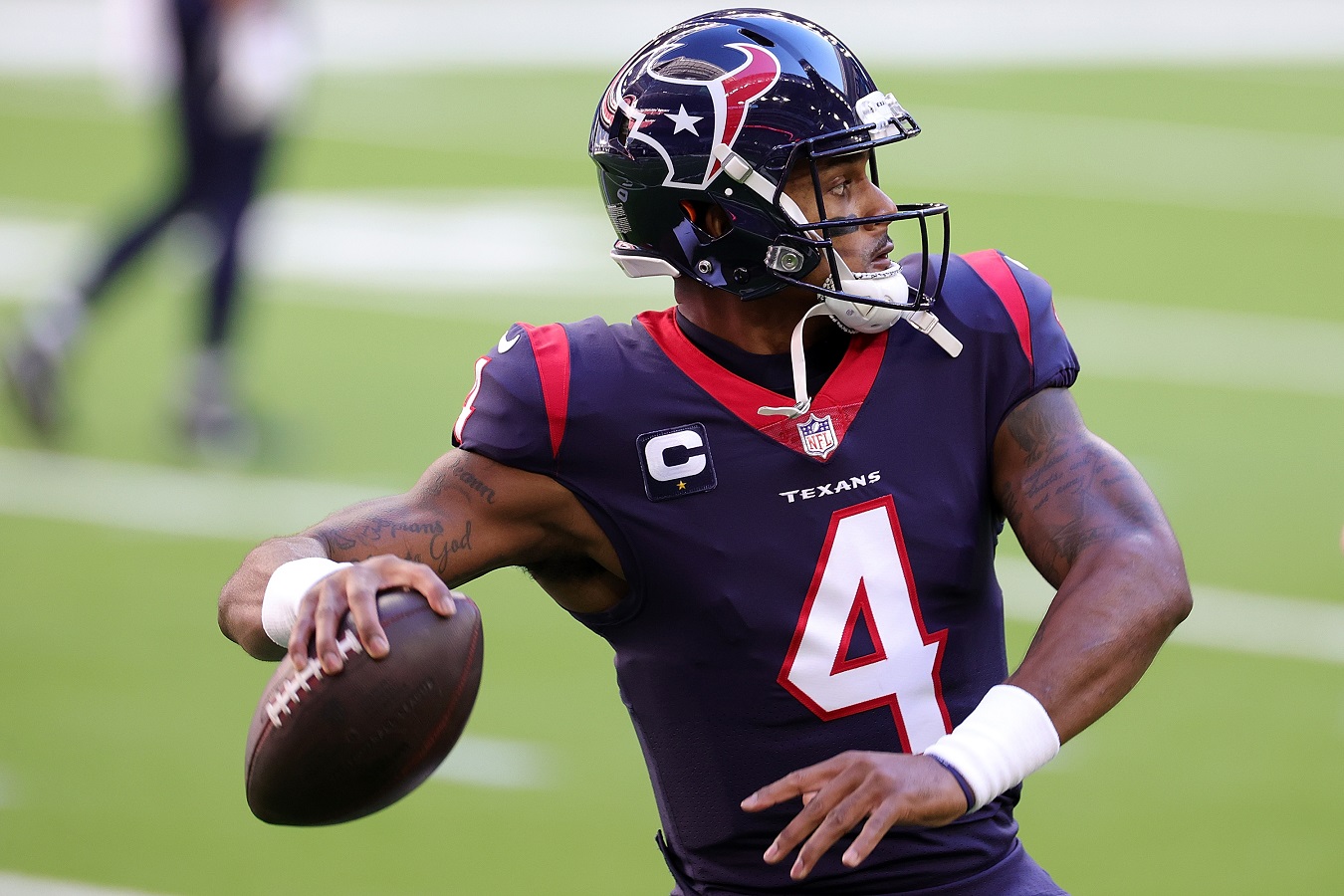 One of the top off-the-field NFL storylines of the past month has been the deteriorating state of the Houston Texans.
Houston finished the 2020 season 4-12, a six-game dropoff from the previous year. Ordinarily, that kind of record would guarantee a high draft pick, but not this year. Thanks to personnel decisions that backfired horrendously, the Texans will not have a pick in the first or second round of this year's NFL Draft. This will significantly hamper their ability to rebuild for the future.
The Texans will also enter 2021 with a new general manager and a new head coach. The hiring process for both has been criticized endlessly. For the team's GM, chairman Cal McNair went with New England Patriots executive Nick Caserio, disregarding the advice of both Watson and the search firm Korn Ferry. The Texans also ignored Watson's advice in the head coaching search, hiring inexperienced Baltimore Ravens assistant David Culley over choices such as Eric Bieniemy or Robert Saleh.
Inevitably, in January, Watson officially requested a trade from the Texans. The relationship between the quarterback and the team was irreconcilable.
The Texans hold firm on not trading Watson
Watson has already named two of the teams where he would prefer to land — the New York Jets and Miami Dolphins. Unfortunately, those two teams may have to wait. According to ESPN's Adam Schefter, the Texans are still telling any interested teams that Deshaun Watson is not available to trade.
This is consistent with previous statements from the Texans' new general manager. "Organizationally, I just want to reiterate our commitment to Deshaun Watson," Caserio said to reporters on Jan. 30. "We have zero interest in trading the player."
Later at that press conference, Culley — in his public introduction — backed up this statement. "He's the quarterback of the Houston Texans, and that's all that I was concerned about," he said, as quoted by ABC13 Houston. "He is a Houston Texan. And I wanted to be a Houston Texan. And the reason I'm in this position today is because I knew he's going to be a Houston Texan."
Of course, Watson has repeatedly stated he will not play for the team ever again. If the Texans actually hold on to Watson and ignore all trade offers, Watson could sit out next season.
What happens next for both sides?
It's hard to imagine that the relationship between Deshaun Watson and the Houston Texans could grow any more toxic. Team management entrusted their future to him while trading away his best offensive weapons. Later, they completely disregarded his advice on who to hire for the general manager and head coach positions. Despite all of this, it seems that the Texans' management still expects Watson to be their starting quarterback for 2021.
There's also the matter of the Texans' reported asking price for Watson. To acquire the young quarterback, a team would have to give Houston two first-round picks, two second-round picks, and two young defensive starters, according to Houston Chronicle reporter John McClain. It would be the closest thing in decades to the infamous 1989 Herschel Walker trade. It is entirely possible that no team will risk giving away that much, even if the return is that promising.
There is also a troubling and prevailing sentiment within some of the NFL ranks that Watson is simply a whiny troublemaker who should get with the program. These views have been expressed by NFL legends such as Brett Favre and Dick Vermeil, among others. It wouldn't be surprising if other NFL general managers shared this sentiment and simply refused to touch him.