Deshaun Watson's Lawyer Denies That the Texans QB Is Trying to Pay His Accusers to Go Away
Every day, the number of lawsuits against Houston Texans quarterback Deshaun Watson seems to grow. As of Tuesday, the number has grown to 20, but even that could change at any moment. Earlier this week, troubling new accusations were laid at Watson's feet, all of which his lawyer stubbornly denies.
Deshaun Watson has allegedly covered up evidence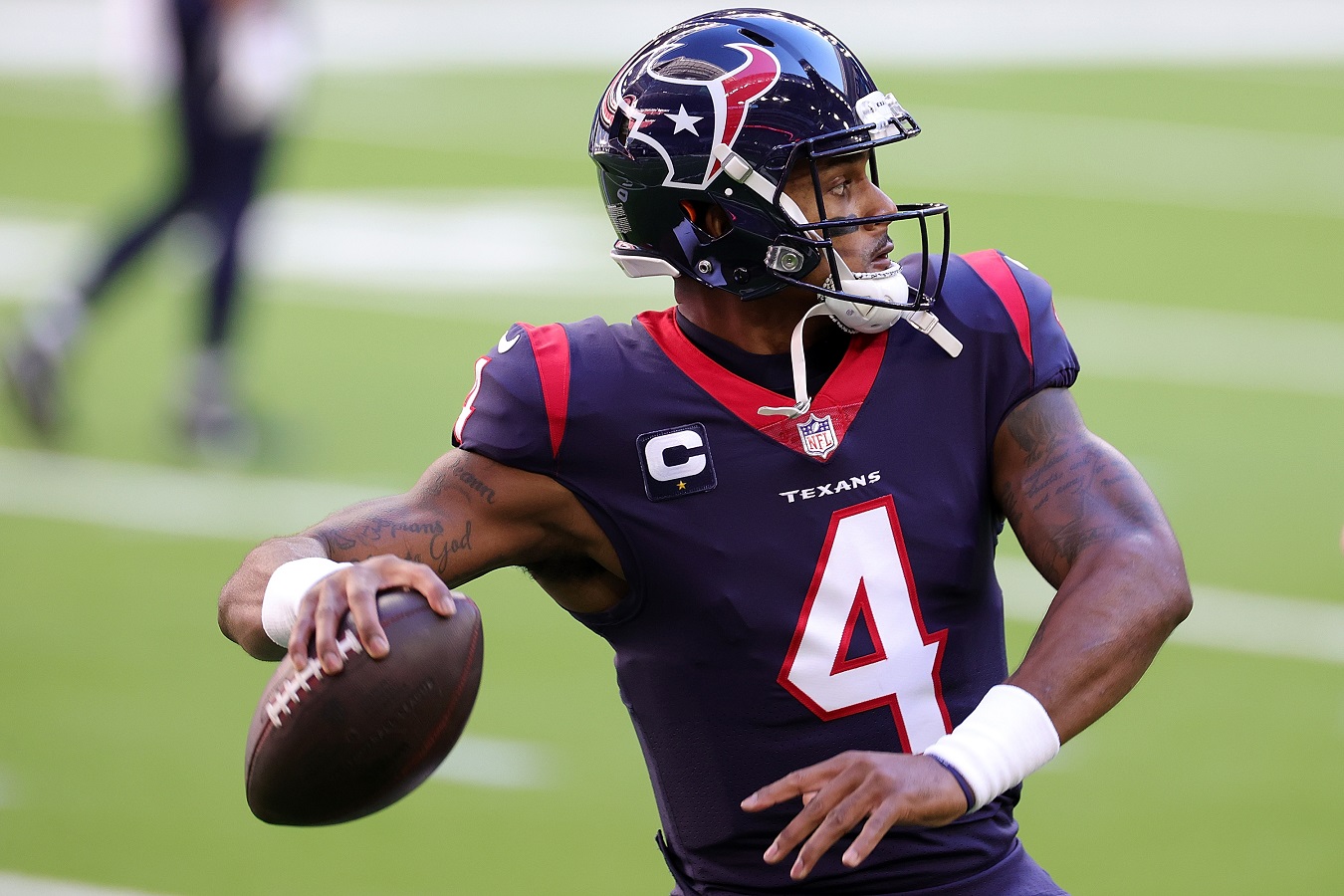 On Sunday, three new lawsuits were added to Deshaun Watson's ever-growing pile of legal trouble. According to attorney Tony Buzbee, the total has now grown to 20, although only 19 of them have appeared in public record. All of the lawsuits so far have been filed anonymously under the name of "Jane Doe."
One of those lawsuits alleges that Watson engaged in a social media cover-up by deleting old Instagram posts.
"As a result of the repeated lawsuits against him, Deshaun Watson is deleting Instagram posts and contacting those who formally provided him massages in an attempt to settle," reads the lawsuit, per KHOU 11. "Plaintiffs have not brought these cases for money or attention; instead plaintiffs seek a change in behavior with regard to Watson and a change of culture in the NFL."
Watson's lawyer, Rusty Hardin, stubbornly fights back
Watson's lawyer, Rusty Hardin, does not believe that statement for a second.
Like a lot of people, Deshaun regularly deletes past Instagram messages. That said, he has not deleted any messages since March 15th, the day before the first lawsuit was filed. We categorically deny that he has reached out directly to his accusers in an attempt to settle these cases.

Opposing counsel's continued statements that these cases aren't about money do not square with the facts in at least two of these cases. It is incredibly irresponsible to continue to make these types of false allegations in this avalanche of anonymous lawsuits, particularly while we are still trying to find out who the accusers are.

Rusty Hardin, via ProFootballTalk
Hardin is not the only one in Deshaun Watson's circle who has questioned the motives of the women involved. Watson's agent, David Mulugheta, fired a veiled shot at the accusers in a tweet on March 19.
"Sexual assault is real. Victims should be heard, offenders prosecuted," Mulugheta tweeted. "Individuals fabricate stories in pursuit of financial gain often. Their victims should be heard, and those offenders also prosecuted. I simply hope we keep this same energy with the truth."
What happens next for Deshaun Watson?
Given the nature of the accusations against Watson, looking at this matter through the lens of football seems rather crude. However, as Watson derives his wealth and notoriety from playing football, we still think it warrants a mention.
At the beginning of the month, the hot button issue was whether the Houston Texans would bite the bullet and trade Watson, who had made it clear that he would never play for the team ever again. Now, there is a serious question of whether Watson will play in the NFL for any team again. On Monday, Texans general manager Nick Caserio spoke publicly about Watson for the first time since the lawsuits broke.
"The allegations, what's been discussed, are certainly troubling. Organizationally that's not something that we can condone, those types of actions," said Caserio, via ProFootballTalk. "But, again, we'll let the legal process take care of itself."