Deshaun Watson 'Very Serious' About Leaving the Houston Texans, Says a Friendly College Rival
The Houston Texans and their quarterback, Deshaun Watson, are in a standoff. Watson has not only requested, but demanded a trade out of Houston. The Texans have repeatedly stated they have no intention of trading him. While the Texans are still the betting favorite to retain Watson at the end of the offseason, one of his former division rivals isn't so sure.
Ramsey 'highly doubts' Deshaun Watson stays put
RELATED: Former Texans DT Louis Nix Is Tragically Dead After Going Missing in Florida
Los Angeles Rams cornerback Jalen Ramsey appeared as a guest on the podcast Huddle and Flow, hosted by NFL reporters Jim Trotter and Steve Wyche.
One of the topics they discussed was the ongoing Watson matter. Over 18 minutes into the podcast, Ramsey had this to say: "I highly doubt he'll ever suit up in a Texans uniform again. He's very serious."
Jalen Ramsey has been there before
RELATED: Deshaun Watson Reportedly Has an AFC East Team Ready to Rescue Him From Houston
If anyone knows what he's talking about here, it's Jalen Ramsey. He similarly forced a trade from an AFC South team in 2019, under arguably even more acrimonious circumstances than what we've seen this offseason with both Deshaun Watson and Russell Wilson.
At least Watson and Wilson waited until after the season to vent their frustrations with their respective teams. Jalen Ramsey's conflict with the Jacksonville Jaguars aired out publicly on the sidelines during games early in their doomed 2019 season. Eventually, it was too much for the team to deal with, and they dealt him to the Los Angeles Rams.
In Ramsey's case, his beef was with then-general manager Tom Coughlin, a stern disciplinarian who ran the team like a dictatorship. Ramsey wasn't alone. Coughlin chewed his players out for missing voluntary OTAs and fined them for rehabilitating off of team premises. The Jaguars did away with Coughlin once and for all late in the 2019 season.
Deshaun Watson and Jalen Ramsey: friends off the field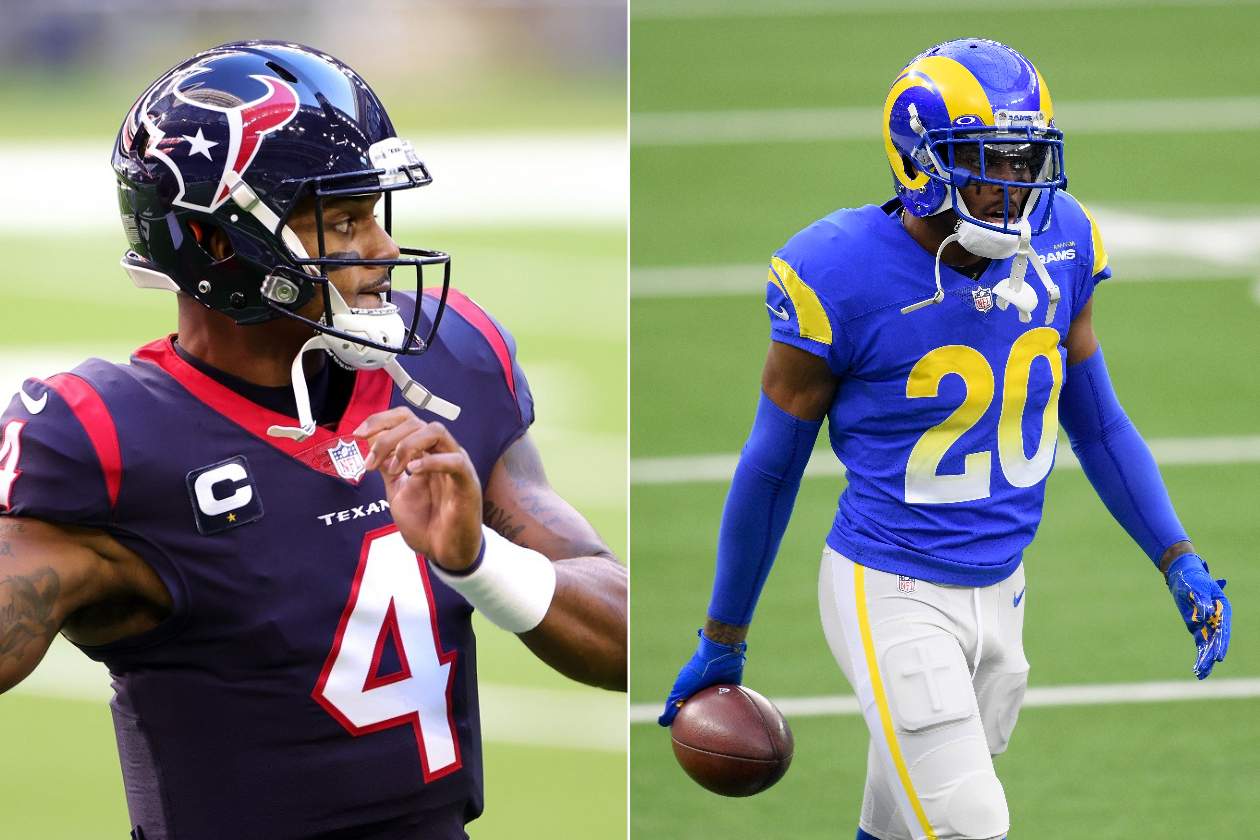 At no point in their football careers have Deshaun Watson and Jalen Ramsey been teammates. It's not very likely this will be the case next year even if Watson gets his requested trade.
However, the two players have ample experience with each other, going back to their college days. Each played on both sides of an ACC rivalry — Watson for Clemson, Ramsey for Florida State. The personal rivalry continued into the pros, as each player went to an AFC South team, guaranteeing them two match-ups per season.
At some point, according to Sports Illustrated, the on-field rivalry developed into an off-field friendship. It helps that the two are represented by the same agent — David Mulugheta, who has worked feverishly to get Watson out of his current situation. A year and a half ago, he did the exact same thing for Jalen Ramsey.