Deshaun Watson: 4 Sleeper Teams That Could Acquire the Texans QB
The Houston Texans have their backs against the wall regarding superstar quarterback Deshaun Watson. At this point, it is only a matter of time before he gets traded, and they ultimately might need to settle for less than what they had been hoping for.
Until Watson's legal issues are resolved, teams interested in him might not be willing to pay up for the young QB. But that doesn't mean that teams aren't still inquiring about Watson.
When he is on the field, he is one of the best QBs in the NFL and still has a lot of years left. Those factors alone should have teams blowing up Nick Caserio's phone in Houston. The talk of the season was the Miami Dolphins' interest in Watson, then the Carolina Panthers, Philadelphia Eagles, Minnesota Vikings, and even the Denver Broncos.
On the other side of the spectrum, here are a few sleeper teams that could make a run at the Texans' QB.
Arizona Cardinals
The Arizona Cardinals and Deshaun Watson? Yes, let's get down to it.
The drama with Kyler Murray has been ongoing, and after Kliff Kingsburgh agreed to a contract extension, Murray must be even more frustrated. The Cardinals' young QB wants a big-money extension and believes he is worth it, but Arizona doesn't have those same feelings — not yet, at least.
If Murray asks for a trade, the Texans should be interested. The Cardinals could acquire Watson, Texans get a young QB in Murray and have the money to give him an extension and solidify the position for years to come. This makes sense for both sides, and the Cardinals would instantly become contenders in the NFC.
Imagine that.
Las Vegas Raiders
At Clemson, Watson threw the game-winning touchdown pass to Hunter Renfrow. Renfrow did wonders for the Las Vegas Raiders, and the Clemson duo reuniting in Las Vegas would be something.
More than that is the situation with Derek Carr. The Raiders QB wants a new contract, but so far, the organization has yet to work on a new deal with him. Is he worth $40 million a season? Probably not.
If the two sides don't come to an agreement, the Raiders should find a trade partner. The Texans had a shot at drafting Derek Carr and passed on him, ultimately waiting to draft Tom Savage later in the 2014 NFL Draft (yes, really, that happened).
The best part about this for Houston is that they would get Carr and more assets coming their way, and the Raiders would get a Pro Bowl QB who can instantly help new head coach Josh McDaniels bring this team to the playoffs.
The AFC West is tough, and imagine all of Patrick Mahomes, Justin Herbert, and Watson in the same division, not to mention whoever takes over the QB position for the Broncos.
Indianapolis Colts
Carson Wentz's days with the Indianapolis Colts are dwindling quickly. The Colts are once again in the market for a QB, and Watson should be worth a phone call at least.
The price might not match for Indy, but Frank Reich and Chris Ballard are desperate for a quality starting QB to bring this team over the hump. Watson is that guy, and if they need to send over a flurry of picks to acquire him, they will do just that. He is worth it.
Michael Pittman Jr. would thrive with Watson under center, and Jonathan Taylor would benefit even more despite coming off a monster campaign.
It is only a matter of time before Wentz is gone, and who knows, maybe the Texans and Colts orchestrate a Wentz-Watson swap of some sort.
Washington Commanders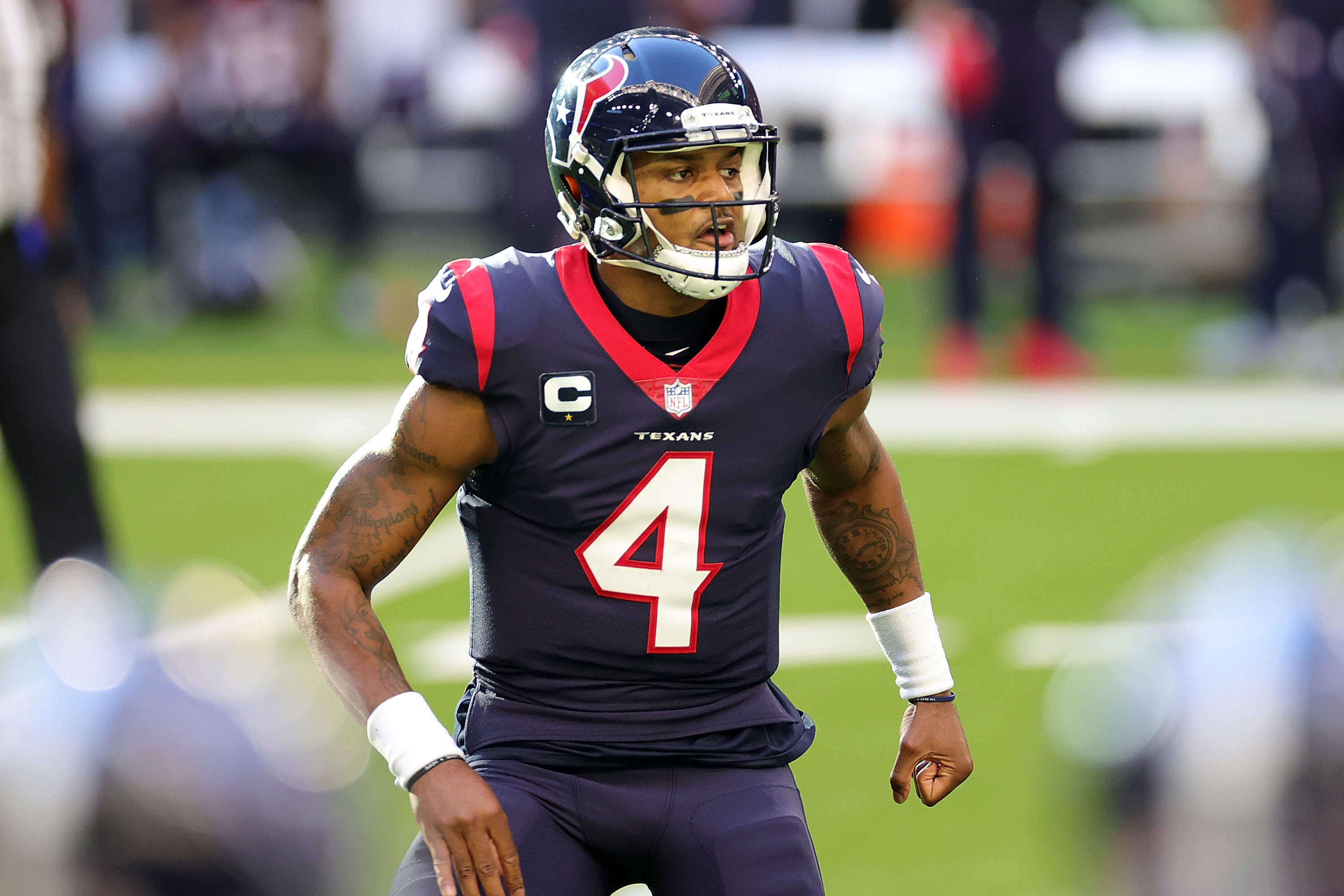 The Washington Commanders are one of the best fits all around for Watson, believe it or not. Ron Rivera has this team playing hard-nosed football. Terry McLaurin and Antonio Gibson are terrific weapons to build around, and adding a star QB such as Watson would send them right into the thick of the NFC East.
Taylor Heinicke was good enough, but he isn't a starter that will bring this team to the next level.
Rivera's comments show that they will pay whatever it takes to bring in a quality QB. Aaron Rodgers has been rumored as an option, but he likely runs it back with the Green Bay Packers. The next best option is Watson, and the Commanders can become instant NFC East contenders by adding the Texans QB, although Chase Young might need to be part of a package.
Stats Courtesy of Pro Football Reference
RELATED: Eagles Rumors: NFL Insider Still Claims They Want Deshaun Watson