Deshaun Watson Trade: Panthers Wise to Make 'Aggressive' Offer for Star QB
The Carolina Panthers are reportedly willing to get aggressive in order to execute a trade with the Houston Texans for their star quarterback, Deshaun Watson. 
That's a trade that won't be free of criticism or risk, but in terms of pure football analysis, there's no doubt that this makes sense for the Panthers.
Deshaun Watson has been cleared of any criminal charges by a grand jury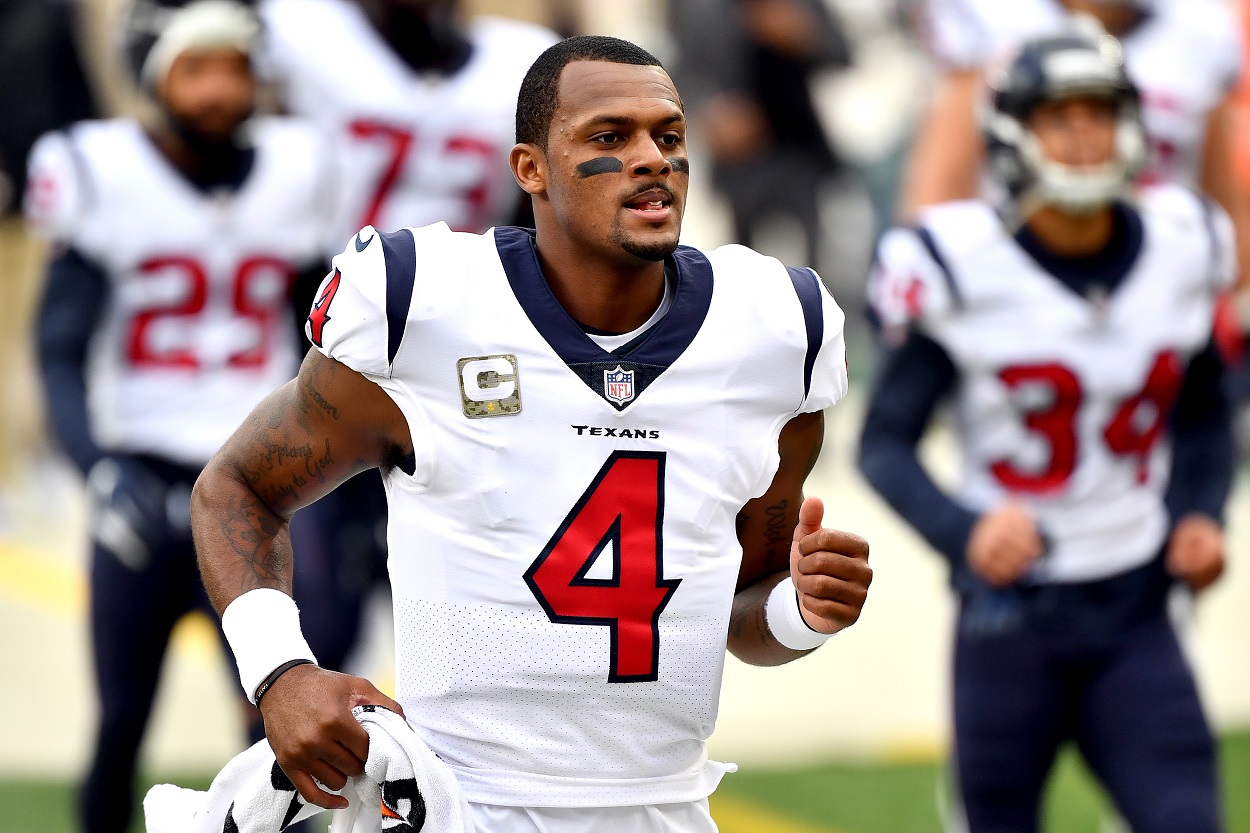 Watson had previously requested a trade out of Houston, but much more than his NFL future was up in the air over the past year. The quarterback was facing the possibility of criminal charges in Texas due to sexual misconduct allegations against him, but a grand jury decided to clear him of those charges on Friday
"After a Harris County grand jury was presented all the evidence and had the opportunity to hear from all witnesses, grand jurors declined to indict Deshaun Watson," a Harris County District Attorney's Office spokesperson said, according to USA Today. "Grand jury proceedings are secret by law, so no information related to their inquiry may be disclosed."
With the prospect of a criminal inditement now in the past for Watson, the only other thing Carolina or any other team interested in the three-time Pro Bowler will have to consider is the fact that the NFL could still suspend Watson if it's determined that he violated the league's personal code of conduct. Though he has been cleared of criminal charges, he can still be placed on the commissioner's exempt list even if he has not committed a crime.
Had Watson been indicted by the grand jury, a criminal trial was the probable next step, and he undoubtedly faced the prospect of jail time. While he still does have 22 civil lawsuits filed against him, the criminal matter has been resolved.
"We are delighted that the grand jury has looked at the matter thoroughly and reached the same conclusion we did: Deshaun Watson did not commit any crimes and is not guilty of any offenses," Watson's attorney, Rusty Hardin said.
"I'm going to keep fighting to rebuild my name and rebuild my appearance in the community," Watson himself said. "And we're going to continue to, on the legal side, off the field, handle what we need to handle but also ready to get back on the field."
Report: Carolina Panthers to make 'aggressive' offer to land Deshaun Watson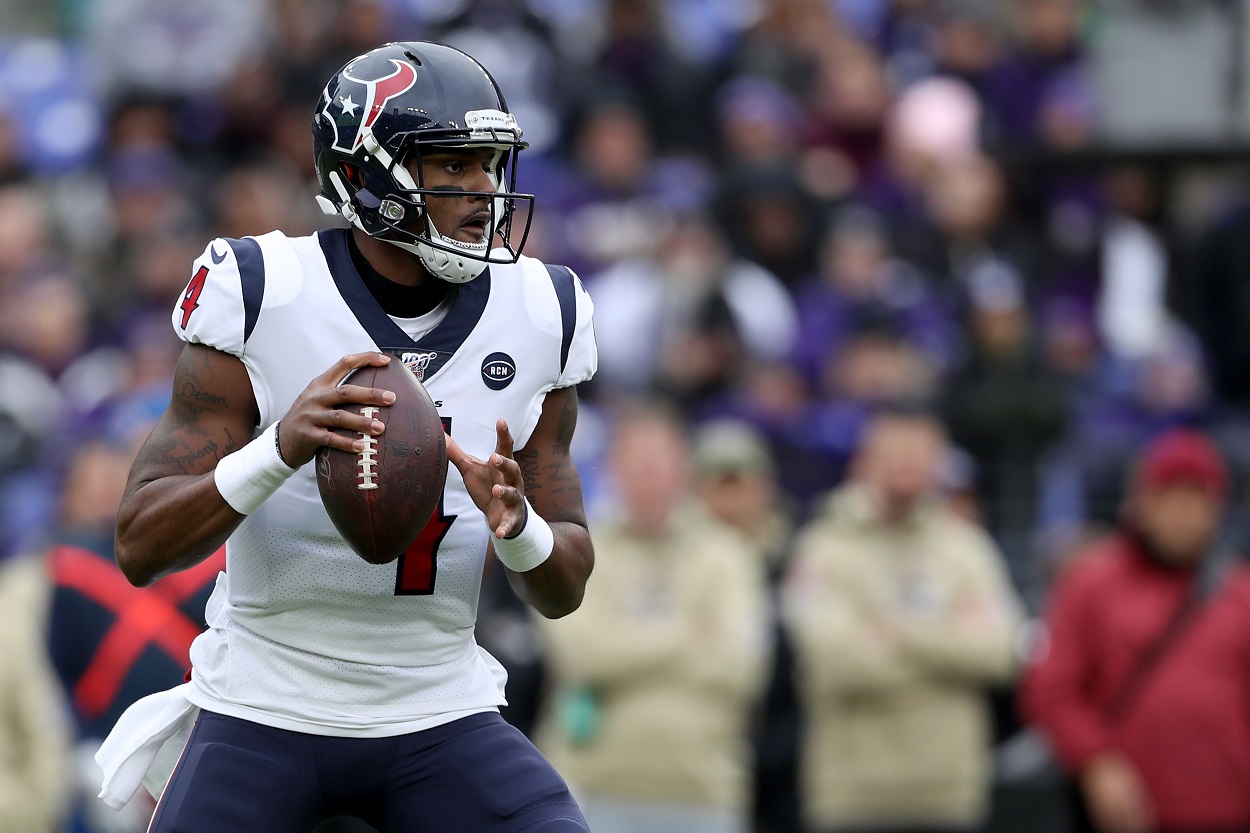 According to David Newton of ESPN, the Panthers are planning on making an "aggressive" trade offer to the Texans in the hopes of receiving Watson in return.
The only holdup on that offer or any subsequent negotiation is that Watson needs to waive his no-trade clause, but Newton is reporting that shouldn't be an issue.
And as far as a potential suspension from the NFL? Carolina is far from the only interested party that understands Watson can be suspended, but according to the ESPN report, the Panthers feel very comfortable with the risk they'd be taking.
"As first reported by Pro Football Network, a source confirmed that no team is believed to have done more due diligence investigating the claims against Watson than Carolina," Newton wrote. "That's why the team is comfortable moving forward."
With the specter of a criminal charge now gone, Houston has now regained most of the leverage it once had in trading Watson. He's regarded as one of the top quarterbacks in the NFL, and when he's on the field, he can be a franchise-defining player.
The Texans reportedly want at least three first-round picks and a player in return for their star quarterback.
"The Panthers are prepared to make a pitch they don't believe will mortgage the future," a source told Newton.
The Panthers are wise to get aggressive for Watson
So what does an aggressive offer look like?
Three first-round picks are likely too much considering future Hall of Famer Russell Wilson garnered two first-rounders (No. 9 overall in 2022 and a 2023 first), two-second rounders (No. 40 overall in 2022 and a second in 2023), a 2022 fifth-round pick, and Drew Lock, Noah Fant, and Shelby Harris from the Denver Broncos.
Watson is seven years younger than Wilson, but he hasn't played in over a season, and he doesn't have the Super Bowl resume of Wilson.
Perhaps the better question is this: What do the Panthers have to offer?
They have pick No. 6 in the 2022 NFL Draft, which would give Houston pick No. 3, No.6, and No. 37 (second-rounder) if there was a trade, which is a heck of a great way to start a rebuild.
ESPN also reports that the only player who is "untouchable" in Carolina is safety Jeremy Chinn. Perhaps a trade package featuring the first-round pick and Christian McCaffrey would entice the Texans? McCaffrey signed a four-year, $64 million extension with Carolina in 2020. Barring a restructure, the Texans would still have McCaffrey under contract until 2025, and there is a potential out in the contract in 2023 if things don't work out with the oft-injured running back.
However they package it, Carolina is wise to go all-in for Watson.
The NFL is a quarterback-driven league, and few organizations know that better than Carolina.
The Panthers were Super Bowl contenders when Cam Newton was in his prime, but they've floundered in mediocrity ever since. They've taken shots in an effort to get a legitimate game-changer back under center, but they missed out on the Matthew Stafford sweepstakes last season and misjudged the talent of Sam Darnold, who they traded multiple picks to the New York Jets for (including a 2022 second) only to see him go 4-7 as a starter in Carolina with nine touchdowns and 13 interceptions.
P.J. Walker isn't a starting NFL quarterback. Bringing back Newton was fun at first, but that ultimately ended in embarrassment.
Last year head coach Matt Rhule fired offensive coordinator Joe Brady and basically used him as a scapegoat to justify what ended up being a disappointing 5-12 record.
Now entering his third season in Carolina with just a 10-23 overall record, Rhule is likely on a short leash. Short enough to where any signs of another disappointing season could get him fired before he ends the campaign.
If anybody, Rhule needs this pursuit of Watson to pay off, but Carolina as a whole is desperate for a star quarterback, and Watson certainly fits the bill. 
Stats courtesy of ESPN and Pro Football Reference. Contract information via Spotrac
RELATED: Seahawks Considering Deshaun Watson After Russell Wilson Blockbuster Trade