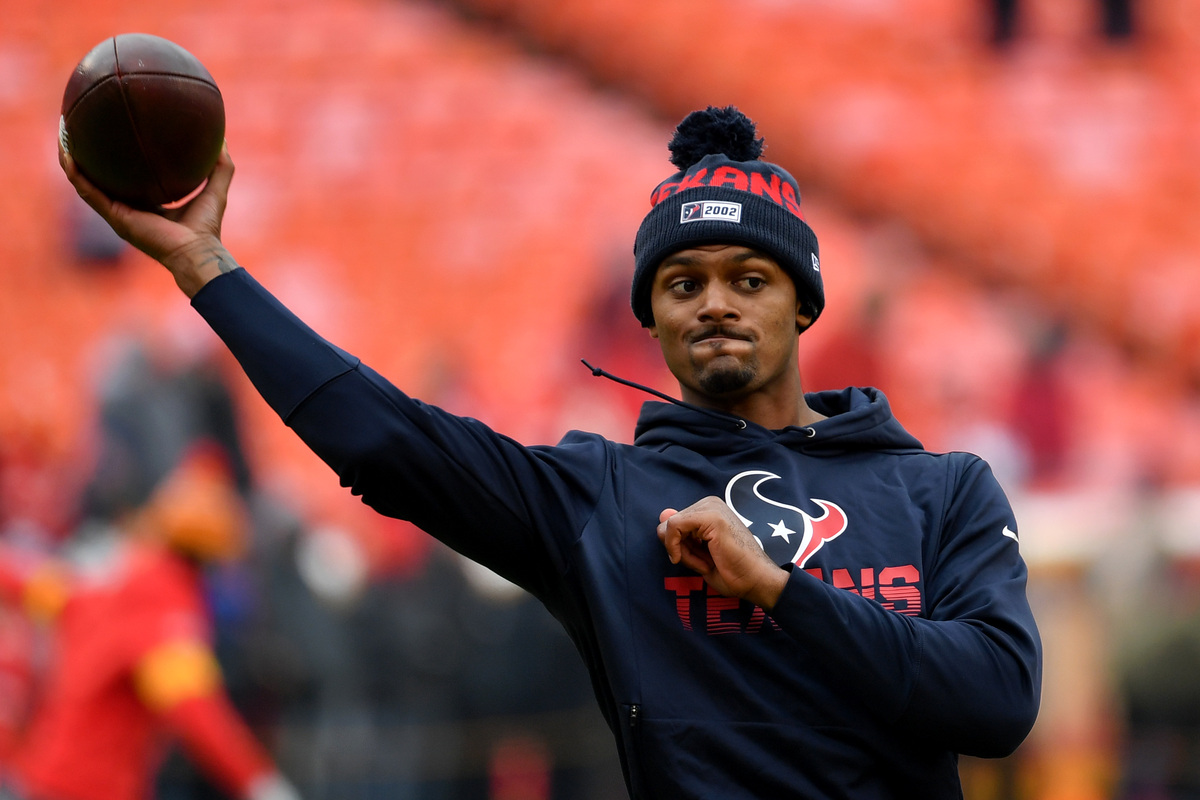 Deshaun Watson's Scouting Reports Look Unbelievably Silly in Hindsight
Houston Texans star Deshaun Watson is one of the NFL's top young quarterbacks. His pre-draft scouting reports look ridiculous in hindsight.
Deshaun Watson and the Houston Texans enter 2020 with heavy expectations on their mind.
Those lofty goals are certainly understandable. Houston committed to Watson, their young star quarterback, in the form of a massive contract extension this offseason.
With Watson coming off another stellar season, it's interesting to go back and look at his pre-draft scouting reports. It doesn't take long reading them to realize just how lucky the Houston Texans were to draft Watson when they did in 2017.
Deshaun Watson is one of the NFL's top young quarterbacks
A star college quarterback who led Clemson to a national championship in 2015, Deshaun Watson has been terrific since he entered the league in 2017.
Houston drafted Watson, a two-time Heisman Trophy finalist, with the 12th overall pick that year. If not for Patrick Mahomes, who went two picks earlier to Kansas City, there would be a serious conversation about Watson being the best player from his draft class.
Watson went 24-13 in his first three seasons as a starter, missing the final half of his rookie season after tearing his ACL. Although Watson has taken a beating in the backfield — opposing defenders sacked him 125 times through his first three seasons — the former Clemson standout has nonetheless excelled in the passing game.
Watson completed 66.8% of his passes for 9,716 yards, 71 touchdowns, and 29 interceptions. Watson also totaled 1,233 rushing yards and 14 touchdowns on 5.7 yards per carry. He even caught a 6-yard touchdown last season.
Watson has completed 63.5% of his passes for 870 yards, four touchdowns, and one interception in three playoff games.
Times are good for Watson and the Texans. Watson just signed a four-year, $156 million extension worth a maximum of $160 million through incentives.
With his rookie contract out of the way, Watson will average $39 million per season over the next four years.
Watson entered the NFL in 2017 with some concerns
Although Deshaun Watson has become a star, his entry to the NFL wasn't a smooth one.
Like every prospect, scouts and draft analysts had serious concerns about Watson in some areas. Although those concerns were justified based on the college tape, they look like they were for nothing in hindsight.
The biggest critique about Watson in the pre-draft process was his accuracy and control. Charlie Campbell — who is one of the most trusted and accurate draft voices — wrote as much in his assessment of Watson for Walter Football.
"Watson was off with his accuracy for much of 2016, displaying poor ball placement, especially when going downfield. He missed a lot of potential touchdowns as a result. Watson has a lot of room for improvement with his field vision, ball placement, and accuracy."
Although Watson completed 67% of his passes his senior year at Clemson, he also threw a career-high 17 interceptions.
ESPN's Mel Kiper initially graded Watson as a third-round pick. Kiper explained in January 2017 his concerns had to do with Watson's on-field decision making.
"He has shown that he can make every throw that an NFL quarterback needs to make, but his lapses in decision-making hurt Clemson in the middle of the season," Kiper wrote. "He didn't play like a first-round pick."
Deshaun Watson has blown those concerns out of the water
It's hard not to look at concerns about Deshaun Watson's accuracy and decision making, then look at the same player who throws touchdowns for the Texans.
That's not to say Watson has had a flawless three seasons. Watson threw a career-high 12 interceptions last year, or on 2.4% of his passes. Of the 32 qualifying quarterbacks, only 11 quarterbacks had a worse interception ratio.
Pro-Football-Reference began including several advanced metrics on player's pages beginning in 2018.
Of Watson's 505 pass attempts in 2018, 84 — or 17.3% — were ruled bad passes. The metric follows the "[p]ercentage of poor throws per pass attempt, excluding spikes and throwaways."
Watson's "bad pass" percentage dropped to 16.7% last year. Of Watson's 495 pass attempts, 367 of them — or nearly 77% — were considered on-target.
All in all, Watson has easily justified being a first-round pick and the man to lead the Houston Texans to the promised land. But, they can only do that by getting past Mahomes and the Chiefs.
All stats courtesy of Pro-Football-Reference