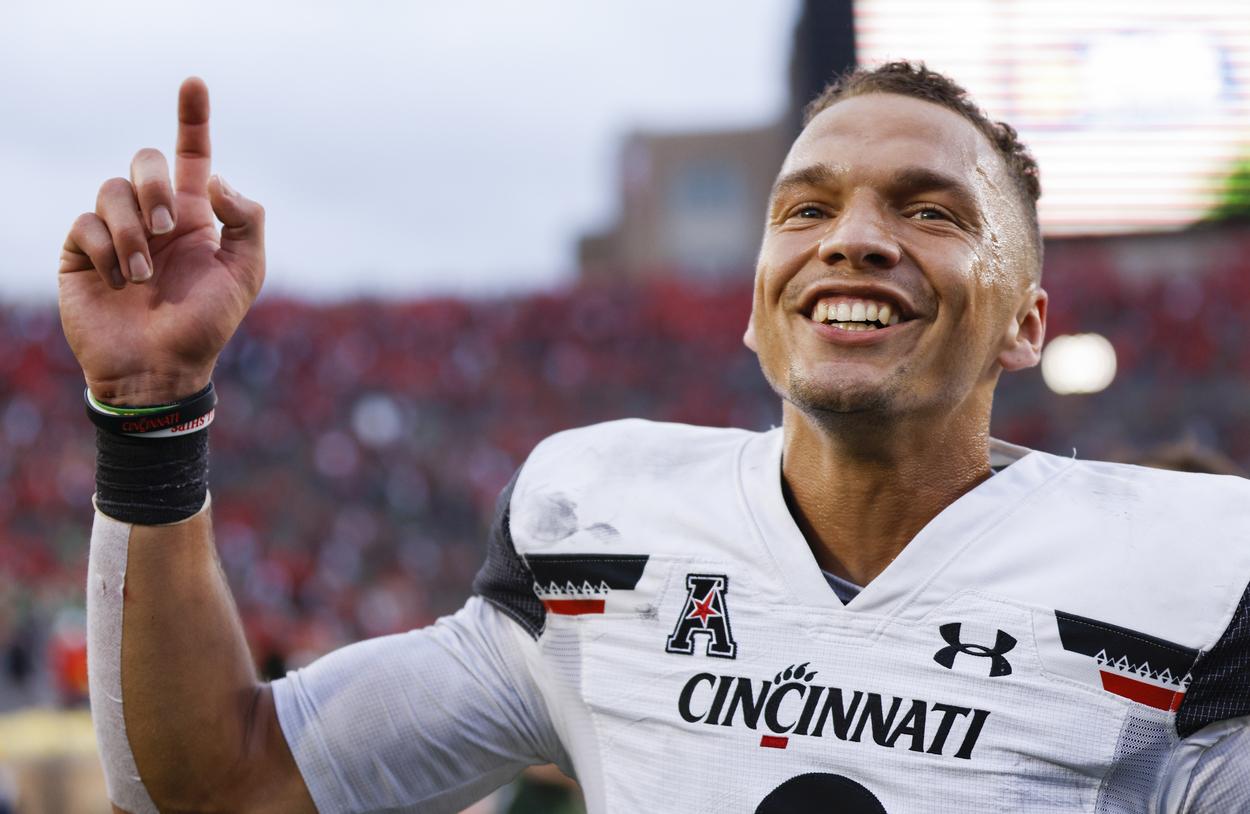 Desmond Ridder: The 4 Best NFL Draft Landing Spots for the Cincinnati Bearcats' Star QB
If fate works in Cincinnati quarterback Desmond Ridder's favor, he'll wind up with one of these four teams in the 2022 NFL Draft.
As the 2022 NFL Draft inches ever closer, former Cincinnati Bearcats quarterback Desmond Ridder finds himself in a fascinating situation. Depending on the mock draft, the two-time defending AAC Offensive Player of the Year is projected to go as early as the first 15 picks or as late as deep in the second round.
Who knows? Maybe a team will shock the football world and trade up to select him in the top-10. How many mock drafts have that happening?
So, which teams should select Ridder in the upcoming draft? For this list, we weighed everything from the current quarterback situation to the overall fit. In other words, something tells us the Cincinnati Bengals and Kansas City Chiefs don't plan on selecting Ridder. Also, teams are ranked alphabetically over preference.
Finally, although we did reference the possibility of teams trading up, we did not create detailed trade packages involving other teams.
Based on consideration of the aforementioned prerequisites, we believe the following teams should target Ridder in next week's draft.
Atlanta Falcons
The Falcons moved on from Matt Ryan and replaced him with Marcus Mariota, which is the football equivalent of replacing a durable 2008 Chevrolet Suburban with a used 2015 Chrysler Sebring that has transmission problems, unreliable air conditioning, and a dented door. Sure, the Sebring is newer (AKA younger), and it might work out, but it's a stopgap car at best. It's a car you drive from Point A to Point B (and possibly to Point C) while you keep your eyes out on a newer vehicle.
Ridder likely won't be a fancy Audi or Mercedes, but he has the potential to be far better than a stopgap quarterback.
The Falcons could select Ridder in the second round — Atlanta had the 47th and 58th overall picks as of publication, although they theoretically could trade up if need be — and allow him to begin his rookie year sitting behind Mariota. If Atlanta head coach Arthur Smith decides in November that it's time for a change, he'll at least have a young quarterback waiting for an opportunity.
Of course, if the Falcons are bad enough, they could luck into the Lamborghini Urus known as Alabama quarterback Bryce Young. But that's another conversation entirely.
Indianapolis Colts
Although the Colts acquired Ryan earlier this offseason, the 2016 NFL MVP turns 37 in May and looked a step slower throughout the 2021 season. For what it's worth, the four-time Pro Bowler said in March that he believes he'll play through the end of his contract, which expires following the 2023 campaign.
Ridder recently worked out for the Colts, and the dual-threat quarterback makes sense for head coach Frank Reich's scheme. Indianapolis picks 42nd in the second round and, like the Falcons, could likely move up if they truly believe the Bearcats great is worth drafting.
Pittsburgh Steelers
If the Steelers don't have a chance at Liberty's Malik Willis or Pittsburgh's Kenny Pickett when they pick 20th, we wouldn't be surprised to see them reach on Ridder. The 2020 Birmingham Bowl MVP visited the six-time Super Bowl champions in early April and told Sirius XM's Adam Schein he felt the trip "went well."
"It was a great meeting and a great visit. That was my first time in Pittsburgh, so just being able to go around, see the city, the facilities, the offices, and just meeting everyone, it was a great experience."

Desmond Ridder
Offseason signee Mitchell Trubisky is expected to compete with Mason Rudolph for the Steelers' starting job this summer. Could Ridder, who will play his entire rookie season at 23, beat out both and lead the Black and Yellow to victory in Week 1?
Tennessee Titans
Despite quarterback Ryan Tannehill's abysmal performance in a Divisional Round loss to Joe Burrow and the Bengals, it appears the Titans are sticking with the Texas A&M product for 2022. However, the 1999 AFC champions could cut Tannehill next spring and only incur an $18.8 million cap hit, which could pave the way for a younger quarterback to take his place under center.
Unfortunately for the Titans, they currently don't own a second-round pick. Would that force the team to select Ridder at No. 26, assuming he's still on the board, and deal with their other needs later in the draft? Or could the Titans even trade up to ensure they add the young quarterback?
Who says the 2022 NFL Draft lacks interesting stories when it comes to quarterbacks?
Like Sportscasting on Facebook. Follow us on Twitter @sportscasting19.