Desperate Brooklyn Nets Cave to Kyrie Irving and It Spectacularly Backfires
No sooner had the Brooklyn Nets agreed to bring Kyrie Irving back as a part-time player to help their coronavirus (COVID-19) ravaged roster than Irving joined the list of players in the NBA health and safety protocols. It was an outcome that made Liam Neeson's Taken seem like a mystery thriller. In October, the Nets decided that they wouldn't welcome Irving as a part-time player. Their panic move two months later is already a disaster.
Irving is ineligible to play in New York City because he is unvaccinated. That eliminated Irving from 43 Brooklyn games — all 41 home games plus the two road games against the New York Knicks in Madison Square Garden. The organization decided it was better to have Irving stay away entirely than have separate game plans and preparations for home and away games.
What changed for the Brooklyn Nets?
The irony of Kyrie Irving's status change with the Brooklyn Nets is that the team relented because of a coronavirus outbreak that decimated the roster.
That's right: The team that told an unvaccinated player to remain away invited him back because of the volume of vaccinated players testing positive for the coronavirus or deemed close contacts with someone who had.
Only in 2021 America does this remotely make sense. And even that's a stretch.
Brooklyn began its dive down the health and safety protocols rabbit hole when Paul Millsap entered the protocols on Dec. 13. Six teammates, including star James Harden, joined Millsap the following day. On Dec. 18, Kevin Durant and rookie Day'Ron Sharpe made it nine Nets in quarantine.
The team played with only eight players in an overtime win over the Toronto Raptors on Dec. 14. Durant logged 48 minutes. Two-way player Kessler Edwards played 44, and Patty Mills was on the floor for 43. Brooklyn added Langston Galloway on a hardship 10-day contract and had nine available players for its Dec. 16 win over the Philadelphia 76ers.
On Dec. 18, the Nets lost to the woeful Orlando Magic at home. The starting lineup was Mills, Blake Griffin, rookie Cam Thomas, and two-way players Edwards and David Duke Jr. The three players off the bench — Galloway, Shaquille Harrison, and James Ennis — were with the team for less than 72 hours.
But there was a 10th Brooklyn player added to the protocols on Dec. 18.
Kyrie Irving didn't make it past his entry testing
The Brooklyn Nets placed a 10th player into health and safety protocols on Dec. 18. While undergoing a round of tests to return to the team facility, Kyrie Irving either returned a positive or inconclusive test, per the New York Daily News.
Not only did the Nets lose the standoff with Irving, but now he remains unavailable.
Concerns over Durant's workload pushed the situation. But the statement from general manager Sean Marks about Irving's change in status wasn't a change of direction so much as it was a full retreat:
"Several months ago, we made a decision that was based around what was best for the team. What was best for the team at that point was continuity, and I think we see that continuity right now, over the course of the last week, and whatever the future looks like, may be out of the window for a while.

"And we've gotta navigate that as best we can, and that's something we've always strived to do, is make the best decision for what's best for the team. That's been our principle the whole way through here, and this was a decision on what's best for the team right now."

Sean Marks
We don't know how big a part Durant played in the decision. According to reports, Durant had input in the decision to send Irving home. But the decision rapidly backfired, most predictably.
The Brooklyn Nets blinked first despite overwhelming data against it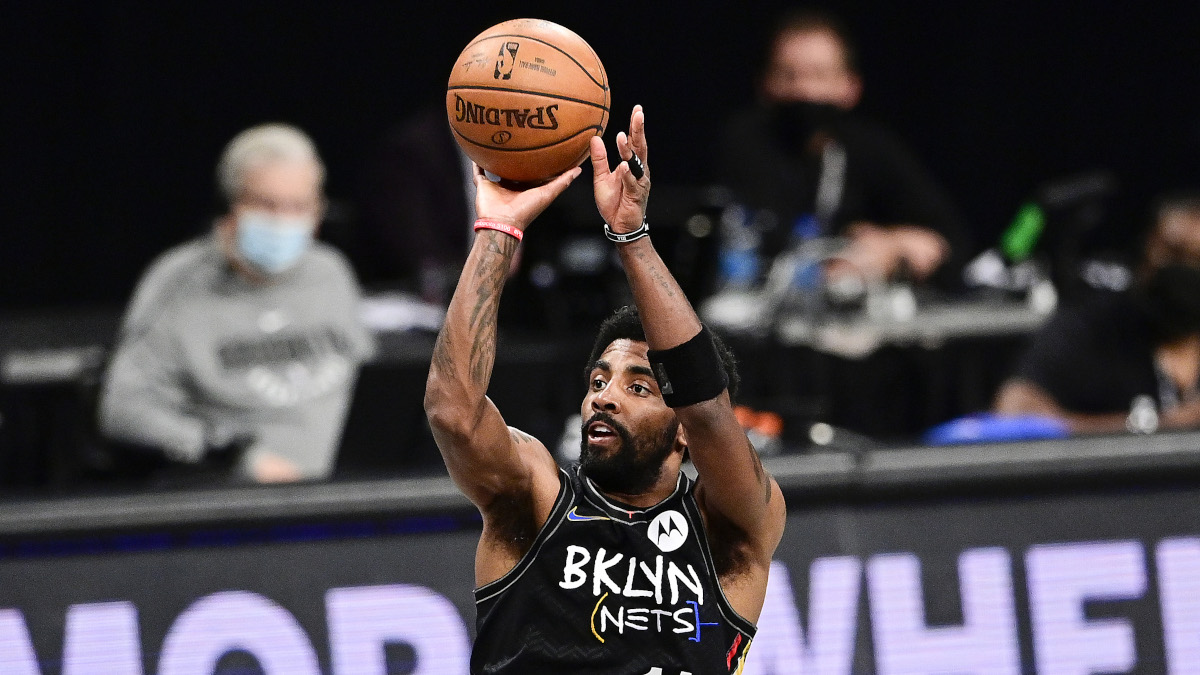 Kyrie Irving is a great basketball player. This is not debatable. However, there are caveats to the declaration.
Irving is great when he's healthy. Irving is great when he's not away from the team for various other reasons. Since signing with Brooklyn in July 2019, he played 74 regular-season games and nine postseason affairs.
Those are out of a total of 174 and 16, respectively.
According to Health System Tracker, as of September the 44% of the U.S. population remaining unvaccinated accounted for 85% of coronavirus-related hospital admissions. Patients between 18 and 29 make up 36% of those hospitalizations, the most significant percentage of any demographic. Irving is 29.
So it's fair to ask if bringing back Irving is really what's best for the Nets. The data suggests otherwise, but we live in an age where data isn't driving decision-making as much as emotions and other considerations. The Nets took a stand for continuity in October. But when pressure mounted, the organization blinked. With Kyrie Irving immediately entering the health and safety protocols, that decision already looks terrible for the Brooklyn Nets.
Statistics courtesy of Basketball Reference.
Like Sportscasting on Facebook. Follow us on Twitter @sportscasting19.