Despite Being Labeled as a Michael Jordan Draft Mistake, Kwame Brown Had an Overlooked Career That Netted Him More Than $60 Million
Kwame Brown is most remembered as the failed No. 1 pick in the 2001 NBA draft by Michael Jordan in his first year as an executive with the Washington Wizards.
Sure, Brown never lived up to his draft status. He never became a regular starter alongside Jordan in Washington. He never became an All-Star.
But Kwame carved out a nice career for himself, something that is nearly always overlooked. He played more than a decade in the league and made more than $60 million.
Not bad for a "bust."
Kwame Brown was the No. 1 pick in the 2001 draft by Michael Jordan and the Wizards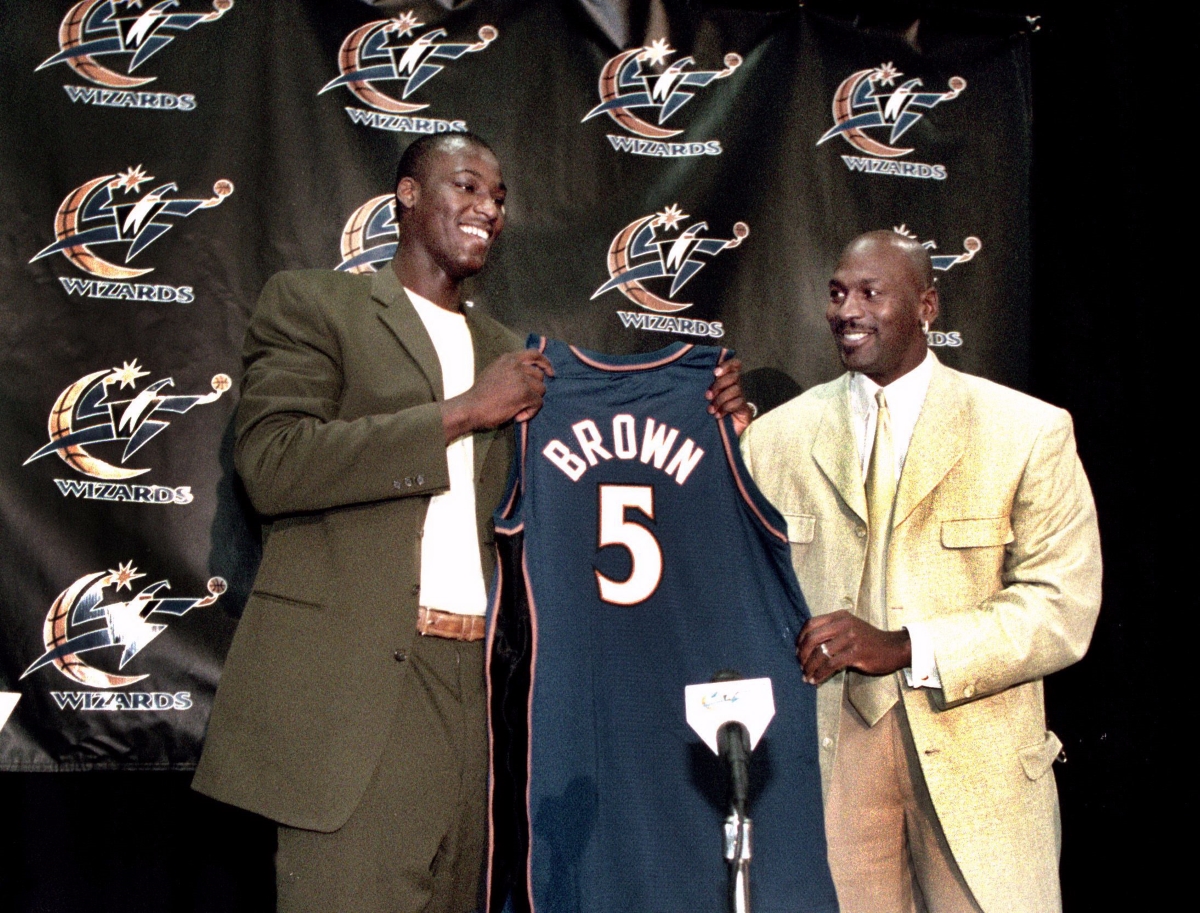 Brown was the first overall pick in the 2001 draft. He became Jordan's first move as an executive. Eventually, MJ became known for his poor decisions in charge of a franchise. That's changed somewhat over the last few seasons with the Charlotte Hornets and assumed superstar LaMelo Ball.
But Kwame was the first trip down the bad-decision rabbit hole.
Brown claims His Airness drafted him intending to trade him for veteran help immediately. Regardless, that never happened, and Coffee's career in Washington never really materialized.
He played his first four years with the Wiz. His best season was the '03-04 campaign when he started 57 of the 74 games he played and averaged a career-high 10.9 points per game.
He added 7.4 rebounds per night and shot 48.9% from the floor. But he regressed and only played 42 games the following season before he left Washington.
But it was far from the end for Kwame.
Brown had an under-the-radar successful NBA career
Saying someone — especially a No. 1 overall pick — had an "average" career isn't usually a compliment. But for the way Brown is perceived, it is.
He went from teaming up with Jordan to joining Kobe Bryant with the Los Angeles Lakers. He played 72 games his first year in LA, averaging 7.4 points and 6.6 rebounds on 52.6% shooting.
He shot a career-high 59.1% the following year and averaged 8.4 points and 6.0 rebounds.
He then bounced between Memphis, Detroit, Charlotte, Golden State, and Philadelphia before finally calling it a career after the 2012-13 season.
Ironically, Jordan signed him as a free agent with the then-Bobcats in 2010-11, just when it appeared Brown's career was over. He started 50 of 66 games with Charlotte and averaged 7.9 points and 6.8 rebounds.
It was his best statistical season since the '06-07 campaign.
He earned $62.6 million over his 13-year NBA career, according to Spotrac. It's hard to argue, realistically, that someone with that sort of professional basketball career was a total failure.
He'll never shake the draft bust moniker, but what he did accomplish shouldn't be overlooked
Brown has career averages of 6.6 points and 5.5 rebounds on 49.2% shooting. Those stats aren't eye-popping and won't blow anyone away.
Midway through his career, Bleacher Report published a story asking if he was the biggest draft bust ever. But that's certainly not the case.
He doesn't believe so either, as he made abundantly clear on his own YouTube channel.
It will be hard for Kwame to be considered anything but a bust. When looking at it through the lens of a No. 1 overall pick, he probably was.
But taking a step back and looking at the bigger picture, the career he went on to have really didn't make him a bust at all. And he deserves that to be part of his legacy too.
All statistics courtesy of Basketball Reference.