Despite All the Early Scrutiny, Damian Lillard Is Proving He Still Embraces the Struggle: 'The Real Ones, They Can Keep on Trucking and Keep on Going and Still Find a Way to Get the Job Done'
Damian Lillard is off to the worst start of his NBA career. Delusional Philadelphia 76ers fans are making it abundantly clear they still want the Portland Trail Blazers star, but Dame has other things to be concerned with at the moment as he's mired in an unprecedented (for him at least) slump.
The six-time all-star, though, has never been one to back down from a challenge. And that's precisely how he sees his early-season struggles: simply another challenge to overcome and another difficulty that will make him better in the end.
Dame is in the midst of the biggest slump of his NBA career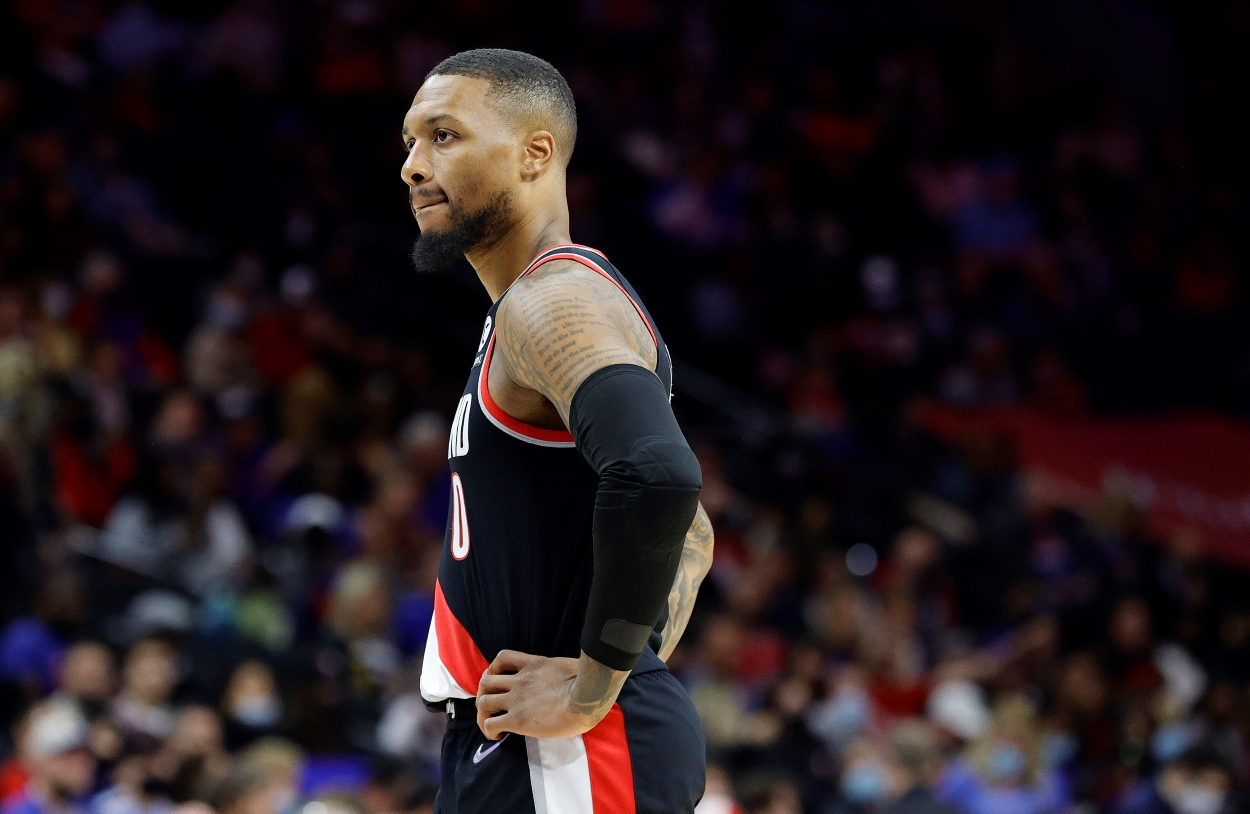 Through seven games, Dame Dolla is averaging 18.6 points. He's shooting 23.1% from 3-point range and 34.9% from the field.
He has an effective field goal percentage of 40.7.
He is averaging career lows in each category, and his shooting percentages are miles below any other year of his career.
Lillard is 13th on his own team in field goal percentage and 11th in 3-point percentage, just ahead of centers Jusuf Nurkic and Cody Zeller.
As Dame goes, the Blazers go, and Portland has limped out to a 3-4 start while its franchise player attempts to catch fire.
But Damian Lillard is still embracing the struggle
Logo Lillard has spent his whole career facing challenges.
The Oakland native ended up at tiny Weber State University coming out of high school due to a lack of better options. While he's been named to an All-NBA team six times, Dame was just a three-star recruit in the class of 2008, according to 247Sports.
His other scholarship offers came from the likes of Boise State, Bradley, and Montana.
Still, he starred for the Wildcats and ended up the sixth overall pick in 2012.
At 6-foot-2 in shoes and 22 years old, Big Game Dame was considered a risky pick by Portland. Needless to say, things have turned out well for all parties involved.
Now, Lillard sees his early-season woes as just another stumbling block on a long list of life challenges. Even as an established NBA superstar, though, he still welcomes the work, according to Bleacher Report:
"When things go great there's a lot of praise that goes along with that. A lot of people give you a lot of credit. They speak highly of you on social media, TV. 'Oh Dame had 60, Dame had 50.' They speak really highly of you. But I think it says more when you're going through something and s— is kind of hitting the fan and you're struggling and everybody's got something to say and to me the real ones, they can keep on trucking and keep on going and still find a way to get the job done.

"And, me personally, I love when those opportunities present themselves. Because when I am riding high and when I do get smoking hot and when I get going people are going to look at it and be like, 'We remember when you were struggling and you didn't shy away from it.' I think it will be more respect for the success when they see how you handle failure and how you handle struggle."

Damian Lillard on fighting through his poor start to the 2021-22 season
There's no reason to think it won't be Dame Time again at some point this season
Seven games worth of basketball strife isn't going to bother Dame; in fact, clearly, he welcomes it.
He's a career 43.8% shooter on more than 18 attempts per game. In 2020-21, he shot 39.1% from three on 10.5 tries a night.
Lillard averaged 34.3 points and 10.2 assists in last year's first-round playoff exit, shooting 45% from three on 13 attempts per game. He dropped 55 points, 10 assists, six rebounds, and drilled 12 threes in game five of the Blazers' loss to the Denver Nuggets.
Dame has bounced back from worse. As this season progresses, he'll bounce back again and bring Portland to the playoffs for the ninth consecutive year.
All statistics courtesy of Basketball Reference.
RELATED: Damian Lillard's New Coach Provides Even More Evidence That the Trail Blazers' Point Guard Is Simply a Different Breed of Superstar: 'Dame, He Has Kind of an Old Soul'