Taysom Hill Will Still See Plenty of Time on the Field for the New Orleans Saints, Even if Jameis Winston Is the Starting Quarterback
After going toe-to-toe for the New Orleans Saints starting quarterback job, Jameis Winston came out ahead of Taysom Hill. Winston will start New Orleans' season opener against the Green Bay Packers on September 12.
It certainly can't be good news for Hill, nor for the fans who wanted him as the starter. Hill started four games at quarterback last season when Drew Brees was out with fractured ribs and a collapsed lung, winning three of them and keeping New Orleans atop the NFC South.
But while the BYU product might not be taking as many snaps behind center, head coach Sean Payton will give him plenty of opportunities to showcase his talent in other areas.
Taysom Hill believed he was ready to take over for Drew Brees
In the nine games in 2020 in which he threw at least one pass, including the four games he started, Hill accumulated 928 passing yards and four touchdowns. His best performance was in his lone defeat as a starter, going 28-for-38 with 291 yards and a pair of touchdowns in a three-point loss to the Philadelphia Eagles.
Even before starting his first game at quarterback last season, Hill has believed he was the man ready to replace the future Hall of Famer Brees.
During Super Bowl week in 2020, Hill told the AP's Rob Maaddi he views himself as a franchise QB.
"I definitely view myself as a franchise quarterback. Do I want to leave? The fact of the matter is no. But as you look at free agency, you have to find the right opportunity for you. You have to find the situation to take care of your family. I want to play quarterback in this league. If New Orleans don't view me that way, well then I have to leave."

Taysom Hill
Hill, of course, did not leave as a free agent. Instead, he inked a two-year, $21 million deal as a restricted free agent in 2020 before restructuring his contract this offseason.
Hill will see the field a lot in 2021, even if it's not at quarterback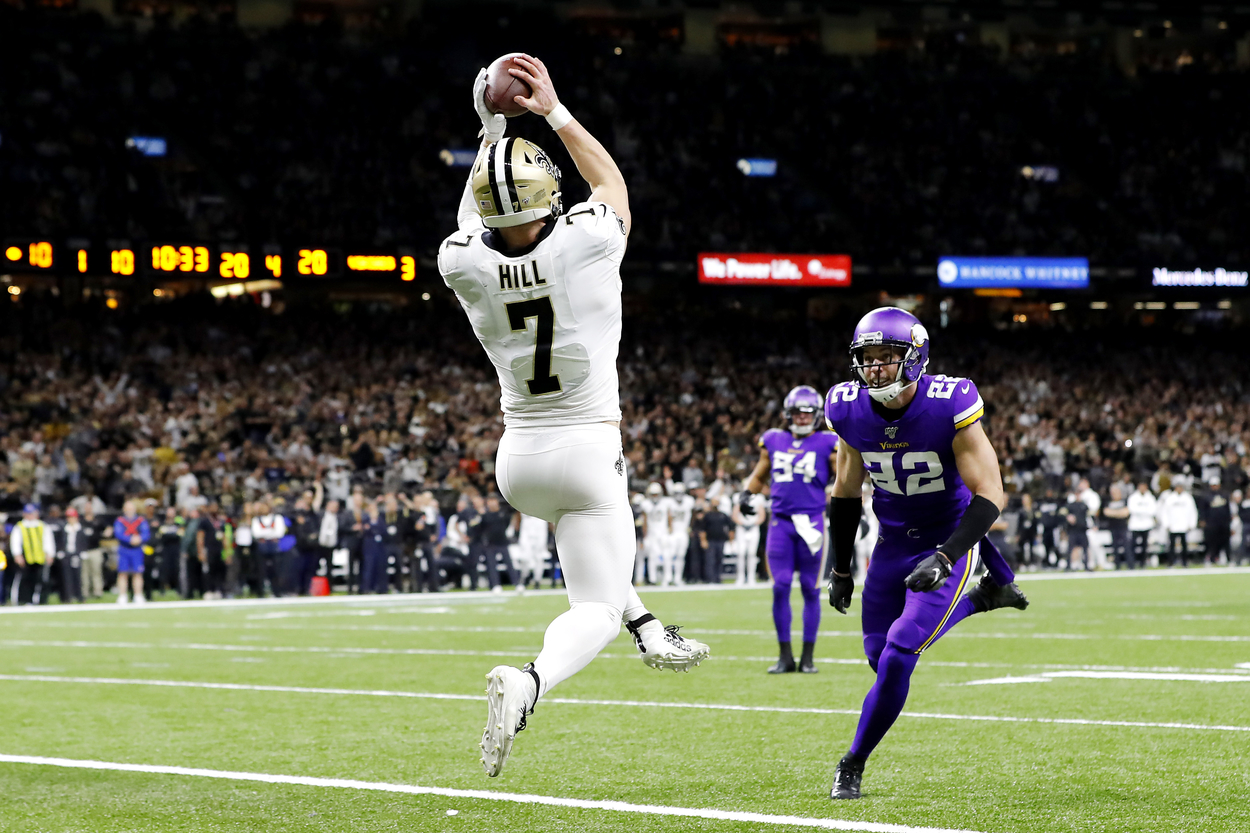 While Hill sees himself as a franchise QB, his coach sees him as a do-it-all gadget.
Payton has utilized Hill's skill set in a variety of ways. In the last two seasons, the 31-year-old earned 613 rushing yards, 332 receiving yards, and 16 total touchdowns. The Super Bowl champion coach loves Hill so much he has even tried to find another player just like him who can impact the game in multiple ways.
Based on New Orleans' roster moves, Hill should have an even bigger role as a rusher and receiver in 2021. The Saints lost wide receiver Emmanuel Sanders, tight end Jared Cook, and tight end Josh Hill this offseason, while star receiver Michael Thomas is still recovering from ankle surgery.
All those players missing make Hill more of an asset than ever. Especially with a quarterback who will be commanding the offense for the first time.
Winston may relinquish the starting role to Hill at some point
There is no disputing Winston holds the edge when it comes to experience as a starting quarterback. The first overall pick in the 2015 NFL Draft started his first five seasons in the league with the Tampa Bay Buccaneers before spending 2020 on the sideline behind Brees and Hill.
Jameis has a lot of upside, evident by his 33 touchdown passes and league-leading 5,109 passing yards in 2019. But his 33 interceptions, an issue that has plagued him throughout his career, killed any chance the Bucs had of winning meaningful games.
It's not as if Payton is risk-averse; Brees had multiple seasons with double-digit interceptions, including in 2012 when he led the league with 19. But that doesn't mean Winston will keep the starting job if things turn ugly.
When the Saints go marching into Week 1, Winston will lead the way. But Hill will be ready as always to step in if necessary.
All statistics courtesy of Pro Football Reference, Contract figures courtesy of Spotrac.