Colin Kaepernick Still Makes the Top 5 for This NFL Record Despite Not Playing Since 2016
Colin Kaepernick has not played in the NFL for several years, but he's still mentioned in the news. The quarterback and activist is outspoken about issues related to social justice and racism. He also draws attention for his charity work and his occasional tryouts for NFL teams as he hopes for a comeback. 
Kaepernick is often lauded for still being able to play. There's controversy around why he's been kept out of the game, but one thing's for sure: Before he stopped playing, he was regarded as being worthy of an NFL roster spot.
Despite being away from the game for some time, Kaepernick is still in the top five for one important statistical category: interception percentage. 
What is interception percentage?
First, a definition: Interception percentage is calculated by dividing a QB's total number of passes by their interceptions. If a quarterback throws 100 passes, and one is picked off, their interception percentage is 1%. 
The smaller a QB's interception percentage, the more accurate their passing ability. Players who often throw downfield and lack accuracy will likely have much higher interception rates. This is due to the fact that they're not able to squeeze the ball into the tight windows they need to when throwing longer passes. 
According to Pro Football Reference, QBs can qualify to rank for the lowest interception percentage by hitting the threshold of 1,500 pass attempts. Kaepernick hit this threshold and therefore qualifies to be considered one of the all-time leaders in one category.
Where Colin Kaepernick stands in the record books for interception percentage
So where does Kaepernick rank in the NFL record books for this stat? Pretty high. According to Stat Muse, he currently ranks in the top five all-time with an impressive 1.8% interception percentage. He's not alone with that number; both Tom Brady and Russell Wilson have the same total. 
Kaepernick's low interception rate shouldn't come as a surprise to anyone who watched him play. Kaepernick wasn't the league's top quarterback, though he did show flashes of brilliance early in his career. But he was always able to minimize errors to play largely mistake-free football. Kaepernick's running ability also gave him an out when his receivers were covered. His speed and elusiveness prevented him from having to force bad throws downfield. 
What's also interesting is that while Kaepernick is tied with Brady and Wilson, they may slip behind him. Both QBs are still active/ Brady is still a starter after two decades in football, while Wilson is in the middle of a great career. There's no reason to think either will fall off performance-wise this season, but they will likely throw interceptions at some point. Provided Kaepernick doesn't play again, his number is going to stay put. 
Who is ahead of Colin Kaepernick in interception percentage?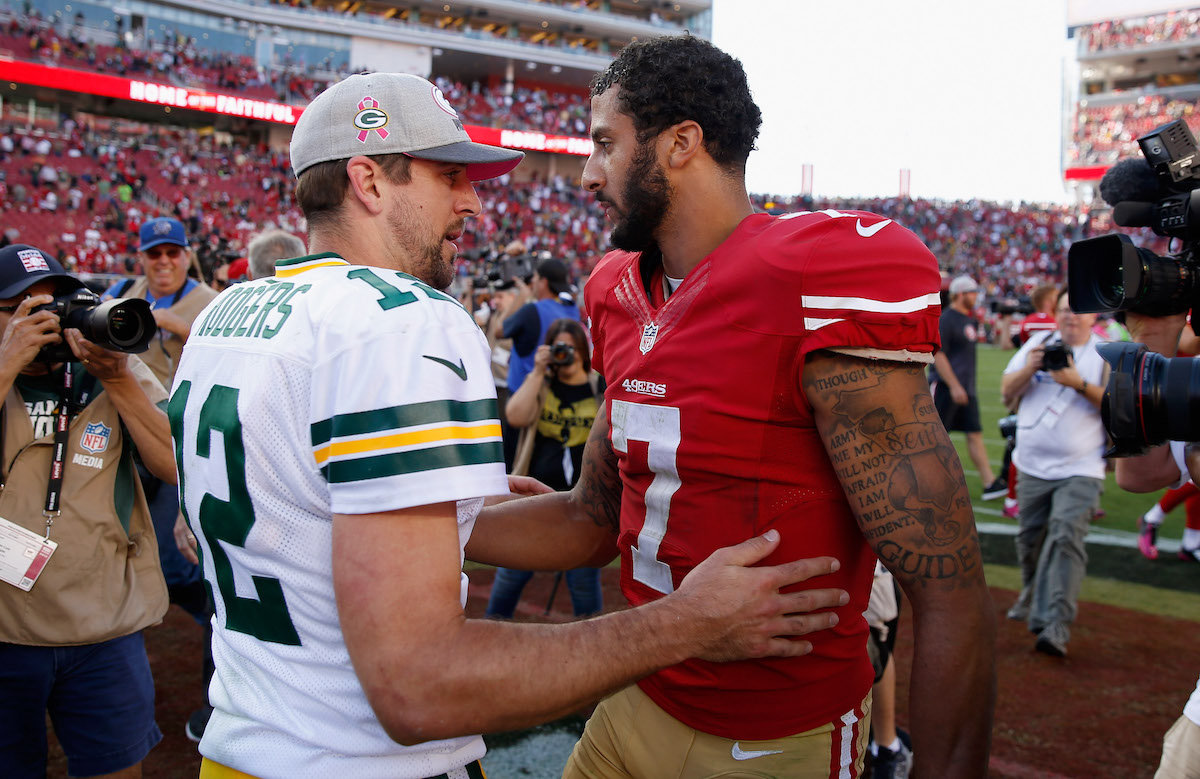 Kaepernick's interception rate is good, but it's not the best all time. Here's who comes in ahead of him: 
Aaron Rodgers: 1.3%
Patrick Mahomes: 1.6%
Tyrod Taylor: 1.6%
Dak Prescott: 1.6%
Those are some accomplished quarterbacks. Rodgers is an all-time great. Mahomes is on his way to a Hall of Fame career. Taylor has been one of the league's best backups and spot starters for years, and Prescott has played consistently high-level football in Dallas. 
Even more impressive is who Kaepernick is in front of. Here are some notable quarterbacks who actually have higher interception percentages than him:
Deshaun Watson: 2.1%
Kyler Murray: 2.2%
Drew Brees: 2.3%
It's a testament to Kaepernick's ability to throw accurately — an ability that may reward some NFL team should he ever get an opportunity to play again. 
RELATED: Legendary QB Warren Moon Is Skeptical of Colin Kaepernick's Comeback Chances