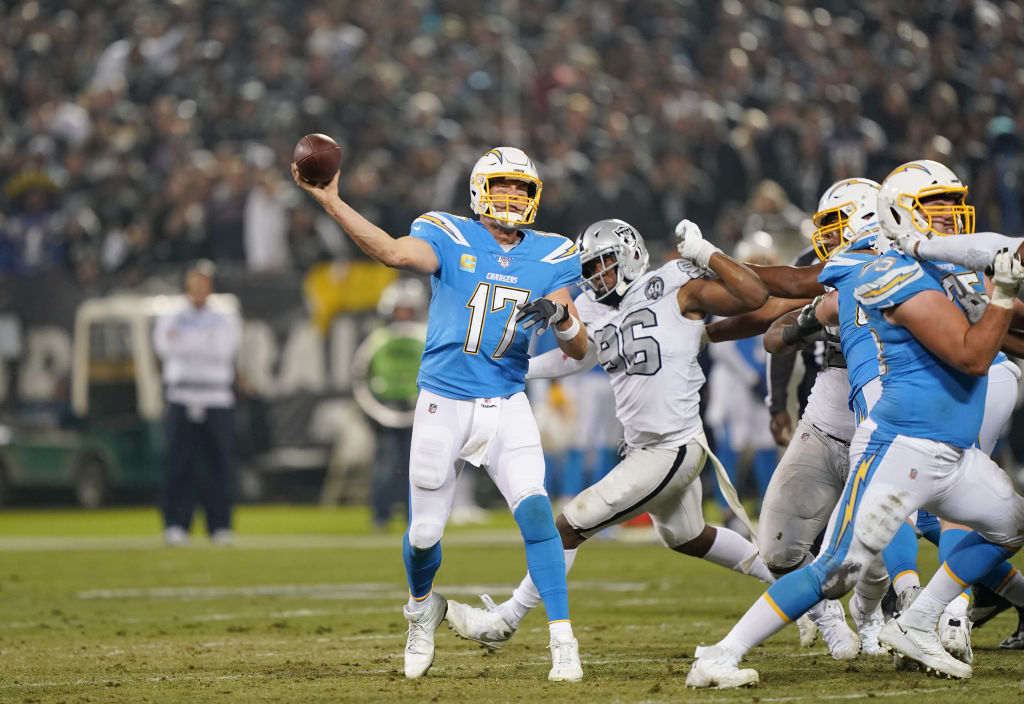 Despite Philip Rivers' Poor Performances, He's a Must-Start Fantasy Football QB
Los Angles Chargers quarterback Philip Rivers should start for your fantasy football team this weekend.
While it's somewhat of an oversimplification, a football team's chances of success generally start with the quarterback. Since he's literally touching the ball on every play, that one man holds a disproportionate amount of influence on the game. The same is true in fantasy football; having a good QB will never hurt your chances. This weekend, you'll want to make sure that Philip Rivers of the Los Angeles Chargers is in your starting lineup.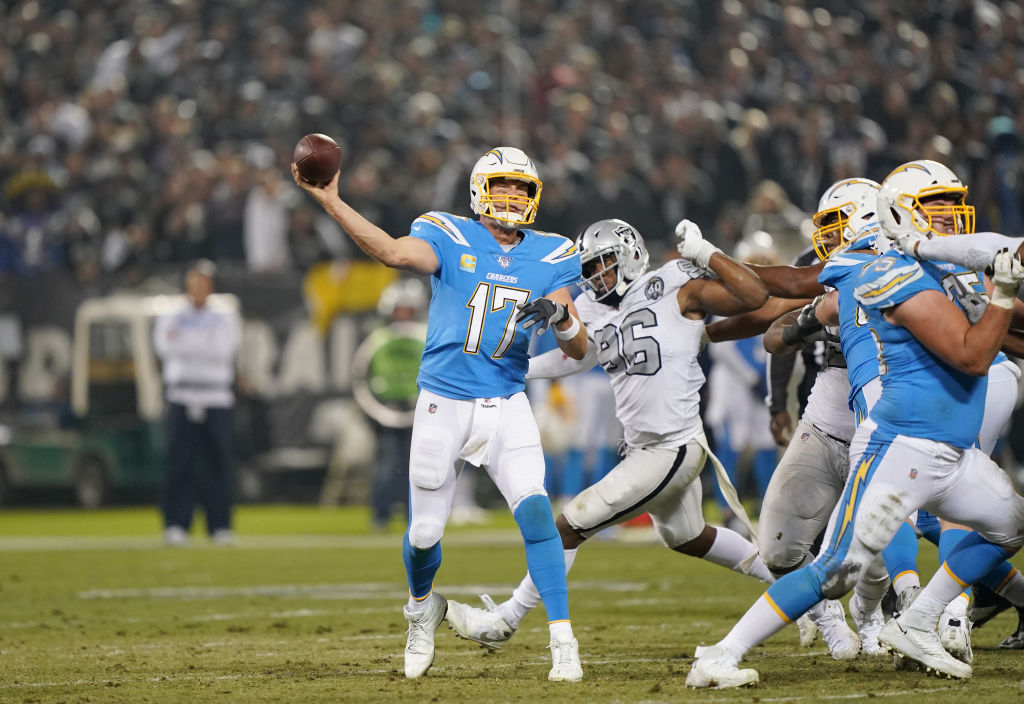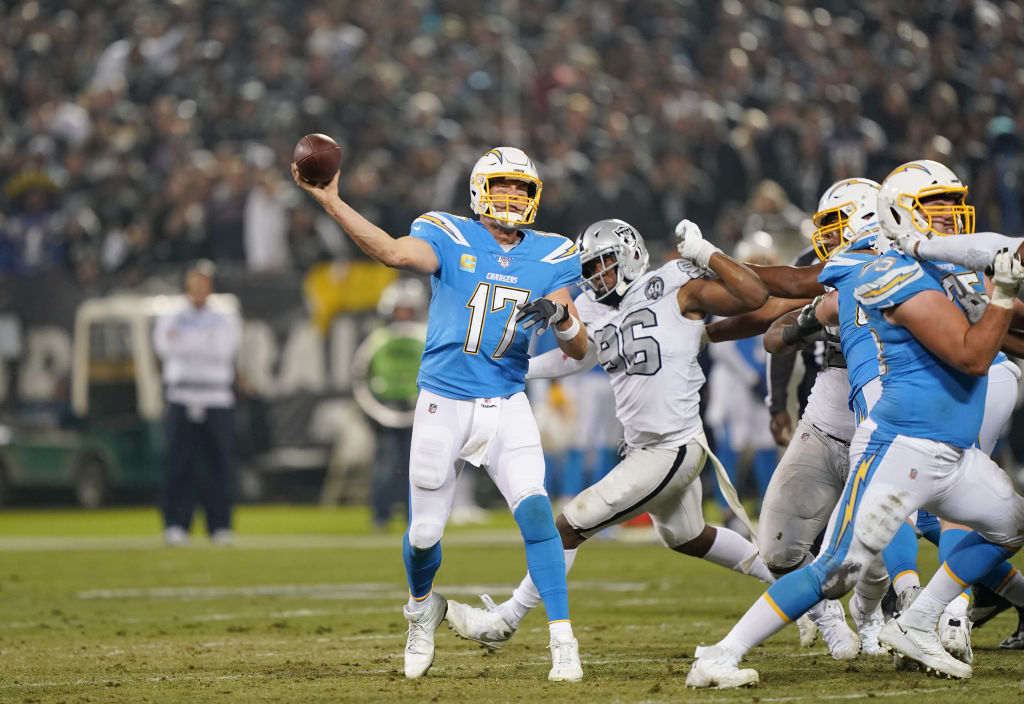 While Rivers' fantasy production has been in a slump this season, you'll want to keep an eye on him when Monday Night Football rolls around. There's one major reason to trust the Chargers quarterback this time out.
Philip Rivers' inconsistent 2019
In terms of the real-life NFL, Philip Rivers has been doing fairly well this season. While he's almost 40-years old and the Chargers recently fired their offensive coordinator, the veteran quarterback doesn't appear to be slowing down.
Rivers currently leads the league with 2,816 passing yards; that puts him on pace for the third most productive season of his career. He's completing 65.9% of his passes, which is on the higher side of his career spectrum and has a 90.6 passer rating for the season. Things look quite a bit different from the fantasy football perspective, though.
Rivers' biggest problem this season has been a lack of touchdowns, and, as every fantasy player knows, those scoring plays are key to success. The quarterback has only thrown 14 passes into the end zone this season; that reality, coupled with 10 interceptions, has taken a heavy toll on his point production. This season, the Chargers quarterback has only posted more than 20 points on four occasions, with only one of those games coming after Week 5.
The Chargers' match-up with a weak Chiefs defense
On Monday night, the Chargers will meet the Kansas City Chiefs in Mexico City. While that might be a tough match-up for Los Angeles to win, Philip Rivers could have a field day.
For all of the Chiefs' offensive potential, their defense is still struggling. Kansas City ranks 22nd in the NFL in total defense, allowing just under 370 yards per game. While most of that yardage has come in the running game, Rivers will still be able to take advantage of the situation.
In the Chiefs' past two games, defensive coordinator Steve Spagnuolo has stacked the box, daring the opposition to run against his unit; that has meant leaving the cornerbacks without help against their receivers. While Kirk Cousins and Ryan Tannehill didn't really take advantage of the single coverage, you'll have to expect Philip Rivers to find his man on the outside.
Philip Rivers fantasy football outlook
No matter what happens on Monday Night, Philip Rivers should be a safe bet for your fantasy football team. No matter which way the game goes, the quarterback should be in line for plenty of points.
If the Chargers get out to a lead and start running the ball, the Chiefs will be forced to dedicate more defenders to crowding the box, giving Rivers the perfect opportunity to throw over the top. If Kansas City takes the lead, which their offense is perfectly capable of doing, Rivers will be forced to pass to keep his team in the game.
While Philip Rivers hasn't lit up the fantasy scoreboard this season, you shouldn't have any hesitation to start him on Monday Night. No matter what happens in the game, he'll have plenty of opportunities to pile up points. While he's struggled against favorable match-ups in the past few games, the Chiefs defense will be entering this game feeling as low as possible; if he can't thrive this weekend, it's time to find a different fantasy QB.