Despite Ruining His Relationship With Aaron Rodgers, Packers GM Brian Gutekunst Deserves Praise for Refusing to Abandon a Strategy Other NFL GMs Need to Employ
The Green Bay Packers vs. Aaron Rodgers saga has dominated the NFL offseason going all the way back to the draft. The sports world has been oversaturated with Rodgers content. The whole thing seems to have started during the 2020 NFL draft when Green Bay traded up to select Utah State quarterback Jordan Love without informing Rodgers of the move. Sure, it makes sense why that would bother the three-time MVP. But Packers' General Manager Brian Gutekunst's teambuilding strategy doesn't include catering to a franchise quarterback. It may have ruined his relationship with Rodgers, but Gutekunst deserves praise for refusing to abandon a strategy other GMs need to employ.
Gutekunst's idea of team building is to surround a quarterback with talent at all positions. He doesn't begin by searching out a franchise quarterback and then constructing a roster around him. This philosophy makes any quarterback's job easier, in turn making it easier and cheaper for the franchise to find a QB to fit its system, which sets the organization up for long-term success.
Packers GM Brian Gutekunst ruined his relationship with Aaron Rodgers because of his teambuilding strategy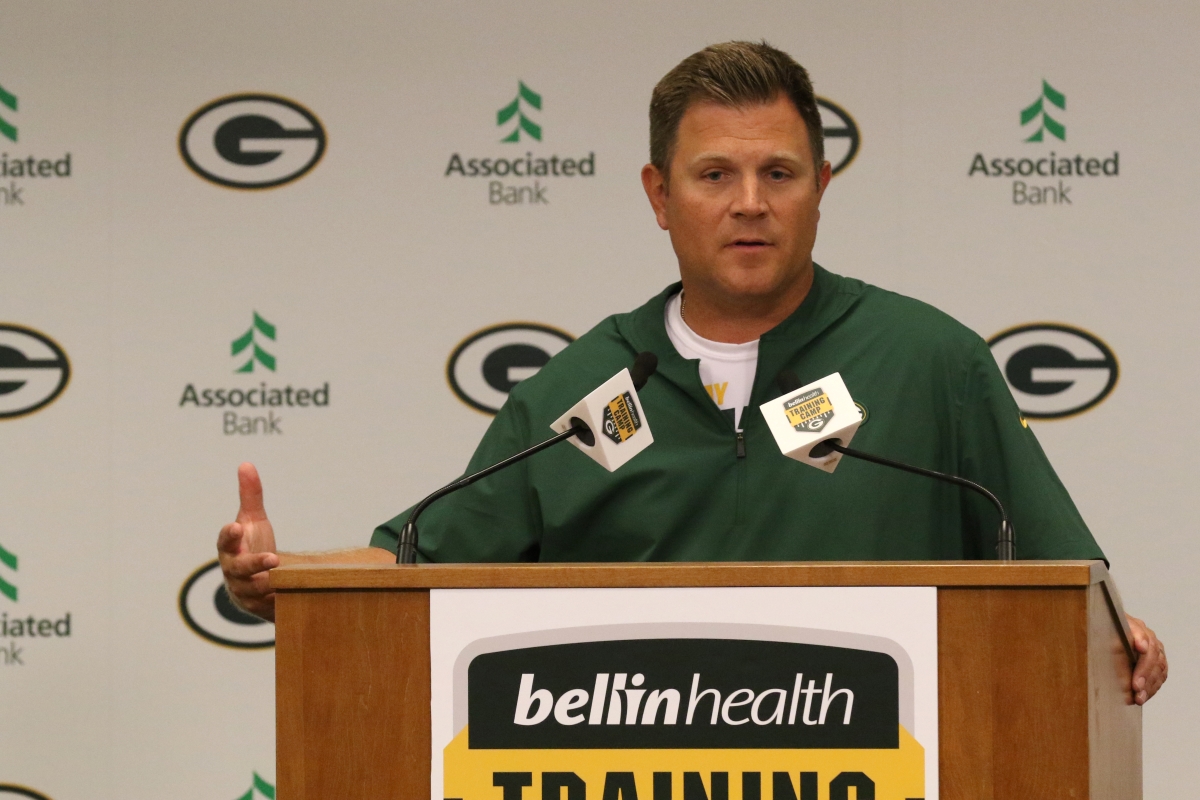 Gutekunst's idea to trade up and select Love ruffled a lot of feathers in Green Bay, but Rodgers' feathers were the most important. The franchise's MVP quarterback had no idea the front office was bringing in, essentially, his eventual replacement. Why nobody in the Packers' draft room decided to give Rodgers a heads up remains a mystery, although Gutekunst has stated that it was a spur-of-the-moment decision to trade up for the highest-rated player on their board. Regardless, a quick 60-second phone call from somebody in the room would have probably helped.
But according to PackersNews.com, Gutekunst's front office experience dates back to the late 1990s. He doesn't feel the need to keep his quarterback in the loop on every personnel decision. The 48-year-old began his scouting career with the Kansas City Chiefs in 1998, where he worked with Packers' current salary-cap guru Russ Ball. He then joined the Green Bay organization under Ron Wolf. Packers' former lead man Ted Thompson and Seattle's John Schneider are just two of Wolf's scouts who went on to GM roles. Gutekunst is the sixth GM from the Wolf tree.
Wolf's thoughts on quarterbacks were simple: You can't draft enough of them. His other philosophy? Draft and develop.
Gutekunst's strategy is to build a team that supports its starting quarterback
The Packers' GM hired then-Tennessee Titans' offensive coordinator Matt LaFleur to be Green Bay's new head coach in 2019. LaFleur developed under San Francisco 49ers' Head Coach Kyle Shanahan and LA Rams' Head Coach Sean McVay. Both run quarterback-friendly systems that don't rely on an MVP-caliber player at the position. McVay got to a Super Bowl with Jared Goff. Shanahan did the same with Jimmy Garoppolo. During his time as offensive coordinator with the Titans, the team's starting quarterback, Marcus Mariota, got injured. So LaFleur switched his game plan on the fly and built the offense around the running game and all-pro back Derrick Henry.
Gutekunst's first two drafts as Packers' GM saw him acquire cornerback Jaire Alexander, safety Danell Savage, and offensive lineman Elgton Jenkins. All three have been starters from day one. Gutey also brought in edge rusher Rashan Gary, who is expected to play a big role in 2021. Running back Aaron Jones, one of the best at his position in the league, was a fifth-round pick. Fans have long been up in arms about the lack of first-round wide receivers drafted in Green Bay; well, even Davante Adams was a second-round pick. Marquez Valdes-Scantling was a fifth-round pick. Allen Lazard was signed as an undrafted free agent. One of Rodgers' favorite targets, tight end Robert Tonyan, was an undrafted free agent and a wide receiver in college.
When he does dip into the free agency pool, the Packers end up with edge rushers like Za'Darius Smith, Preston Smith, and Adrian Amos — all current starters.
The theme here: Green Bay's GM has built depth along both lines of scrimmage and has found starters in late rounds and free agency. He hasn't wasted draft capital or money on weapons in the passing game, and his team has reached two consecutive NFC Championship Games. Gutekunst's teambuilding strategy is working.
Gutekunst is setting up the Packers franchise for long-term success
Rodgers is all but gone after this season. Assuming Love takes over, he has a number of things in his favor as a first-year starter:
An offensive line with depth and multiple All-Pros
A franchise running back
A deep wide receiver room
A productive starting tight end
One of the best secondaries in football
An offensive system designed to make a quarterback's job easy
Green Bay may not have Patrick Mahomes for the next 10 years. It probably won't even have Rodgers for one more. But Gutekunst's teambuilding strategy — through the draft, with a good head coach and a strong system, and rare but successful forays into free agency — has the franchise set up for long-term success.
Draft history courtesy of Pro-Football-Reference.