Despite Taking Time to Film 'Space Jam', Michael Jordan's NBA Game Didn't Suffer
Michael Jordan isn't like too many other basketball players. For example, few players have won six championships. Few players have made millions launching a global brand that served as the face of multiple other brands such as Nike, Gatorade, and Hanes. Furthermore, few players starred in a movie at the apex of their career alongside Bugs Bunny.
Everyone knows Michael Jordan took time away from basketball to film Space Jam but did you know how he was able to do so without hindrance to his game? Let's take a closer look at how MJ stepped away from the game to film the beloved kids' movie without losing a step. 
The history of 'Space Jam'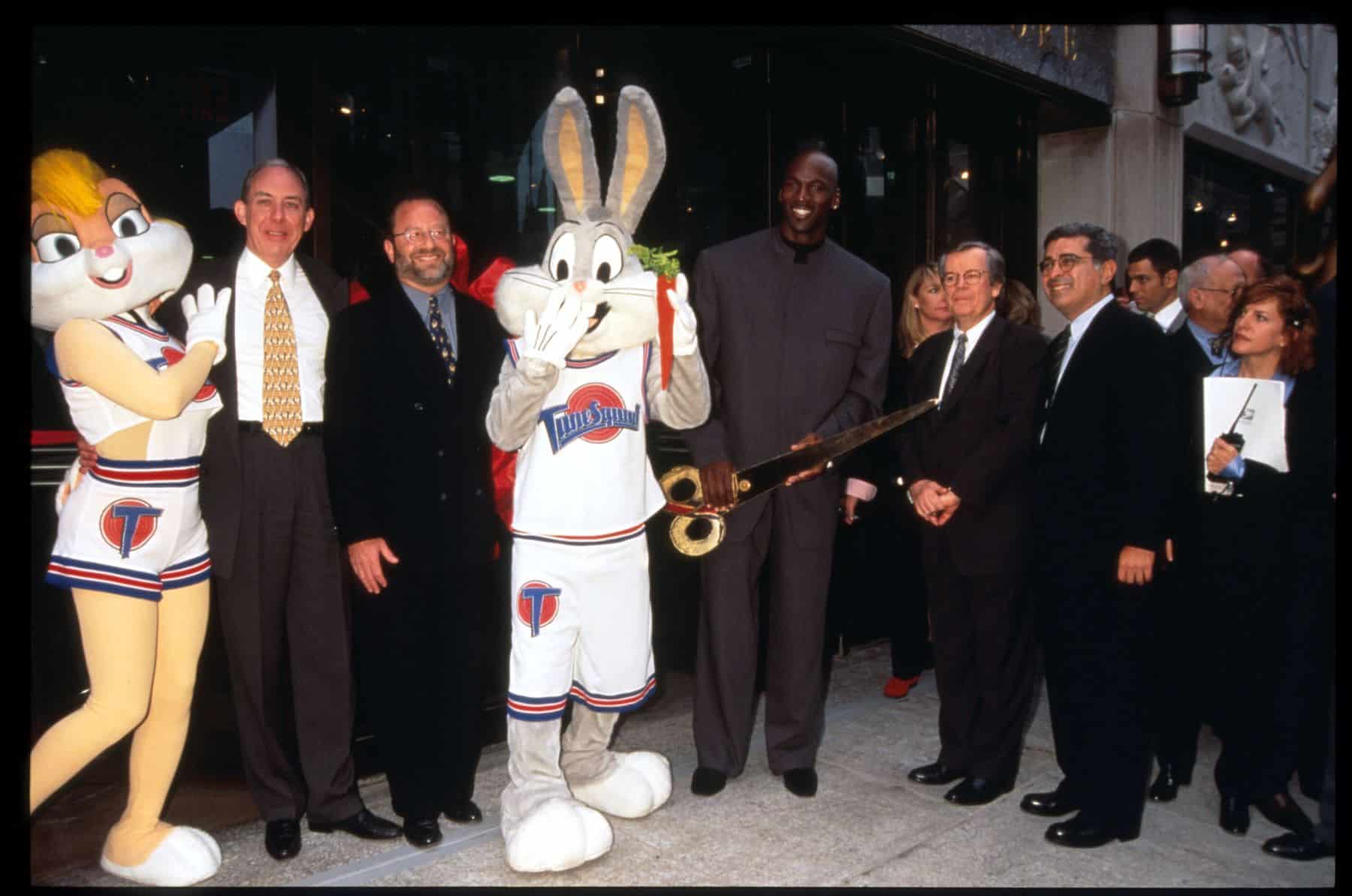 Space Jam represented a meeting of some of the most iconic cartoon characters in entertainment history, the Looney Tunes, with one of the most famous athletes in the history of sports. Michael Jordan had dominated basketball with three straight championships for the Chicago Bulls. Making a movie with Bugs Bunny seemed like a match made in heaven.
According to Biography, the idea for the movie came about from a TV commercial. A Nike commercial broadcast during the Super Bowl in 1992 saw Air Jordan pair up with Bugs, aka "Hare Jordan." The following year, the two teamed up to play yet again against a team of cartoon aliens.
From there, superagent David Falk brokered a deal with the movie studio Warner Brothers to put the two together on the big screen. The studio agreed, and a deal was struck.
Michael Jordan's 1995-1996 season stats were impressive
Before filming Space Jam, Michael Jordan had played minor league baseball for a season only to return to basketball. Jordan returned to the NBA amid the 1994-1995 season, but he appeared somewhat rusty (for his standards) at times and saw his team fall in the playoffs at the hands of the Shaquille O'Neal-led Orlando Magic. 1995-1996 was Jordan's true comeback season, as he had a full training camp to prepare. 
The difference was startling. Jordan played some of the best basketball of his career, leading the Bulls to 72 wins and an NBA Finals victory over the Seattle Sonics in six games. According to Basketball Reference, Jordan's scoring numbers were down slightly, but he exceeded his past performance concerning his other stats. For example, he had a career-best field goal percentage from beyond the three-point arc. 
It would be the start of yet another dynastic run for the Bulls. They followed that epic season with two additional NBA championships, with both finals wins coming over the Utah Jazz. 
It's clear that Jordan's time away from basketball while filming a movie hadn't proved detrimental to his game. So, how did he do it?
The reason Jordan's game didn't suffer while he filmed 'Space Jam'
Filming on a Hollywood movie set can be a busy, chaotic place. Michael Jordan was an athlete by trade, but he was no stranger to show business. He'd filmed commercials and appeared in TV shows like Saturday Night Live, so he likely knew what he was getting into. As hectic as it could no doubt be, Jordan put guardrails in place to ensure he could work on his game even in the middle of the film set.
According to CNBC, Jordan requested access to a basketball court while filming took place. He'd train for 5 hours a day. That made sure his conditioning didn't suffer any setbacks, and his game remained sharp. It's apparent his strategy worked. Jordan walked right off his time with the Tune Squad and didn't miss a step with the Bulls. 
RELATED: Michael Jordan Is Directly Connected to the GameStop Trading War and Has Been Bleeding Money for the Last Year