The Disastrous Detroit Lions Are Going to Creepy Lengths to Forget the Start of the 2021 Season
Things have gone terribly wrong for the Detroit Lions so far in the 2021 season. The Lions entered their bye week without a single win, and though they showed grit at times, it was ultimately a horrible start for Detroit.
Of course, hope springs eternal in spring training and after a bye week, so the Lions are hoping to put their 0-8 start behind them.
At least one unit on the team has gone to some crazy and creepy lengths to mentally move on, though.
The Detroit Lions have literally buried game tape
We all have things in our lives that we'd rather forget. That's what therapy is for, or four fingers of tequila, if you're Aaron Rodgers.
Detroit defensive coordinator Aaron Glenn came up with quite a visceral way to forget his team's woes. One common method of letting go of the past is writing a letter and setting it on fire. Have you ever tried burying game film, though? It's apparently not creepy as long as the game film is the only thing that's being buried.
Either way, that's how Glenn decided to deal with the game film from Detroit's loss to the Philadelphia Eagles. This, according to the Detroit Free Press.
Before they left for their bye week break, defensive coordinator Aaron Glenn told his players to forget about that game, to bury it — literally — and never speak of it again.

Glenn gathered his entire defense out behind the Lions' Allen Park practice facility one day last week and buried a tape of the game in a pre-dug hole in the ground.

"I really wasn't looking at it as a motivation factor," Glenn said Thursday. "I really wasn't looking at it as a symbol of what other coaches did. I looked at it, myself personally, that, man, these first eight games are over with. All the mistakes, all the arguments, all the issues, they're gone. They're done. So now, it's time to move on to this last part of the season."
Symbolic burials must be in the water in Detroit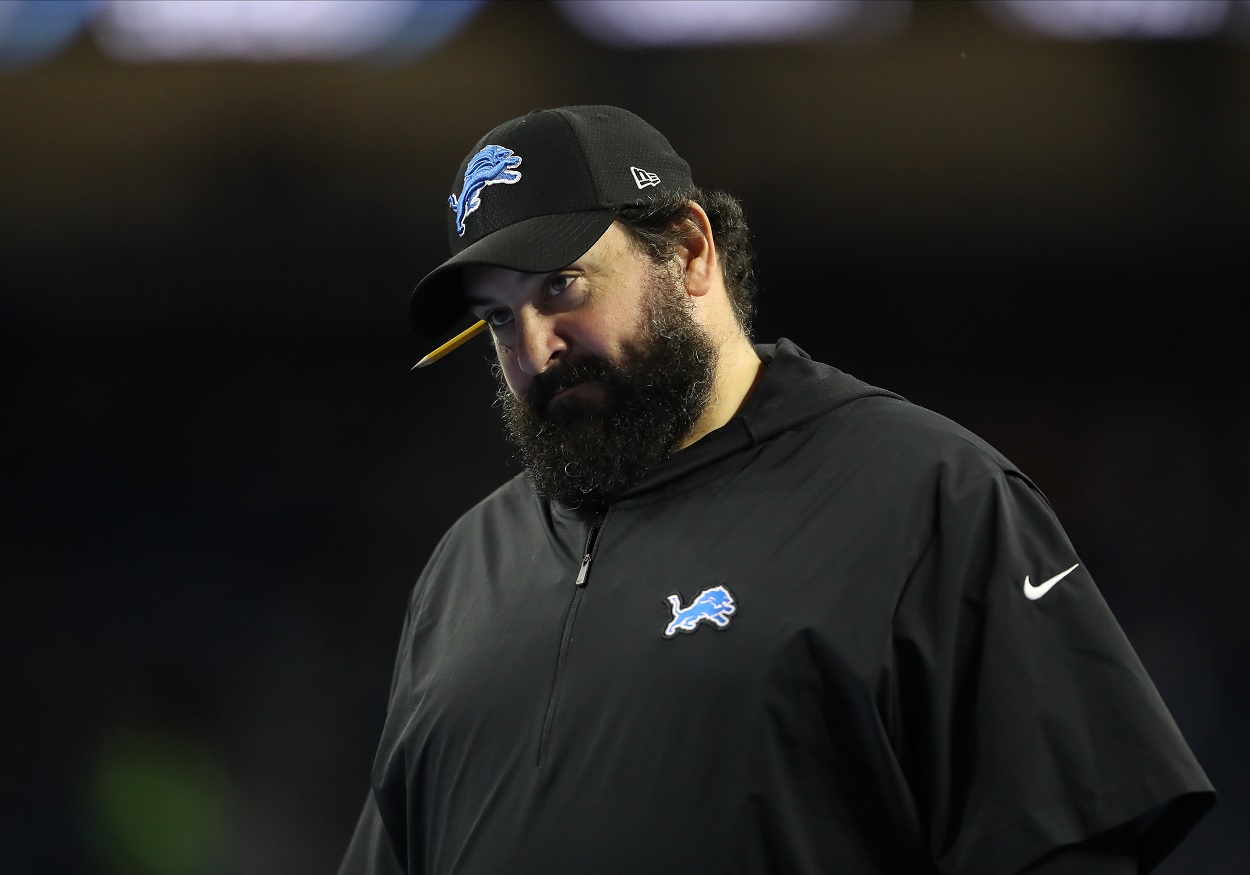 Ironically, and somewhat creepily, this is not the first time a Detroit coach has buried a relic that reminded them of disappointment. Matt Patricia, arguably the worst Lions coach in a long line of bad coaches, infamously buried the game ball after the Lions ruined his head coaching debut with a 48-17 loss to the New York Jets.
Rod Marinelli, of 0-16 fame, once made a digging reference as he tried to explain his team's 0-9 start to the media.
"If I put all of you here in a nice, dark tunnel, right? You're in this dark tunnel and you've got no way out. You're waiting for light and you see that light, what do you do? What do you do? You start digging and getting out," Marinelli oddly said. "It answers how I go through all this every day. It's dark and I'm going to dig through. My shovel is sharp and my pick is sharp and my will is outstanding."
Perhaps someone should check the Lions' facility to see what else is buried deep in the soil. If there were an "Amityville Horror" house in Detroit, it would 100% be built on those grounds.
Things may not get better for the Lions
At 0-8, the Lions are only a loss away from head coach Dan Campbell talking about his shovel and pick. He's already been moved to tears in a press conference because of his team's struggles, so what's a good digging analogy at this point?
Unfortunately, 0-16 is a legacy in Detroit. The Lions were the first-ever NFL team to do it, but this current team may have the unique "opportunity" to be the first NFL team to top that feat with a 17th game now on the schedule.
With two tough away games coming up against AFC North opponents in the 5-3 Steelers and 5-4 Browns, there's a strong chance the Lions will come out of the bye with two more losses, and that makes 0-17 a real possibility.
If the Lions lose these next two, any good vibes they created in the bye week will be a distant memory, and each loss after that compounds the pressure that comes along with trying to avoid making the wrong kind of history in Campbell's very first season as a head coach.
Even though the Lions were expected to be bad, going winless would be a major blow to Campbell as he tries to turn around the culture in Detroit.
It would be the type of shame that even a ceremonial burial couldn't cover up.