The Detroit Lions Have a Legitimate Building Block in Amon-Ra St. Brown
The Detroit Lions will be looking to build off a 3-13-1 campaign in Dan Campbell's first season as head coach. As the Lions look to move ahead into the offseason and start to put together a plan of attack, it has become clear that wideout Amon-Ra St. Brown appears to be a significant piece of the puzzle.
In another strong showing in Detroit's win over the Green Bay Packers in Week 18, St. Brown proved that he could be the real deal as potentially the No. 1 option for the Lions moving forward.
Amon-Ra St. Brown finished the season on a tear for the Detroit Lions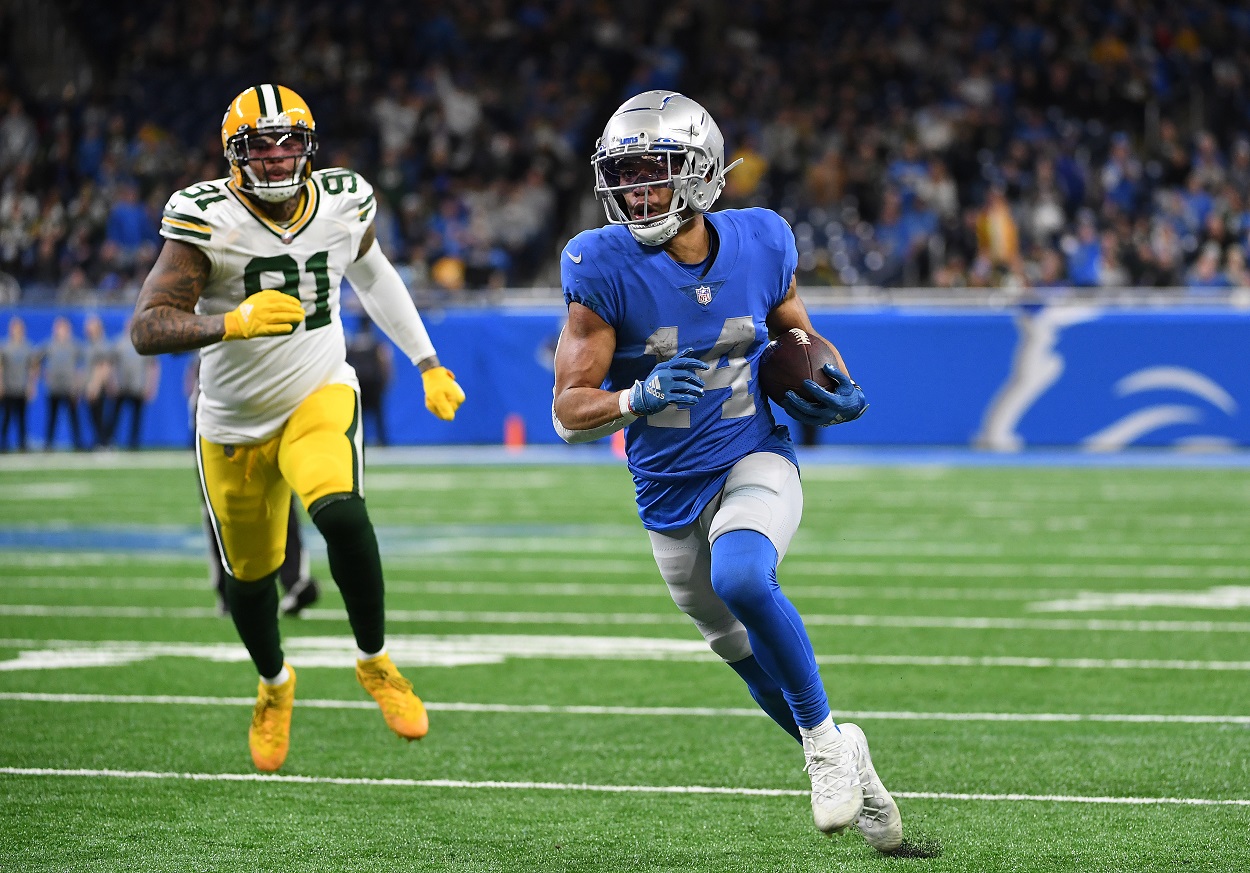 St. Brown has had a few weeks for the record books to end the season for Detroit. That culminated with eight catches for 109 yards and one touchdown against the Packers at home.
St. Brown was simply uncoverable, and that was even while the Packers had their first-string secondary in the game.
The win over Green Bay was a nice way to end the season, but it was ultimately one of many high-points for St. Brown.
The game against Green Bay marked the second game in a row that saw him go for over 100 yards receiving and the sixth game in a row in which he caught eight or more passes. That second stat is notable because it launched him past legendary Detroit receiver Calvin Johnson, who previously held the record for consecutive games in a row with eight or more catches. St. Brown's yardage gained against the Packers also put him in an exclusive company in terms of rookie records in Detroit. Last weekend against the Seahawks, he became Detroit's all-time leader in receptions caught by a rookie. Against the Packers, he moved ahead of Roy Williams to become Detroit's all-time leader in yardage caught by a rookie as well.
That's not bad company for a player taken 112 overall. Remember, Johnson was the second overall pick of the 2007 Draft. Williams was the seventh overall pick by Detroit in 2004.
St. Brown is fueled by his fall in the 2021 NFL Draft
Speaking of St. Brown's draft positioning as it related to Johnson and Williams, the young receiver has understandably used what he considers an unwarranted fall into the fourth round to fuel him.
"(Not hearing that name earlier) was definitely one of the moments in my life that I will never forget, that feeling I had," St. Brown told Kyle Meinke earlier on this season. "Day 1 went by, I wasn't expecting to go first round, I was fine. Day 2, I was expecting maybe I could hear my name. And seeing so many receivers go before me, that feeling I had inside, I can't even explain it.
"It was gut-wrenching. That really does motivate me."
St. Brown has played like someone with high motivation this season, and it's worth noting that of the 16 wide receivers taken in front of him in 2021, very few have made the impact that St. Brown did for the Lions in their rookie seasons.
Sure, Ja'Marr Chase is a superstar for the Cincinnati Bengals, and Jaylen Waddle and Devonta Smith will be very good for their respective clubs.
Would the Giants have preferred St. Brown to Kadarius Toney at pick No. 20, though? How about the Ravens, who took Rashad Bateman at No. 27? Rondale Moore to the Cardinals at No. 49? Dee Eskridge went to the Seahawks with pick 56. Would the Seahawks like a re-do?
The list goes on and on.
Hindsight is 20/20, of course, but a case can be made that St. Brown should have been a first or second-round draft pick in 2021.
The aforementioned rookie receivers have three touchdowns this season between the four of them. St. Brown finished his rookie season with 912 yards and five touchdowns to his name.
The Lions stole him in the mid-rounds, and he should be a significant part of the operation moving forward for Detroit.
St. Brown appears to be a cornerstone piece for the Lions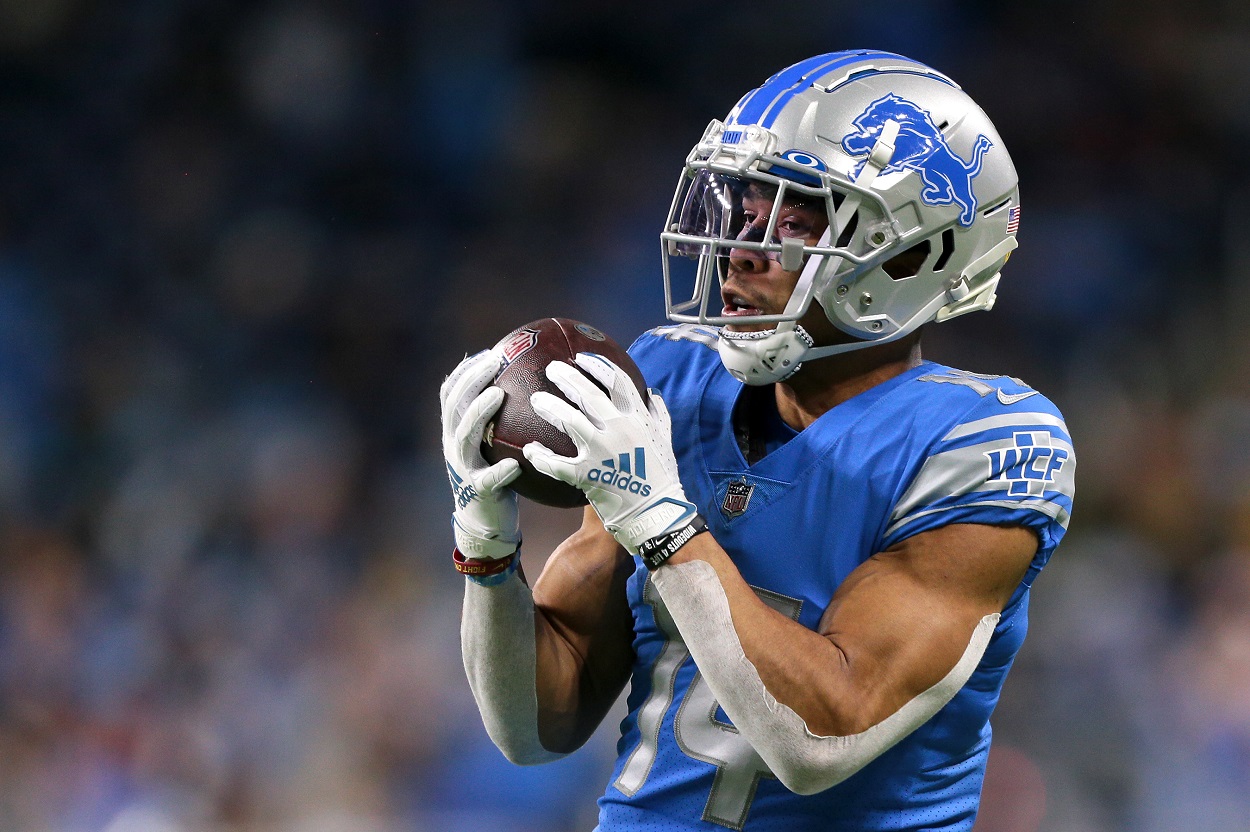 Nobody is going to throw a parade over a three-win season, but every little bit of momentum helps for Campbell and the Lions as they head into year two of yet another rebuild in Detroit. The big thing for any rebuild is culture building, which is why even just three wins are essential for Detroit. Winning often time begets more winning, while losing can become contagious if not wholly systemic. That's been a major issue for the Lions throughout the years, and that's frankly Campbell's most significant hurdle to climb as head coach.
Well, that, and acquiring more talent for what is an otherwise not-so-talented roster.
In order to build a talented roster, you at least have to start with a few cornerstone players. The good news for Detroit is that St. Brown does seem to fit that mold.
He's clearly talented, but he also plays the way you want a young receiver to play. He's fearless going up to get the football, and he's much stronger than what his frame would suggest. He's the type of possession receiver you can simply feed the ball to, and that's evident by the number of targets he's gotten this season.
Even more impressive than his targets is what he's done with them, though. Since early December, St. Brown has caught 51-of-67 targets that have come his way, which is good for a more-than-solid 76% catch rate.
He looks good on the field, and the stats back that up. Will he become a top receiver in the NFL?
Time will only tell.
St. Brown is the real deal, though, and the Lions will be better off moving into the future because of him.
Stats courtesy of ESPN and Pro Football Reference.
RELATED: Lions' Rookie Wide Receiver Amon-Ra St. Brown is Part of the Most Interesting Family in Football
Related post url: