The Detroit Lions Are in Prime Position to Gamble on a Much-Needed Weapon for Struggling Jared Goff
Not much has gone right for the Detroit Lions in 2021. Dan Campbell's first season as a head coach has been rather disastrous, as his team is off to an 0-8 start.
The Lions are the only winless team in the NFL at this point, and things aren't expected to get much more manageable. Coming off a bye, Detroit's next three games are at the Pittsburgh Steelers, at the Cleveland Browns, and against the Chicago Bears on Thanksgiving.
Speaking of the Browns, Cleveland may have gifted Jared Goff and the Lions' struggling offense with a much-needed weapon in wide receiver Odell Beckham Jr.
The Cleveland Browns are releasing Odell Beckham Jr.
The Browns parted ways with OBJ after a quickly escalating drama between the two parties. Beckham's father posted a video on social media earlier in the week that criticized Baker Mayfield and his apparent inability to get the ball to his star receiver. He also seemingly affirmed a comment on the post that stated that "Baker just doesn't wanna get Odell the ball" and "either he's hating on Odell, or he just doesn't want him shining."
The next day, Beckham Jr. wasn't at practice and received an excused absence. He also missed Thursday's practice, and head coach Kevin Stefanki reportedly told the team that the wideout was no longer part of their ranks.
It was believed that a release was soon coming for Beckham Jr, and Ian Rapoport reported on Friday morning that Cleveland will indeed grant the wideout his freedom, which sends him to waivers.
"After careful consideration, internal discussions and conversations with Odell and his representation, we've determined that it is in the best interest of all parties involved that Odell no longer play for the Cleveland Browns," Browns general manager Andrew Berry said. "We appreciate all his efforts and contributions while in Cleveland, but we've just reached a point where it is best that we move forward as a team without Odell. We are finalizing the process of granting Odell his release and we wish him well as he continues his career."
The Detroit Lions have the first crack at Beckham Jr.
Up first in the NFL waiver order? You guessed it. It's the Lions.
We've already established that Detroit has the worst record in the league. While that's usually a pretty terrible designation, it does allow the Lions to pick players up off the discard pile before anyone else.
The caveat with the waiver wire is that players on it have usually been cut for a reason. Of course, there are exceptions. It's not always because of poor play or lack of talent. Sometimes a player isn't a good fit. Whitney Mercilus, who was recently cut by the Houston Texans and ended up with the Green Bay Packers, would exemplify that. The Texans changed their defensive scheme, and he didn't make sense anymore.
The calculation is a bit more complex for the Lions as it relates to OBJ, though.
He's a talented player, without a doubt, but he does come with his fair share of baggage.
First is the way he left Cleveland. It wasn't a happy divorce between the two parties. One anonymous teammate of his even went as far as to call him a malcontent, and it's not like his play on the field gave him much wiggle room, to begin with.
While physically as gifted as you'll ever see a wideout, Beckham caught only 17 passes this season for the Browns, turning those into just 232 yards. He didn't catch a touchdown for Cleveland in 2021, and he clearly felt that Mayfield was the issue, not him.
The truth is, his play has been falling off a cliff for years now.
OBJ is far from the wide receiver who took the league by storm after his excellent one-handed catch with the New York Giants. He was on the receiving end of 390 catches for 5,476 yards and 44 touchdowns in five seasons for the Giants. He finished his disappointing time with Cleveland with just 114 catches for 1,586 yards and seven touchdowns. He played in only 28 games since he was traded in 2019, and he never could get on the same page as his quarterback.
ESPN's inside look at how this all unfolded points out that even though Mayfield and OBJ were friends, they could never figure it out on the field.
"Odell is in his head, and [Mayfield] is pressing every time [Beckham] is around," one former Browns team source said. "Odell throws him off . … and it gets all f—ed up from there because Baker becomes indecisive."
What do the Lions have to lose? Take the gamble and see if it pays off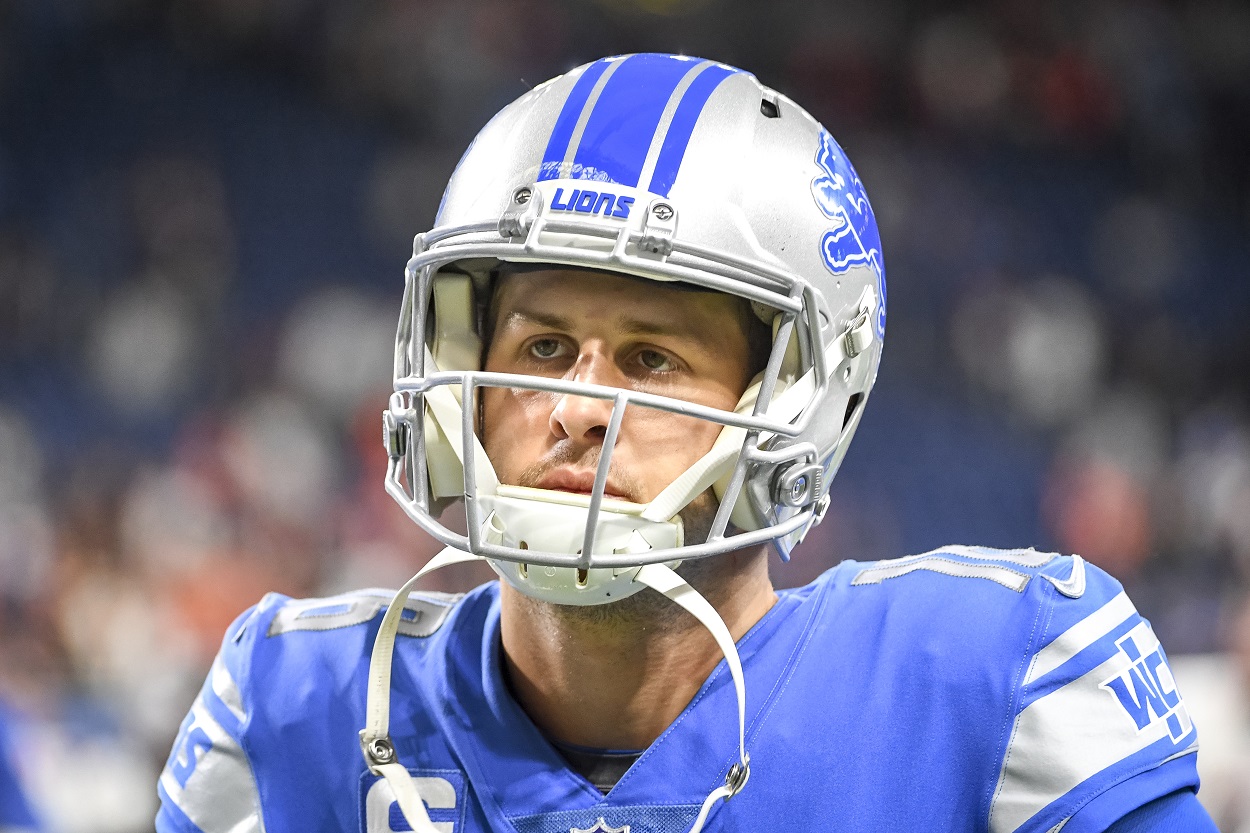 Maybe a change of scenery will be good for Beckham Jr. He did have a strong showing his first season in Cleveland (1,035 yards and four touchdowns), and he'd be entering a situation in Detroit where the expectations are literally nonexistent.
Things can only go up for the Lions, and if they claimed OBJ, he'd immediately be the top weapon on offense.
Detroit is rolling out an offense that features Kalif Raymond, Amon-Ra St. Brown, and Khadarel Hodge as wide receivers. Not only would most NFL fans have to google each of those players to know they existed, but there are only two touchdown catches between them, both belonging to Raymond.
The Lions have one of the worst offenses in the NFL, putting up only 16.8 points per game, and Goff is among the worst quarterbacks in the game. He has thrown for 1,995 yards, but he has only eight touchdowns compared to six interceptions. The Lions' offense averages only five yards per offensive play, which puts them near the bottom of the league in that category as well.
At this point, what does Detroit have to lose?
The Lions dearly need a shot of adrenaline in their quest to secure at least one win, and a talented player like OBJ could provide that. Having a deep threat like Beckham Jr. may even rejuvenate Goff.
Yes, he does come with some risks. He's also a bit of a gamble for a new coach trying to establish a culture and a locker room. Going winless would be an even worse thing for the Lions, though, and that's a realistic possibility.
The Lions have the first chance, and they should take the chance on Beckham Jr.
Stats courtesy of ESPN and Pro Football Reference.
RELATED: The Detroit Lions Look and Feel Bad as the Possibility of Another Winless Season Looms: 'Honestly, It Makes Us Feel Like Trash'