Detroit Lions RB Jamaal Williams Brings Much-Needed Energy to Green Bay After Being Dumped By the Packers
Jamaal Williams' presence in the Green Bay Packers locker room was sorely missed in the team's Week 1 blowout loss to the New Orleans Saints. The Detroit Lions signed the energetic running back two a two-year contract after the 2020 NFL season. The NFC North rivals will meet on Monday Night Football, and Williams will certainly be bringing the energy to Lambeau Field.
Jamaal Williams spent four seasons with the Packers
The Green Bay Packers drafted Jamaal Williams with the No. 134 overall pick in the fourth round of the 2017 NFL Draft out of BYU.
The Rialto, California native was a very productive college player. He racked up 3,901 yards and 35 rushing touchdowns in four seasons with the Cougars. He put together two 1,000-yard campaigns.
Heading into the draft, many analysts were impressed with Williams' size and decisiveness as a runner. He didn't shy away from contact but instead welcomed it. However, many scouts viewed him as a backup at the next level, according to NFL.com.
Williams spent his first four professional seasons in Green Bay. He carried the ball 500 times, totaling 1,985 yards and 10 touchdowns on the ground. He also recorded 122 receptions for 961 yards and eight receiving touchdowns.
Aaron Jones ultimately became the primary back for the Packers, but Williams didn't make that decision easy. The team utilized a committee approach to capitalize on the strengths of both players. The BYU product excelled as a receiver and in pass blocking situations, so he earned the reps.
After entering free agency, Williams and the Packers parted ways.
Williams says the Lions are treating him well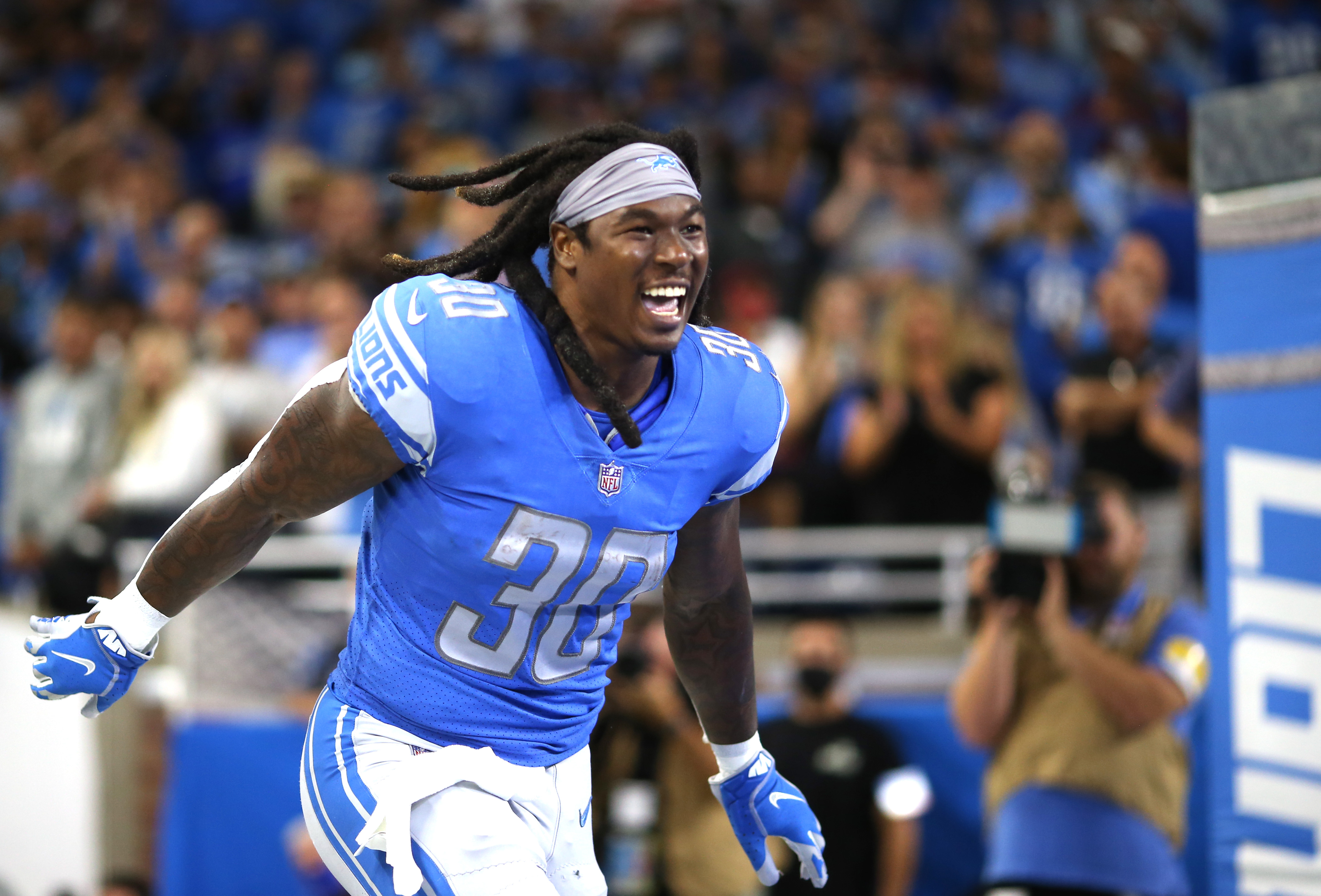 The Detroit Lions signed Jamaal Williams to a two-year deal worth up to $7.5 million in the offseason.
The belief is that D'Andre Swift can be a perennial three-down back in the NFL. While that may be true, Williams brings a valuable dimension to offensive coordinator Anthony Lynn's offense. Over the past few seasons, Lynn's offensive game plan has been predicated on the use of multiple running backs.
Williams' ability to pass protect and catch the ball out of the backfield will continue to carve out a consistent role for him in the Lions offense. He rushed for 54 yards and a touchdown in Week 1 against the San Francisco 49ers. He also caught eight passes for 56 yards through the air.
The 26-year-old enjoyed his time in Green Bay, but Detroit has been treating him just fine.
"They didn't want me, like that ex-girlfriend," joked Williams about his relationship with the Packers in a Lions press conference. "Good thing that I got a rebound, it was the Lions. Now they feeding me good, taking me to dinners. Another man's trash is another man's treasure."
It's all love between Williams and his former team, but he indeed has a future as an entertainer if football doesn't work out down the road.
Transitioning from a perennial playoff contender to one of the league's bottom-dwellers can't be easy, but the fifth-year running back is taking it all in stride.
Jamaal Williams' return to Green Bay will be electric
During his stint with the Green Bay Packers, Jamaal Williams became a fan favorite. His return to Lambeau Field will undoubtedly be special.
"I feel like I'm still well-loved enough not to get messed with," he told The Athletic of him potentially doing a Lambeau Leap.
Williams was beloved by not only the Packers faithful but his teammates as well. "I love Jamaal," said Aaron Rodgers during the 2020 season.
Jamaal is such an important part of our team in so many facets. Not just the physical, on-the-field stuff you see, where he's extremely talented. … He obviously brings so much outside of the physical — the energy, the swag, the dancing moves that we all can try and copy or marvel at. He's an important, important part of what we're doing.

Aaron Rodgers
The ex-Packer had a great relationship with his fellow running back Aaron Jones. "I miss Jamaal a lot," said Jones. "He's one of a kind. He's a character, and I love him."
Williams is geared up to return to the city where his NFL career began. "I'll be there a little early, so the times I be dancing out there, they don't even be having the fans out there yet," he said. "I can't wait for it. It's gonna be a great game."
The Packers missed his energy in their season opener. The team didn't even show up. The Lions will be hoping Green Bay lays another egg on Monday Night Football.
All stats courtesy of Pro Football Reference.
RELATED: Randall Cobb Embraced His Triumphant Return to the Green Bay Packers: 'Man, It Feels Good to Be a Packer'