Detroit Lions Make Massive Decision Amid Dan Campbell's Desperation For First Victory After 0-8-1 Start
The Detroit Lions are bad, plain and simple. Jared Goff has been a disaster, the wide receiver room is full of mediocre players, and without D'Andre Swift, this team might not score any points. Yes, T.J. Hockenson is there, but Goff apparently doesn't know that. Nonetheless, it has been a brutal start to the head coaching career of Dan Campbell as the Lions "improved" to 0-8-1 after a bizarre tie with the Pittsburgh Steelers.
It has been a rough go-around thus far, but the Lions decided to make a change that should turn things around for this struggling franchise and prove that Campbell is the right guy for the job.
A tie isn't a loss but it still isn't the result Dan Campbell and the Lions were hoping for
Technically, the Lions are undefeated in November — they haven't lost a game! In all seriousness, this tie was an ugly contest on both sides. With Ben Roethlisberger out for the Steelers due to COVID-19, Mason Rudolph was underwhelming at best.
T.J. Watt also went down with an injury and Chase Claypool missed the contest, so this Pittsburgh team was much different than a week prior. Nonetheless, the Lions had every shot at winning this game.
The Steelers tied the game at the beginning of the fourth quarter with a Chris Boswell field goal. Little did we know that would be the final points of the entire game.
Overtime was a mess. Diontae Johnson fumbled, Ryan Santoso missed a field goal for Detroit, and Pat Freiermuth coughed the ball up in Detroit territory with 15 seconds remaining to seal the tie. You can't make this stuff up.
Lions make massive coaching decision in hopes of igniting this offense under Dan Campbell
During Sunday's tie against the Steelers, Campbell elected to take over play-calling duties from offensive coordinator Anthony Lynn.
However, Campbell downplayed the decision after the conclusion of the Steelers game and insisted that it wasn't anything personal toward Lynn, rather an effort to speak directly with Goff (h/t Justin Rogers of The Detroit News).
"Honestly, I don't think it's a big deal. There were still things I was giving to A-Lynn when he was calling. It's just now I took the green dot (headset with direct line to the quarterback) basically to Goff so I could communicate to him. I'll still grab some (play) calls from them. I'll use my own calls. It was a joint effort by all those guys."

Dan Campbell on decision to take over play-calling duties
Sure, Campbell can reiterate that it isn't a big deal. However, the truth is that it is a big deal. If Lynn were doing a good job running the offense, Campbell would not need to step in. Furthermore, there might have been a clear sign during pregame that signaled this change was coming.
After all, the Lions' offense has been awful. They rank 31st in 3rd down efficiency, 24th in time of possession, 24th in pass yards, 23rd in total yards per game, and 29th in points scored (16.7).
None of those numbers are good, and if it weren't for Swift's impressive ability to run the football, this offense would be even worse.
Something has to change, and perhaps Campbell calling the offense will give this team a bit of a rejuvenation that they clearly need. Otherwise, an 0-16-1 finish is a real possibility. This season has been forgettable for the Lions as a whole.
The path to a winless campaign is a legitimate possibility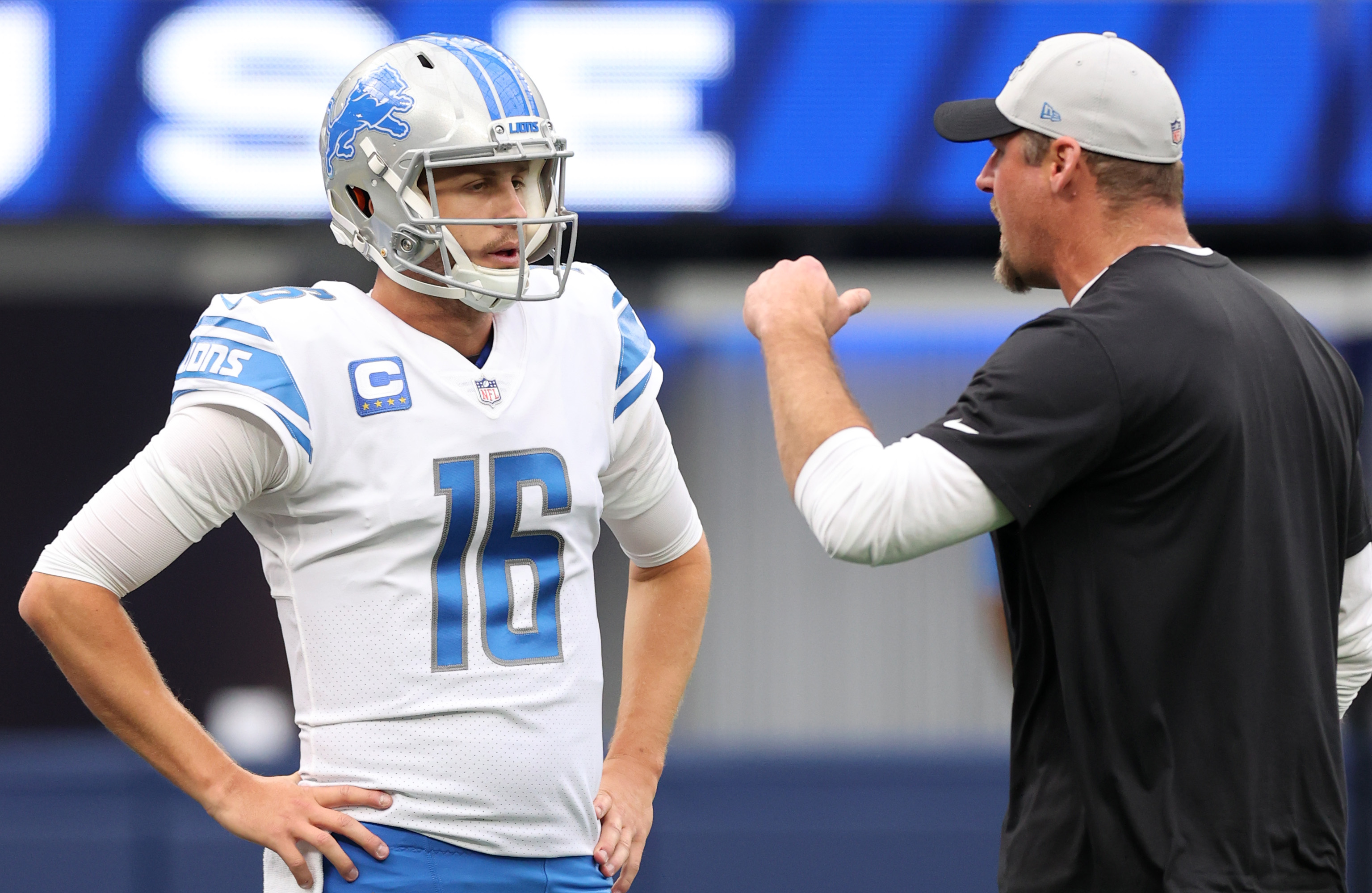 Sadly, there is a real shot of this team going winless.
The next four weeks consist of the Cleveland Browns, Chicago Bears, Minnesota Vikings, and Denver Broncos. Are any of those games easy for the Lions?
The answer is no, unfortunately.
After that, they finish off the season with games against the Arizona Cardinals, Atlanta Falcons, Seattle Seahawks, and the Green Bay Packers. Yikes.
The Lions' fortunes are looking awful with Goff's concerning play, not to mention the injury he is now dealing with. The Steelers game was the best shot to get a victory, and they blew it time and time again in the Steel City.
Will Campbell get his first victory this season? He might not, but at the very least, he is taking the offense into his own hands and showing even more his desperation to avoid a winless first year as head coach.
Is Campbell calling plays a better option than Lynn? Who knows, but it is worth a shot. After all, what do the Lions have to lose?
Stats Courtesy of Pro Football Reference
RELATED: The Disastrous Detroit Lions Are Going to Creepy Lengths to Forget the Start of the 2021 Season