The Detroit Lions' Ugly in-House 'Relationship' Issues Could Provide a Beacon of Hope for Struggling QB Jared Goff
Gearing up to take on the Chicago Bears on Thanksgiving Day, the Detroit Lions have experienced nothing but pain and misery this season. They're winless through their first ten games of the season, and they don't look any further along in their rebuilding process than they were at the start of the regular season.
Despite all the fanfare that came with hiring charismatic Dan Campbell, the Lions look like one of the worst coached teams in the NFL.
Alongside their poor coaching, the Lions' quarterback situation remains a pressing issue.
Jared Goff is struggling to succeed with the Detroit Lions
To most, Jared Goff was always a product of Sean McVay's success with the Los Angeles Rams. He rarely flashed elite arm talent, spending most of his time with the Rams throwing check-downs, screens, and quick slants.
With that said, no one was quite sure just how bad Goff would look upon landing in Detroit this past offseason during the massive Matthew Stafford blockbuster trade. Through nine games, the results are pretty terrifying.
Goff has passed for a measly eight touchdowns compared to six interceptions. He ranks 28th out of 34 qualified passers in passer rating and 33rd in quarterback rating. Goff is one of the worst quarterbacks in the NFL at the moment, paving the way for Detroit to draft a new starter in 2022 or 2023.
However, a recent change to the Lions' coaching structure could provide a glimmer of hope for the struggling veteran.
The Lions are blaming OC Anthony Lynn for their problems
As mentioned after the Lions' Week 11 loss, Dan Campbell enacted a sizable change to his coaching staff following the team's embarrassing tie to the Pittsburgh Steelers. He relieved offensive coordinator Anthony Lynn of play-calling duties, seemingly placing the blame on his shoulders for the team's horrific offense.
According to CBS Sports' Jason La Canfora, Lynn's inability to connect and form a positive relationship with Goff is a significant reason Campbell took over play-calling duties.
Lynn had a very difficult time connecting with starting quarterback Jared Goff, sources said, and that relationship never really clicked. The overall structure of the passing game, and game-day tendencies with play-calling has quickly become an issue for the winless Lions as well.

Jason La Canfora, CBS Sports
Goff rebuked this notion when asked about it this past week. However, the proof is in the pudding. Even if Goff isn't the greatest of quarterbacks out there, McVay proved time and time again it's possible to construct a winning offense around him. Clearly, Lynn was doing something wrong.
Jared Goff is getting a second chance to prove his worth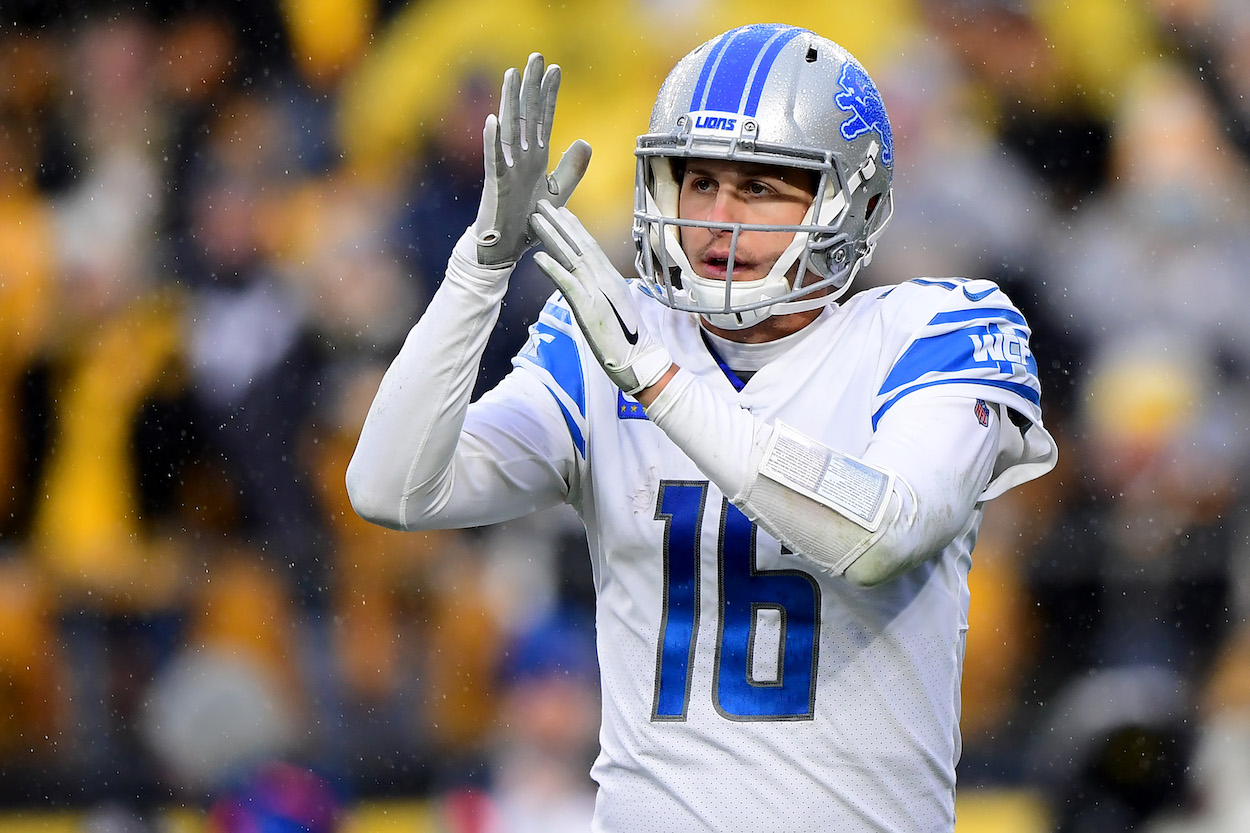 Instead of blaming Goff for his poor performances, the Lions are seemingly blaming his coaching instead. Relieving Lynn of play-calling duties won't magically fix the Lions' extreme organizational flaws. However, it gives Goff another chance to prove his value as a starting quarterback during the second half.
Dan Campbell isn't someone with NFL play-calling experience. However, sometimes all a quarterback needs is a new voice in his headset to turn things around.
All stats courtesy of Pro Football Reference.