Detroit Pistons Rookie Cade Cunningham Demands a Challenge: 'I Hope Kawhi Guards Me'
Never let it be said that No. 1 overall pick Cade Cunningham lacks confidence. Coming off a solid performance at the Las Vegas Summer League, Cunningham is now prepping for his first NBA training camp with the Detroit Pistons. He showed an all-around offensive game. And he welcomes all comers to defend him, including two-time Defensive Player of the Year Kawhi Leonard.
Cunningham has drawn comparisons to Leonard's teammate with the Los Angeles Clippers, Paul George. While he's not explosively athletic, the rookie turned heads with his two-way potential and approach to fitness even as a young player. Offensively, Cunningham can score and create for others. At some point, he's going to be a tough cover. But he has the swagger already.
Cade Cunningham showed the Detroit Pistons what he needed to in Las Vegas
The Detroit Pistons' entry at the Las Vegas Summer League won three of its five games. Top overall pick Cade Cunningham led the team in scoring at 18.7 points per game, and he also averaged 5.7 rebounds, 2.3 assists, 1.7 steals, and 1.3 blocks.
He shot the ball well from deep, canning 13-of-26 from deep, while shooting only 42.9% overall. Cunningham was limited to three games before he was shut down because of a sore calf. He showed his ability to create even though his assist numbers didn't jump off the page. It's Summer League, and sometimes the best-laid plans and the best-thrown passes don't turn out as expected.
Most importantly, Cunningham showed he has what it takes to be a franchise leader. Pistons Coach Dwane Casey is looking forward to having him in the Pistons locker room, per Vincent Goodwill of Yahoo Sports.
"He has leadership qualities. But he doesn't wear it on his sleeve or force it on anyone. It's natural. He's a natural leader, which is rare for a 19-year-old kid."

Dwane Casey
He's joining a team with veterans Jerami Grant, last year's breakout player (with all due respect to Julius Randle), and Kelly Olynyk. The transition shouldn't be difficult.
If nothing else, Cunningham has the confidence part down pat.
Cunningham welcomes the toughest defenders
Entering his first NBA season, Detroit Pistons rookie Cade Cunningham certainly has a "bring-it-on" mentality. During an interview with Whistle Sports, he talked about his expectations. If nothing else, he wants to see the stars in his eyes, such as Giannis Antetokounmpo, LeBron James, and Anthony Davis.
"I want to see Giannis in person; I want to see LeBron, AD, all those guys in person. Going to be crazy the first time I get to play them … I'm expecting the best defender, I'm hoping Kawhi guard me, I want them all to guard me."

Cade Cunningham
Perhaps the kid hasn't been paying attention, but things seldom end well for the guys guarded by Leonard. In any event, Cunningham might have a bit of a wait on his hands. Because Cade's Pistons and Leonard's Clippers are in opposite conferences, they only play twice a year. With Leonard recovering from surgery to repair a partial ACL tear, that first meeting with Cunningham may not happen until 2022–23.
Cade Cunningham already has a budding rivalry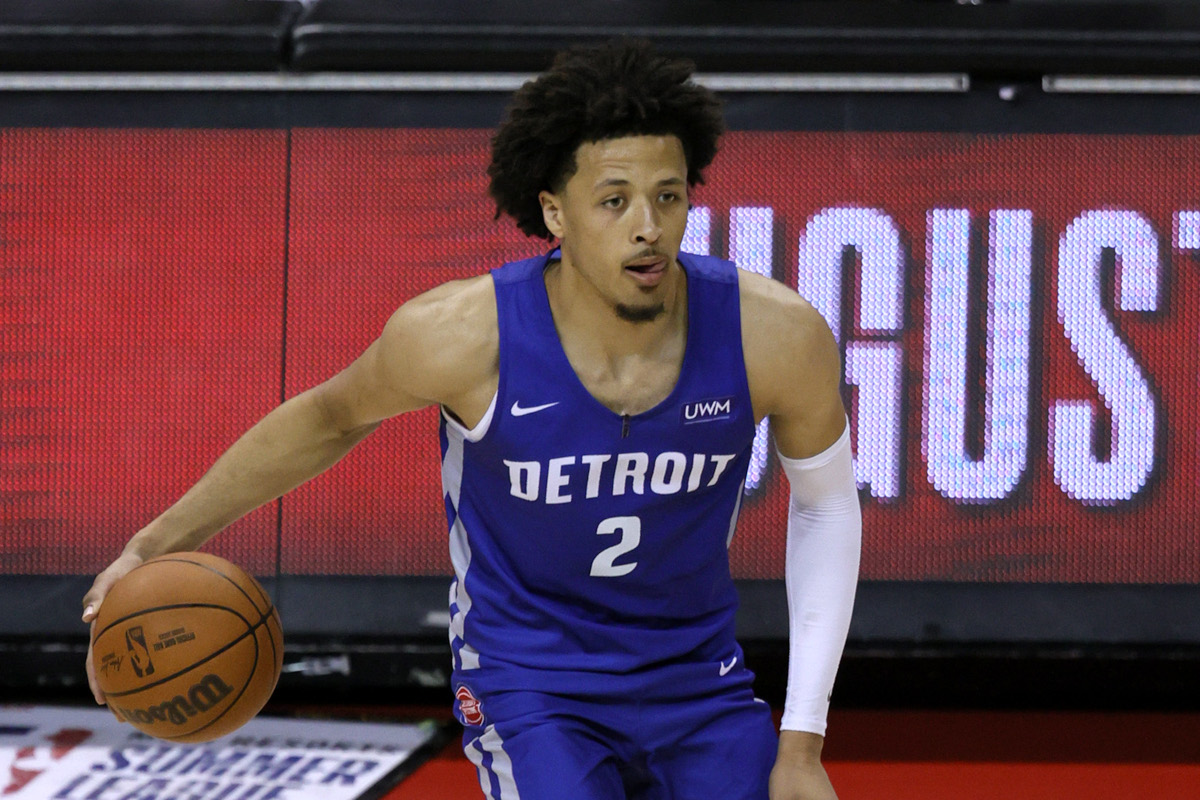 In his second Summer League game, Cade Cunningham faced an early challenge. The first overall pick by the Detroit Pistons led his team against the Houston Rockets. That meant the first head-to-head meeting between Cunningham and No. 2 overall selection Jalen Green.
While Cunningham opted to go the conventional route, attending Oklahoma State, Green blazed a new trail. He was among the first players to jump from high school to the NBA G-League's Ignite program for players not yet draft-eligible.
At Oklahoma State, Cunningham averaged 20.2 points, 6.2 rebounds, 3.5 assists, and 1.6 steals while shooting 43.8%/40.0%/84.6%. Green took on grown professional players with the Ignite and put up 17.9 points, 4.1 boards, 2.8 dimes, and 1.5 steals. He shot 46.1% overall and a solid 36.5% in his first games using the NBA-length 3-point line.
The head-to-head battle was a good one. Cunningham scored 20 points on 8-of-18 shooting, but Green led the Rockets to the win with 25 points on just 11 shots. He got to the line early and often, hitting 10-of-11 from the stripe. Thanks to the rules of Summer League, Cunningham finished with seven fouls. Both rookies had four turnovers, not unusual given the ragged pace of the venue.
The 2021 NBA Draft marked the first time in more than 50 years the Detroit Pistons selected first. Bob Lanier, the 1970 No. 1 pick, had a Hall of Fame career. If we've learned anything so far, Cade Cunningham certainly has the confidence to believe he can do as well or better.
Statistics courtesy of Basketball Reference and RealGM.