Detroit's Decrepit Silverdome Is Being Auctioned Off, Urinal by Urinal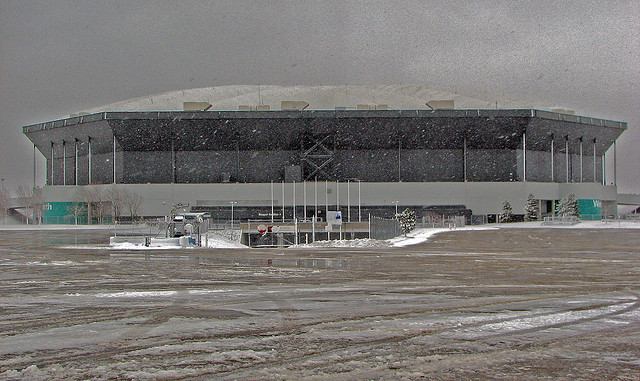 Detroit has long been a symbol for the economic decline of America, and perhaps no monument stands as a more poignant (and useful) image to that end as the Pontiac Silverdome, former home of the Detroit Lions and the Detroit Pistons, who now play at Ford Field and the Palace of Auburn Hills, respectively. To that end, news that the Silverdome's contents — as in, everything inside of it — were being auctioned off put a period on the end of that depressing sentence.
According to ESPN, the stuff inside the Silverdome, from the copper piping to the seats to the urinals, was the subject to a two-day-long auction held on behalf of Triple Investment Group, which owns the property. Visually, the Silverdome brings to mind nothing more than the 1962 independent horror film Carnival of Souls, which featured the similarly abandoned Saltair Pavillion in Utah. At its height, the Silverdome could hold more than 90,000 fans. The famous bubbled roof was deflated in 2013.
"I was also able to interview Lions fans picking up the seats that they purchased," Alex Atwell wrote for Click On Detroit. "They all talked about these seats and what they meant. It wasn't just about watching football, these seats represented cherished family time spent usually with dad or grandpa."
In a way, the gutting of the Silverdome is representative of the fate of Detroit's sports teams in the modern day. The Pistons, who were the newly crowned NBA champions a decade ago, have yet to escape the failed rebuilding efforts of Joe Dumars, while the Lions have only had one winning season in the new millennium. The 'Dome was the sports hub of Michigan's largest metropolitan area, housing events that attendees considered to be some of the greatest of their kind.
It was sold in 2009 for less than $600,000, a far cry from the original construction price tag of $55.7 million. Per Darren Rovell, who wrote the ESPN piece detailing the sale, the auction has raised roughly $1 million so far, nearly double the price that Triple Investment paid. And, you know, fans got to hang on to some emotionally priceless memorabilia, even if it happens to be a urinal.