Devin Booker Brought a $1,800 Accessory Endorsed by Kendall Jenner to Document a Stellar WNBA Finals Matchup
The Phoenix Mercury and Chicago Sky put on a classic in Game 2 of the WNBA Finals on Wednesday, and Phoenix Suns guard Devin Booker was on hand to witness it. Booker knew he had to have some account of the contest and went viral after breaking out an expensive accessory previously endorsed by supermodel Kendall Jenner.
Book looked like Shaquille O'Neal breaking out the camcorder for Vince Carter's legendary 2000 dunk contest performance. Only, his medium of documentation had a pretty costly price tag for something that looked eerily similar to a disposable camera.
Devin Booker and other Suns players watched the Mercury and Sky have a thriller in Game 2 of the WNBA Finals
Numerous NBA stars have shown their support for the WNBA in the past several seasons. Devin Booker and some of his Suns teammates, including Chris Paul, did just that as the Mercury took on the Sky in Game 2 of the WNBA Finals. They witnessed a barnburner.
The Mercury and Sky battled for four quarters and into overtime in a ridiculously back-and-forth contest. Chicago seemed primed to take a 2-0 series advantage after pushing the lead to six at the end of the third quarter, but the Mercury fought back.
Phoenix opened the fourth on an 8-0 run and, after a tightly-contested period, led by four with under 30 seconds to play. However, the Sky still had a run of their own. Kahleah Copper scored an and-1 off an offensive rebound and made the free-throw to cut the lead to one. Shey Peddy could only convert 1-of-2 free-throws, and Chicago star guard Courtney Vandersloot made a miraculous driving layup to send the game to overtime.
Fans in attendance couldn't complain about free basketball after such a thriller, though Booker and his Suns teammates surely wanted the Mercury to close the show. Diana Taurasi and Skylar Diggins-Smith did just that. Taurasi scored eight points in the overtime period, and Diggins-Smith added four of her own as the Mercury got a huge win to even the series.
The contest merited the attention of basketball fans everywhere. It certainly resonated with Booker, who felt compelled to get the events of the game on camera.
Booker recorded the game with a $1,800 camera endorsed by Kendall Jenner
Devin Booker went viral after the ESPN telecast appeared to show him using a disposable camera to take pictures of Game 2. A new-school star with an old-school mentality? Not quite.
As it turns out, the camera Booker used was a Contax point-and-shoot film camera that sells for over $1,800. Why did Booker rock with the Contax camera? Well, because it's one of the products endorsed by his girlfriend. Kendall Jenner first brought the Contax to the Tonight Show Starring Jimmy Fallon over four years ago, and has continued to lobby for the use of film.
It only makes sense that Booker, who has been dating Jenner for over a year, supports his significant other. Regardless, he provided what amounted to a humorous cameo by using a vintage-looking, though quite costly, camera to document one of the best games in WNBA Finals history.
Book better keep that film safe. The Suns will also hope he is ready to go for the regular season after taking a lax approach during the preseason.
Book took it easy during preseason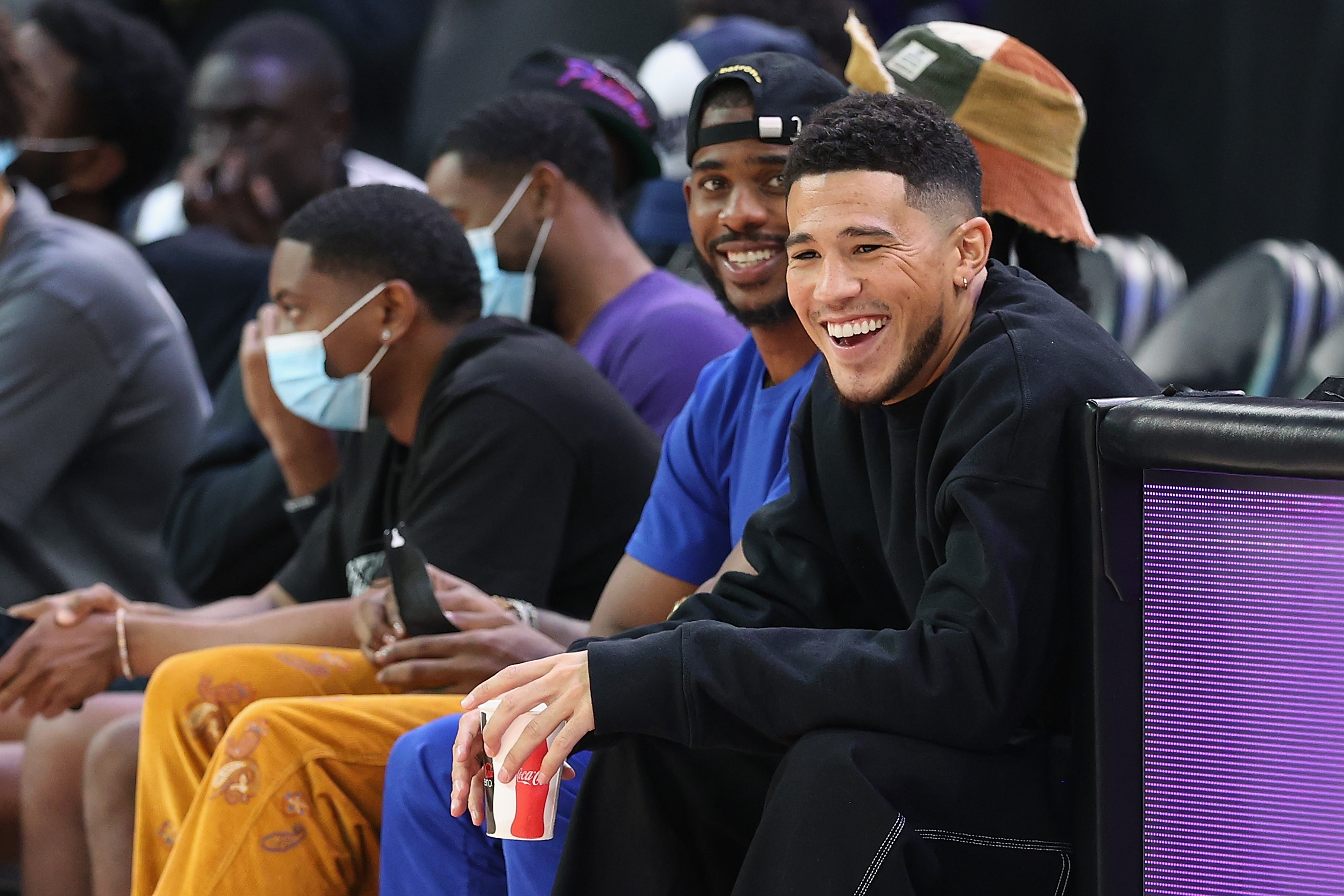 The Suns have tried to ensure Devin Booker gets plenty of rest ahead of the start of the 2021-22 season.
Booker had not logged a single minute of preseason action before Wednesday's blowout win over the Portland Trail Blazers. He looked strong in his debut, scoring 17 points in 18 minutes of run.
It goes without saying the Suns need Booker to keep elevating his game if they hope to return to the NBA Finals. The 24-year-old made back-to-back All-Star teams and might have even more confidence in his second season playing with CP3.
Booker could also draw inspiration from the all-time classic that was Game 2 of the WNBA Finals. He has the film, after all.
Stats courtesy of Basketball Reference.
RELATED: Charles Barkley Deserved an Ownership Stake After Torching the Seattle SuperSonics in a Pivotal Game 7: 'He Was Just a Man Among Children'