Devin Booker Gained Kobe Bryant's Respect by Using His Signature Move Against Him
It may not have surprised Kobe Bryant much when a young Devin Booker emulated his signature move. What aspiring NBA player wouldn't want to echo the Black Mamba? While Booker's move fell short it impressed Bryant enough to strike up a conversation with the young shooting guard after the game.
As Bryant wrapped up his 20th and final season, Booker finished his first. It was the beginning of a big-brother-little-brother relationship that would continue up to Bryant's untimely death in 2020.
Kobe Bryant's signature fadeaway
In 2011, BleacherReport defined a signature move this way: "It defines and identifies, differentiates and distinguishes… one of the greatest offensive tools in the game of basketball." While it certainly wasn't the only enviable move in Bryant's playbook, the fadeaway became his signature. He said he used it when he didn't have enough space to elevate the shot.
When the Phoenix Suns hosted the Lakers in March 2016, Booker made the snap decision to try Bryant's move when facing him, reports ESPN. "I went right to his move. I went right to the Kobe fadeaway," he said. It fell short, but Bryant caught up with Booker after the game, saying, "You know what? I did the same thing when I matched up with MJ the first time."
Bryant asked Booker to meet him after the game. What Booker thought would be a few minutes of conversation turned out to be more like 15-20 minutes and included a shoe signing. Bryant wrote on one shoe for Booker, "To the young one," and on the other "To Book, be legendary." 
Kobe Bryant and Devin Booker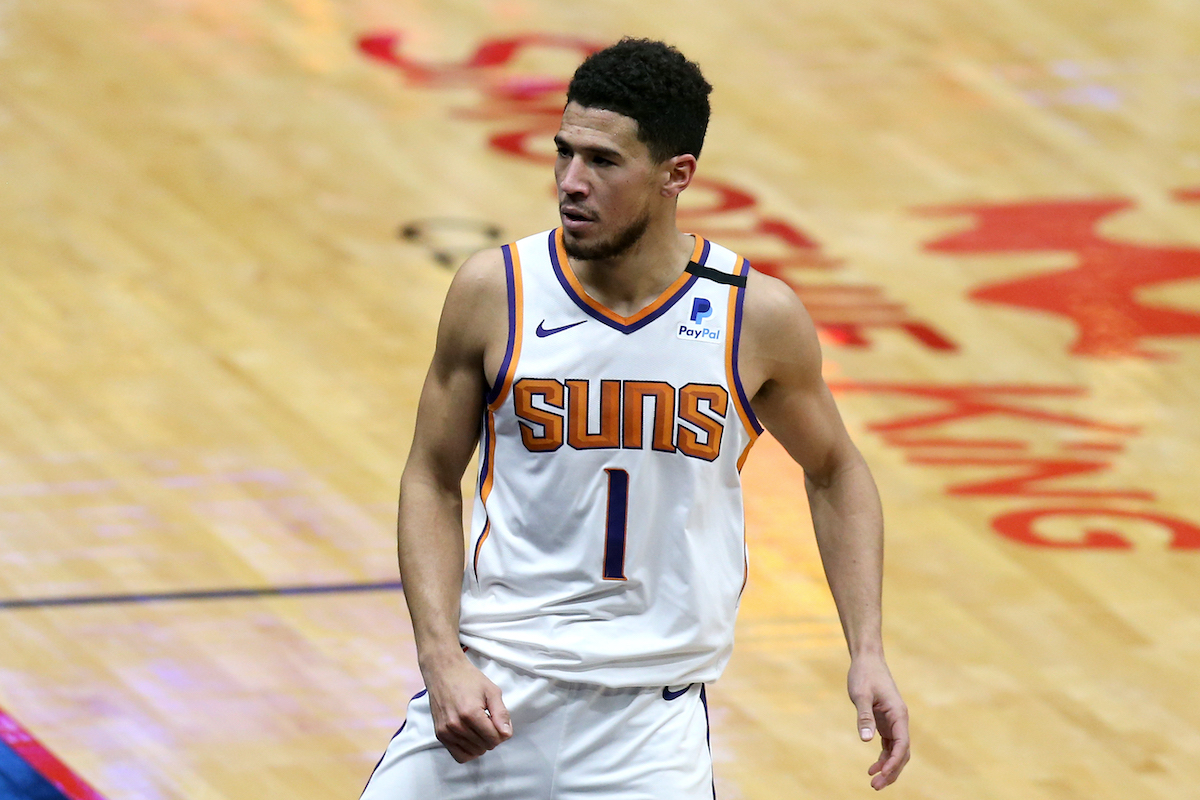 Bryant went beyond telling Booker to be legendary. He helped him get on his way to just that. "He told me I have the footwork, I have the intangibles to be legendary," Booker said.
Booker earned a leg of his legendary journey in March 2017 when he became the youngest NBA player in history to score at least 60 points in a game. He actually scored 70. That fête booked Booker into a special club; one Bryant also belonged. They are two of only seven NBA players to have scored 70 or more points in a game.
As the NBA world mourned Bryant's death in 2020, COVID-19 hit and the NBA faced a bubble restart. Against the Clippers, Booker scored on the buzzer above Kawhi Leonard and Paul George — a move Bryant might've made. A few months later, he scored a game-winning jumper with only 1.5 seconds left against the Mavs. Another move echoing the Black Mamba.
Booker carries with him a reminder of his initial conversation with Bryant everywhere he goes. He got a tattoo on his left forearm. "Be Legendary" it reads. He is well on his way.
Bryant mentored many athletes
It is amazing to think of how many athletes Bryant touched. NBA players like Leonard, Giannis Antetokounmpo, Trae Young, Kyrie Irving, and Jayson Tatum to name a few. He also helped WNBA players like Jewell Loyd, Sabrina Ionescu, and Candace Parker, according to USA Today Sports.
Bryant also influenced legendary figures outside of basketball including MLB legend Alex Rodriguez, who called Bryant his "secret coach." San Francisco 49er Richard Sherman once shared how Bryant helped him mentally overcome his Achilles injury. Tennis star Novak Djokovic has also talked of Bryant's mentoring and friendship.
But his most important coaching went to his second daughter, Gianna Bryant. A young basketball star in her own right, Gianna learned her dad's moves including the signature fadeaway, details PlayMaker. Sadly, Gianna never got to experience a high school, college, or pro career. She lost her life just short of 14 years, alongside her dad on that fateful day in January 2020, when their helicopter crashed.
As they say, life goes on and Booker is just starting to reach the prime of his pro career. When you think of how many more athletes Bryant could have mentored, we can only hope that those who were lucky enough to benefit from his wisdom and knowledge, such as Booker, will help to fill that void.