Devin Booker Has More in Common With Kobe Bryant Than You Know
His team might not have made the playoffs, but no one could argue that Devin Booker of the Phoenix Suns wasn't one of the best players in the NBA's Disney bubble. He played so well, it reminded some of a certain scorer from years past — none other than Kobe Bryant.
Booker looks up to Bryant as one of his heroes, and for good reason. There are a lot of similarities in their game — more than the average fan may realize. 
The exclusive club Devin Booker and Kobe Bryant are both a part of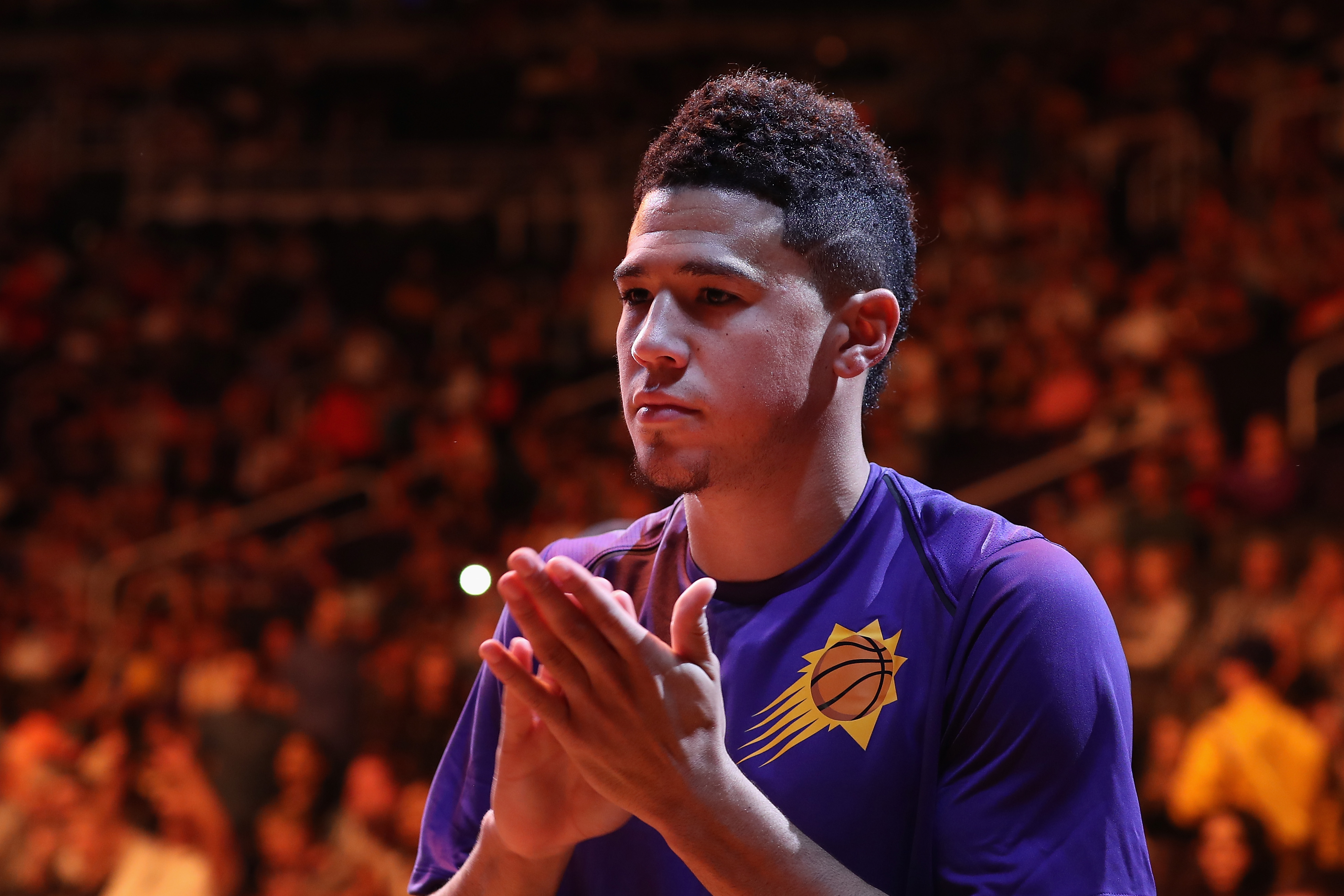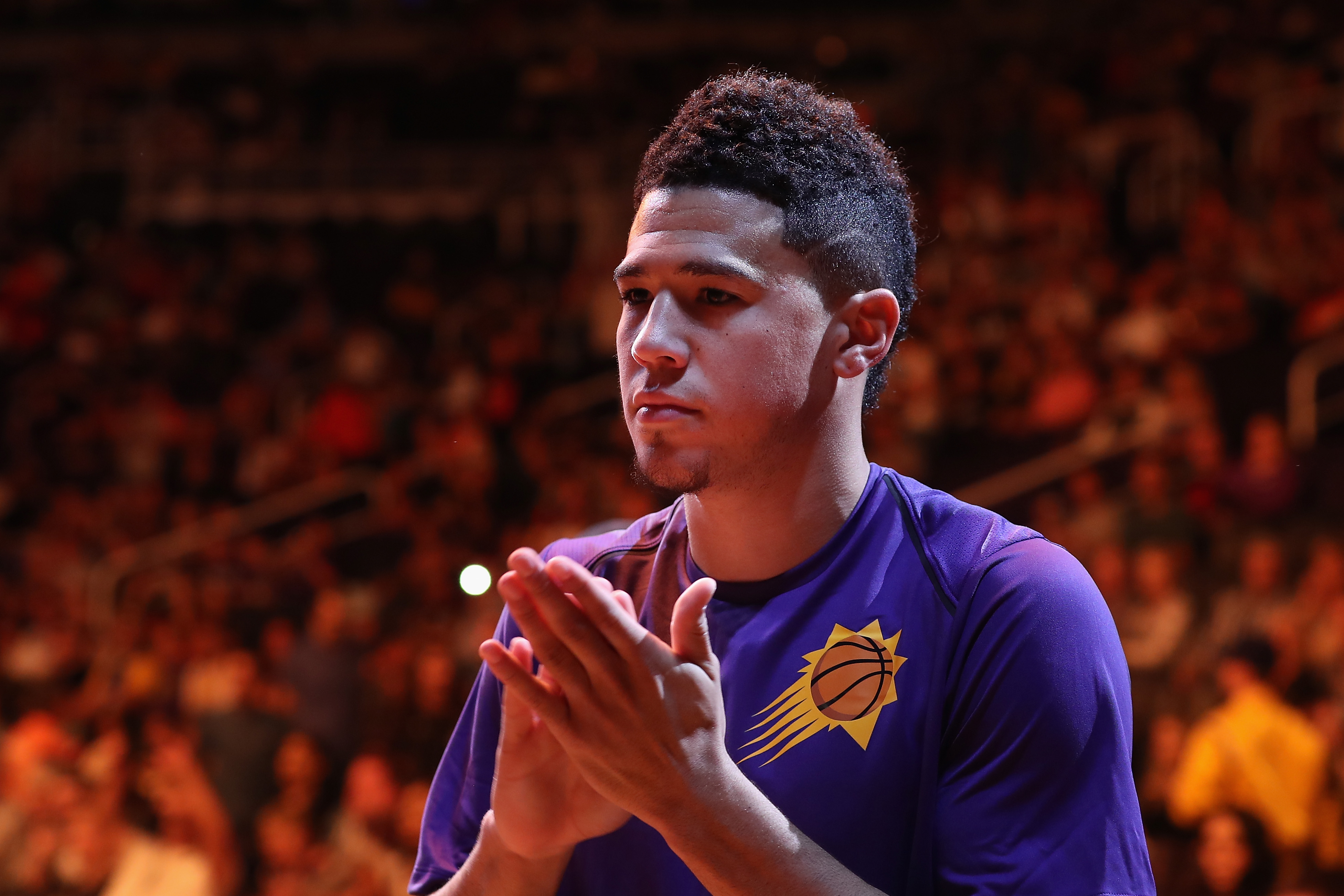 Both Bryant and Booker are a part of a very exclusive club: they're two of the seven players who have scored more than 70 points in a game. According to Basketball Reference, here's who else has achieved that rare feat: 
Wilt Chamberlain. "Wilt the Stilt" scored over 70 points on an incredible six occasions. He also holds the all-time record for points in a single game with 100. 
Kobe Bryant. It was during the 2005-2006 season in which Bryant sprung for 81 against the Toronto Raptors. 
David Thompson. Seen by many as the precursor to Michael Jordan, Thompson had a 73 point game in 1978. 
David Robinson. Robinson had a 71 point effort in 1994 before Tim Duncan arrived in San Antonio. 
Elgin Baylor. The Lakers' star and later Clippers' GM once put up 71 as well. 
Booker's 70 point game came during the 2017 season. But while the accomplishment puts Booker and Bryant in exclusive company, it's not the only thing they share in common. 
The impact Kobe Bryant had on Devin Booker's career and the game of basketball
Forbes asked Booker about Bryant's performance on the anniversary of his 81 point game. Booker stated how in no uncertain terms his deep admiration for the former Lakers' star: 
"I've watched countless of hours and hours of Kobe highlights, but that performance was so special the way he did it….Obviously, it's one of the best performances ever, but he's someone that I've idolized from a mentality standpoint, and I think that Kobe has that respect in the NBA because he's a guy that worked that hard to get there."
There's a relentlessness to Booker's game that is absolutely reminiscent of Bryant. Both had plenty of scoring ability, but more than that both approached the game with tremendous will and perseverance.
What's also remarkable about Bryant's 81 point game performance is that it might not even be his best game ever. You're talking about a player who scored 60 in his final game ever and also had countless playoff and NBA Finals games where he played the hero.
For some players, 81 points in a game would be the highlight of their career. For Bryant, it's just another notch on his resume. 
So will Booker's 70 point game be the highlight of his career? 
Using the "Mamba Mentality" to dominate in the NBA
Devin Booker's Suns did not advance to the playoffs in the NBA bubble in Orlando, but it wasn't for a lack of effort on Booker's part. Due in no small part to multiple 35 point games from Booker, the Suns went 8-0 in the bubble according to AZCentral.com.
In what was a high-pressure situation, Booker delivered. Bryant always spoke about his "Mamba Mentality" when he played. It referred to his killer instinct as well as his ability to finish and close games.
Booker may not have the pieces around him yet to have a career like Bryant's, but he's certainly showing flashes of the legend in his game.