Devin Booker's Scoring Efficiency Is Down, but His Deadliest Weapons Are Deadlier Than Ever
Phoenix Suns star guard Devin Booker is stylin' and profilin' for the best team in the NBA. From showing off $1,800 disposable cameras at WNBA games to helping the Suns overwhelm opponents with his usual midrange barrage, Booker seems to be enjoying himself as part of a franchise that now looks like a perennial contender.
Interestingly, though, his scoring numbers are down.
Through his first 23 games, Booker is averaging 23.0 points, his lowest mark since the 2016-17 campaign. His 45.8% field-goal percentage is his lowest clip since the 2017-18 season.
Is something wrong with Book? Like others around the NBA, has he needed time to adjust to the new ball? On the contrary, Booker is a more dangerous pure scorer than ever before, despite what the raw numbers show.
Devin Booker is converting a higher rate of pull-up and step-back jumpers
Ever since he came into the NBA, Devin Booker's most potent asset has been his ability to create space and score in the midrange areas. He and Chris Paul seem to excel at doing so especially come crunch time.
It's a good sign, then, that his efficiency with respect to pull-up and step-back jumpers has increased year-over-year.
According to NBA.com, Booker made 47.7% of his pull-up jumpers in 2020-21, converting on 35.8% of those attempts from beyond the arc. The former Kentucky star is shooting above 50% on pull-ups this season, including 37.9% from deep.
Booker has made over 54% of his step-back jumpers after making just over 44% last season. It's a small sample size, but he's also 6-of-8 on step-back 3-pointers thus far.
Though he might not appear to be the most dynamic athlete, Booker is pretty explosive and shifty. He keeps opponents off guard because he can stop on a dime and rise up from anywhere on the floor. The Suns star frequently deploys a 1-dribble step-back, such as he does in the above clip against Golden State Warriors star Stephen Curry.
But why does it even matter that Booker is converting a higher percentage of shots off the dribble? Well, it's important in part because of improved efficiency from beyond the arc.
Booker has a career-high shooting percentage from 3-point range
Having mastered the art of midrange scoring, Booker is now shooting the lights out from deep.
The 25-year-old is shooting a career-high 42% from beyond the arc on 6.2 attempts per contest. Booker matched his regular season career-high in triples on Tuesday night in a win over the Los Angeles Lakers.
Above the break 3-pointers are generally considered the hardest to convert, with corner triples typically seen as one of the most efficient shots in basketball. Booker made just over 32% of his above the break threes last season, per NBA.com. This year, that number is all the way up to 41.3%. It's not on small volume, either. He's hoisted 121 of those attempts already.
But, wait, we said that Booker's scoring efficiency is down? Yes, despite making gains shooting off the dribble and from beyond the arc, Booker's 56.8% true shooting percentage is his lowest since 2017-18.
There's a distinct reason for this, but it bodes well for Booker and the Suns in terms of upside.
Finish, finish, finish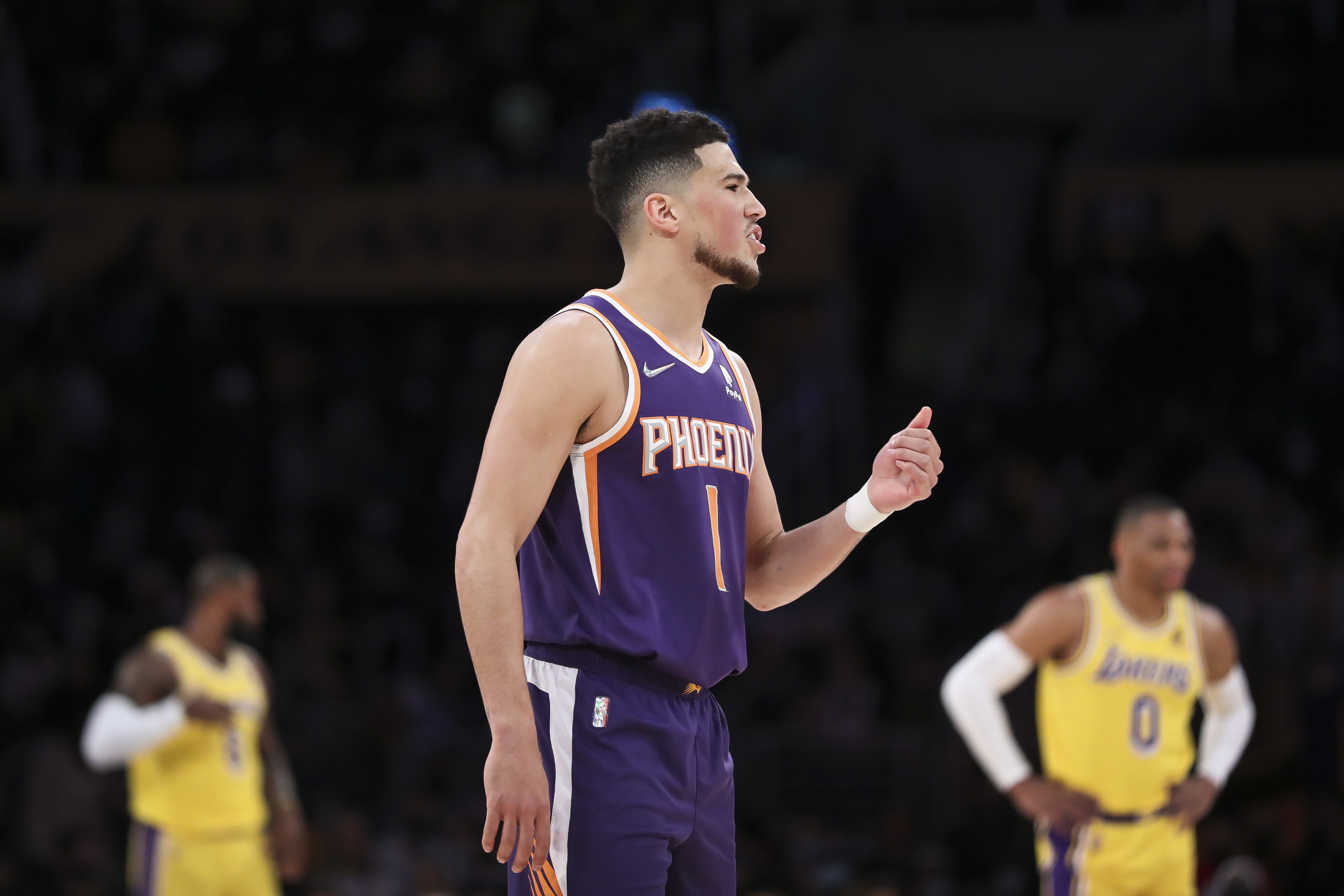 Devin Booker is capable of finishing strong at the rim through contact. He has the craftiness to avoid defenders and create angles to the bucket. But he's struggling to score in close this season.
Booker is shooting 58.3% at the rim after making 68.3% of his efforts at the cup during the 2020-21 campaign. He's also shooting 41.3% in the 3-to-10 feet range after converting close to 48% of chances in that range last season.
If the two-time All-Star can rediscover some of his old finishing prowess, he's going to be even more deadly as an all-around scorer. That's terrific news for the Suns, who keep getting contributions from a motivated Deandre Ayton and stingy Mikal Bridges in addition to the ever-present leadership of CP3.
Keep an eye on Booker's scoring progression. It could be the factor that puts Phoenix over the top.
Stats courtesy of Basketball Reference unless otherwise noted.