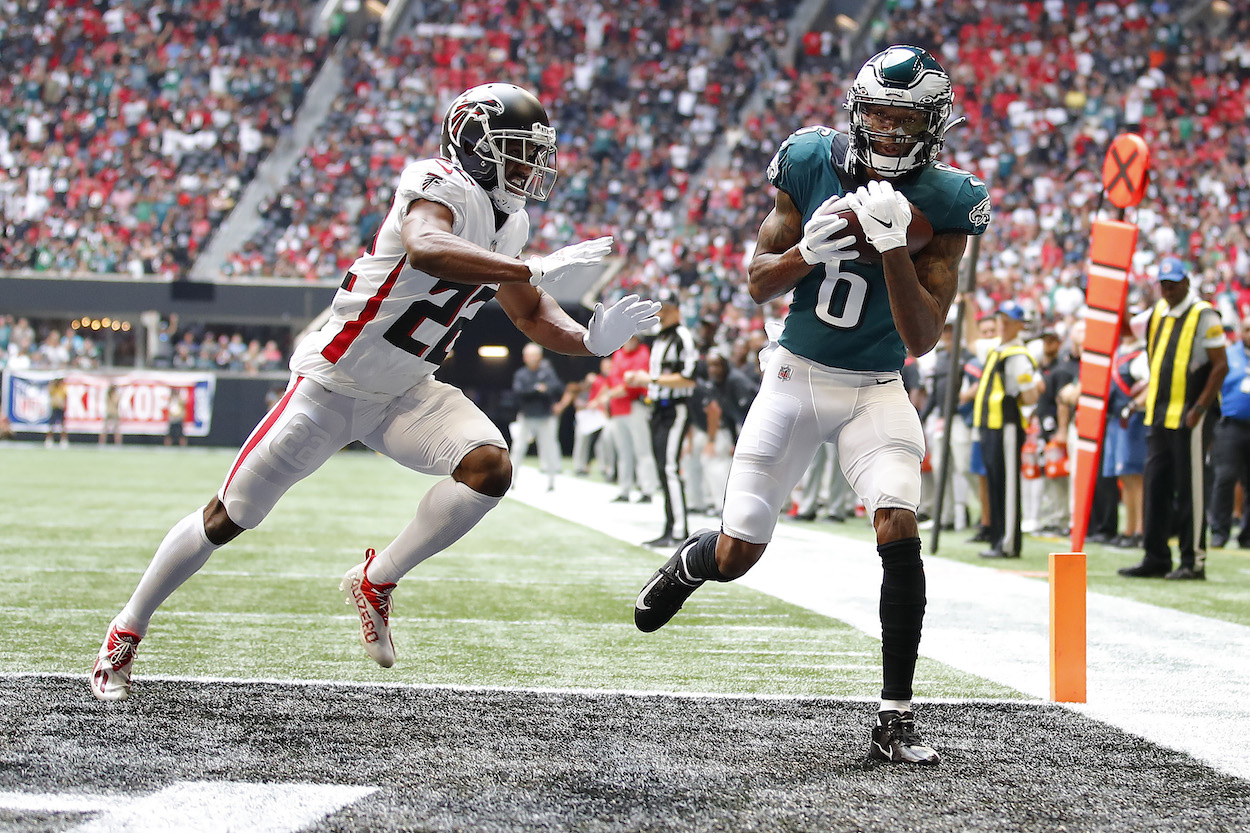 DeVonta Smith Caused Football Fans to Experience a Wicked Sense of Deja Vu During the Eagles' Week 1 Win, Both Figuratively and Literally
DeVonta Smith and the Philadelphia Eagles got off to a fast start during Week 1 against the Atlanta Falcons. The No. 10 overall pick in the 2021 NFL Draft, Smith is entering an organization with sky-high expectations. The Eagles have been without a true WR1 since Terrell Owens back in the early 2000s, and the …
DeVonta Smith and the Philadelphia Eagles got off to a fast start during Week 1 against the Atlanta Falcons.
The No. 10 overall pick in the 2021 NFL Draft, Smith is entering an organization with sky-high expectations. The Eagles have been without a true WR1 since Terrell Owens back in the early 2000s, and the team as a whole is coming off an ugly 2020 campaign.
While it's still considerably too soon to declare Smith a success, early results look promising. Smith led the Eagles with six catches and 71 yards during their blowout win over the Falcons, and he flashed route-running skills that look similar to his Heisman-winning days at Alabama.
DeVonta Smith's first career TD came against the Falcons
Smith's first career touchdown in the NFL came on a simple fade route to the corner of the end zone. Eagles tight end Zach Ertz set a pick for Smith early in the route, while Smith used a quick burst of acceleration to get himself into the open space.
It was a clean-and-easy 18-yard pass for quarterback Jalen Hurts — a connection that Eagles fans are hoping to see happen more than once this season.
While the route and TD reception was nothing spectacular, it still had football fans perking up all over the country. It looked eerily similar to a play Smith made during one of the biggest college football games he's ever participated in.
DeVonta Smith's TD had football fans feeling deja vu
During the 2017 college national championship against Georgia, Smith caught the game-winning TD in pretty much the identical spot. It was a fairly similar route as well — a simple fade route into the corner.
Maybe the Eagles schemed this into their offense against Atlanta to help Smith feel a sense of familiarity, or maybe it's just one giant coincidence. Either way, it was a cool sight for those who've followed Smith since his college days.
That's how Smith "literally" made fans feel deja vu, now onto how he "figuratively" did it.
Simply put, Smith flashed early signs of being a legit WR1 for the Eagles during his debut. Smith won a Heisman at Alabama due to his elite route-running skills and sure hands. Even against NFL defenders, Smith looked like a carbon copy of his college self.
It was almost like everyone forgot to tell Smith he had graduated to the pros.
What to expect from the Eagles new WR1 moving forward?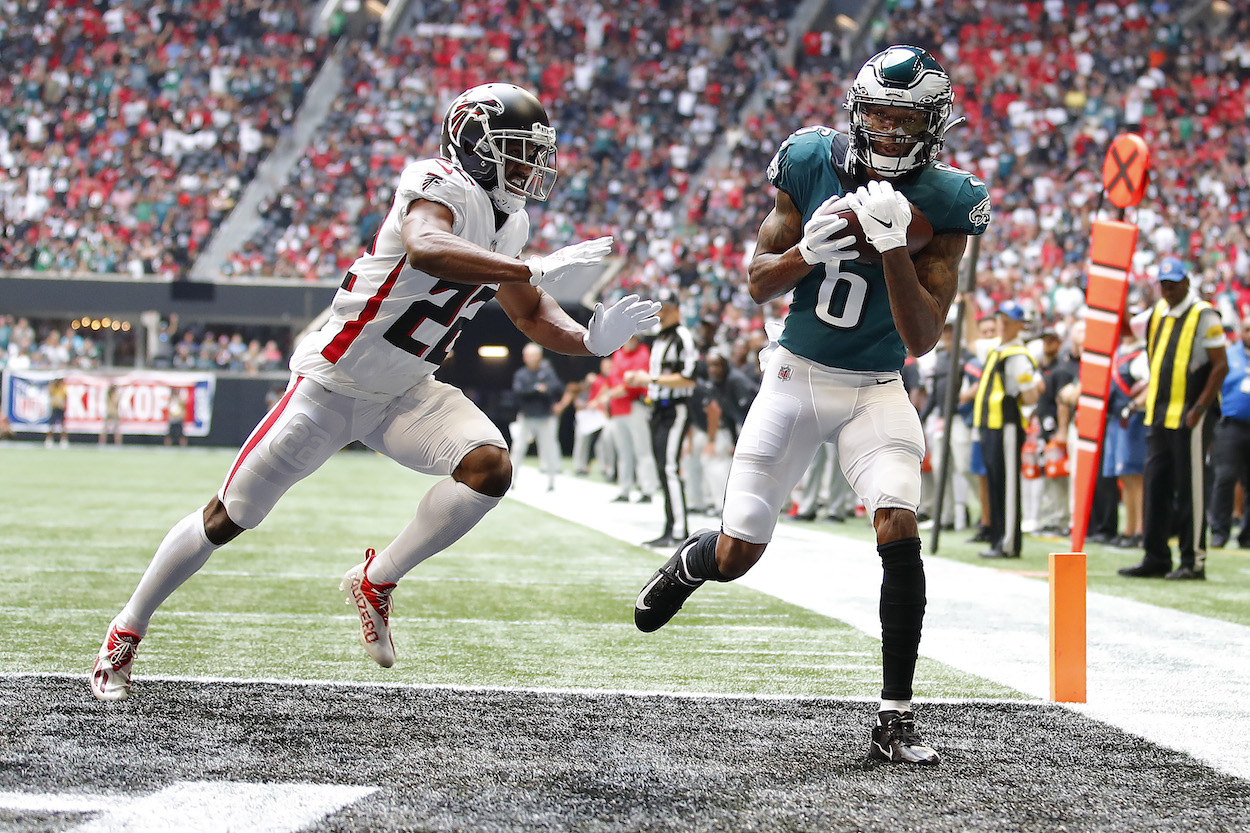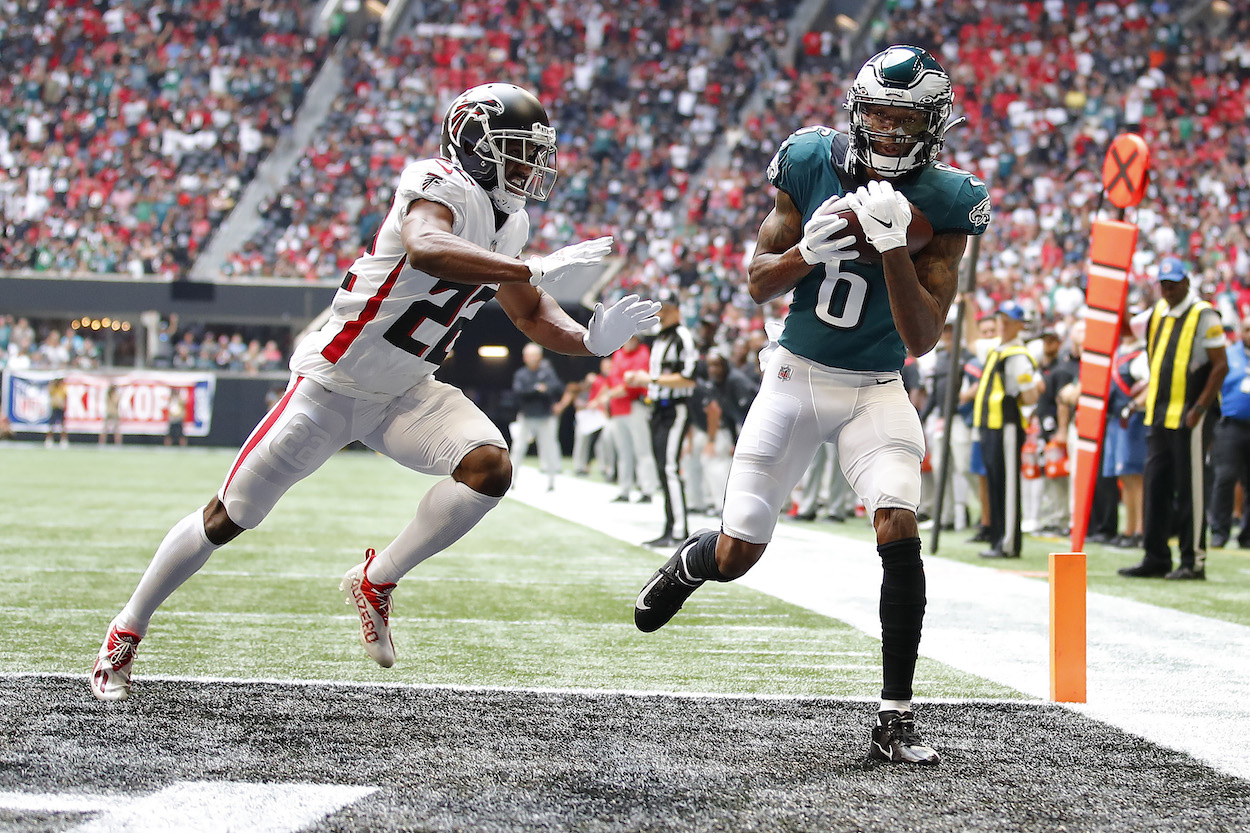 Smith showcased his upside during Week 1, but it's still going to be a tough road ahead for the rookie.
The biggest knock against Smith at the moment is his bodyweight. He should expect future teams to place a far greater emphasis on attacking him at the line of scrimmage and getting handsy with him. Physicality didn't appear to bother him against Atlanta, but it's not like the Falcons are known for having a good secondary.
Regardless of what happens moving forward with Smith, it was an impressive first glimpse of NFL action. Even without the 2017 flashback, it would have been a good afternoon for the Eagles WR — the deja vu experience just made it that much cooler for diehard 'Bama fans.
All stats courtesy of Pro Football Reference.