DeVonta Smith Hasn't Played 1 Game for the Eagles but Already Knows the 2 Major Purchases He Wants to Make With His Projected $20.14 Million Deal
The reigning Heisman Trophy winner is going to the Philadelphia Eagles. After a historic season with the Alabama Crimson Tide in 2020 in which he put his name up there with college football legends, DeVonta Smith is now an Eagle and will be teaming up with former Bama QB Jalen Hurts. 
Smith should ultimately make a decent amount of money on his first NFL contract given he went to Philly in the top 10. It appears he knows the two major purchases he wants to make with first paycheck, too.
Former Alabama star DeVonta Smith is heading to the Eagles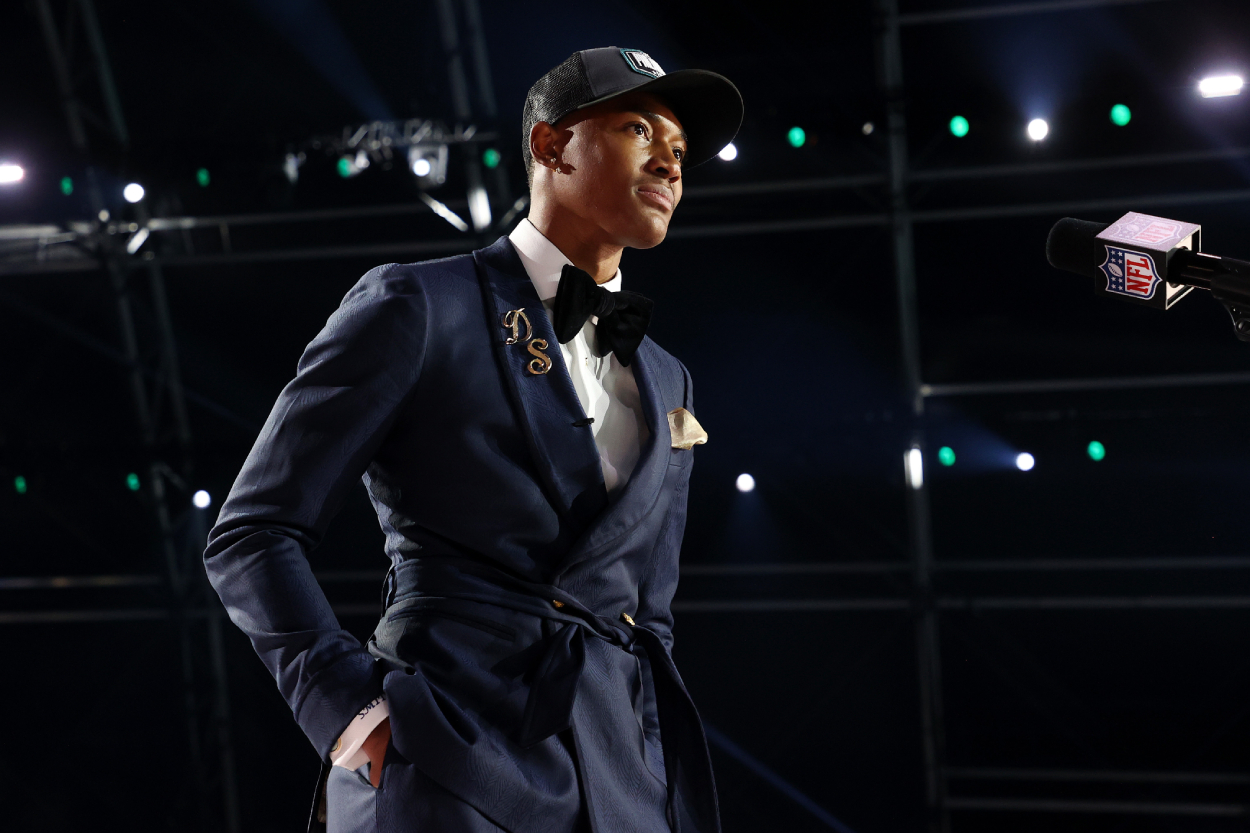 RELATED: Heisman Winner DeVonta Smith Reportedly Used 2 Words to Betray His Former and Potential Future QB Tua Tagovailoa
DeVonta Smith had one of the best seasons a college receiver has ever had in 2020 at Alabama. Following a year that saw him catch 68 passes for 1,256 yards and 14 touchdowns in 2019, Smith was unstoppable in 2020. He caught 117 passes for 1,856 yards and 23 touchdowns, which helped him win the Heisman Trophy.
Smith also came up big when it mattered most. In the SEC Championship Game, the star pass-catcher caught 15 passes for 184 yards and two touchdowns, and then followed that up with seven catches for 130 yards and three touchdowns in the College Football Playoff semifinal against Notre Dame. In the national championship game, though, Smith went off and helped Bama win the natty. He caught 12 passes for 215 yards and three TDs.
This all led to the 2021 NFL draft, where the Eagles traded up from the No. 12 pick to No. 10 to select Smith. This means he will team up with another former Alabama star in Jalen Hurts.
He already knows what he wants to spend his first NFL paycheck on
RELATED: DeVonta Smith Sends Strong Message to NFL Teams Doubting Him Because of Size Concerns: 'We're Not Bodybuilders'
Smith hasn't received his first paycheck yet, nor has he even attended his first practice. However, when asked what he wants to purchase with his first check, Smith already knew the answer.
"I'm gonna get pops a truck," Smith said on the April 27 episode of Club Shay Shay. "… That's what he's been wanting, a little pickup truck, so I'm just gonna get him a truck."
So, what about his mother?
"Get mom a house," Smith added. "Get her out of the house that she in right now."
OK, so Smith knows what he's getting his parents, but what about himself? The reigning Heisman Trophy winner doesn't seem too eager to spend a ton of money on stuff he wants.
"I got a [Nissan] Altima; I'm keeping it; it ain't going nowhere," Smith said. "I'ma keep that. That's my little gas-saver. … I'm cheap."
He continued: "I work to get my mom and pops right. They got me here. They've been taking care of me; let me take care of them."
Smith did say that he'll still get himself a nice car, but it doesn't look like he'll drop a ton of cash on anything too expensive.
How much will DeVonta Smith make on his first contract with the Eagles?
RELATED: Carson Wentz Gets Real About His Tumultuous Divorce With the Philadelphia Eagles: 'It Wasn't Fun'
With Smith being a top 10 pick, he has a chance to make a decent amount of money in his first NFL contract. Spotrac estimates that the total value of his first deal will be around $20.14 million with a $12 million signing bonus. That's not too shabby straight out of college.
How does that compare to the other top 10 picks, though?
Here's what Spotrac estimates the total values of each player's first deal will be:
Trevor Lawrence: $36.79 million
Zach Wilson: $35.15 million
Trey Lance: $34.1 million
Kyle Pitts: $32.91 million
Ja'Marr Chase: $30.81 million
Jaylen Waddle: $27.08 million
Penei Sewell: $24.09 million
Jaycee Horn: $21.11 million
Patrick Surtain: $20.96 million
DeVonta Smith: $20.14 million
If each of these players live up to all the hype, they should make much more than what they'll make on these deals. We'll see who becomes a star and who becomes a bust.
Stats courtesy of Sports Reference