DeVonta Smith Gave Eagles Fans Another Startling Injury Scare, and More Are Likely on the Way
DeVonta Smith is facing a lot of pressure in his rookie season with the Philadephia Eagles.
The Eagles made Smith the 10th overall pick in this year's NFL Draft, actually trading up a few spots to secure him before the New York Giants made it on the clock. It was an aggressive move for the Eagles, trading up for Smith, as Philly is in the process of completely rebuilding their roster following a disheartening 4-12 season.
Very few teams kick off their rebuild with a wide receiver.
Thus far, Smith is already providing Eagles fans with plenty to worry about regarding him being that foundational building block that the team desperately needs.
DeVonta Smith has already suffered two training camp injuries for the Eagles
The biggest concern surrounding Smith heading into the 2021 NFL Draft was his size. Smith weighs in at roughly 170 pounds despite being 6-foot. While Smith's weight (or lack thereof) wasn't a problem during his Heisman-winning career at Alabama, the NFL is a completely different animal.
There are plenty of NFL defensive backs who stand in at 6-foot-plus and 220 pounds. One hit from an aggressive DB like that, and Smith is going to be feeling it.
Smith has already suffered two injuries during training camp. He sprained his knee during one of the Eagles' first practices, which caused him to miss a few weeks. He then limped off the field with an ankle injury during an indoor practice just days after his preseason debut.
Smith ended up recovering from both injuries (the ankle issue didn't cause him to miss any time), but each incident sent a majority of the Eagles fan base into a complete frenzy. Something they're going to have to get used to.
The Eagles need to get used to the injury scares
There's been a long-running joke that the Eagles have the worst medical staff in the NFL, and when looking at injury statistics over the past few years, it's largely true. Philadelphia tends to get beat up the most by injuries before and during the season, putting a ton of strain on the organization's backups and practice squad players.
Combine this with Smith and his undersized stature, and you're looking at a recipe for disaster.
Even if Smith were drafted to an organization with a historically sound medical department, his below-average bodyweight would still see him pick up the occasional nagging injury at a higher rate than teammates. It's simply too challenging to avoid big hits or messy collisions.
With no real muscle or body fat protecting Smith's joints and ligaments, those hits and collisions are going to hurt just a tad extra compared to the average NFL receiver.
DeVonta Smith can still have a productive rookie season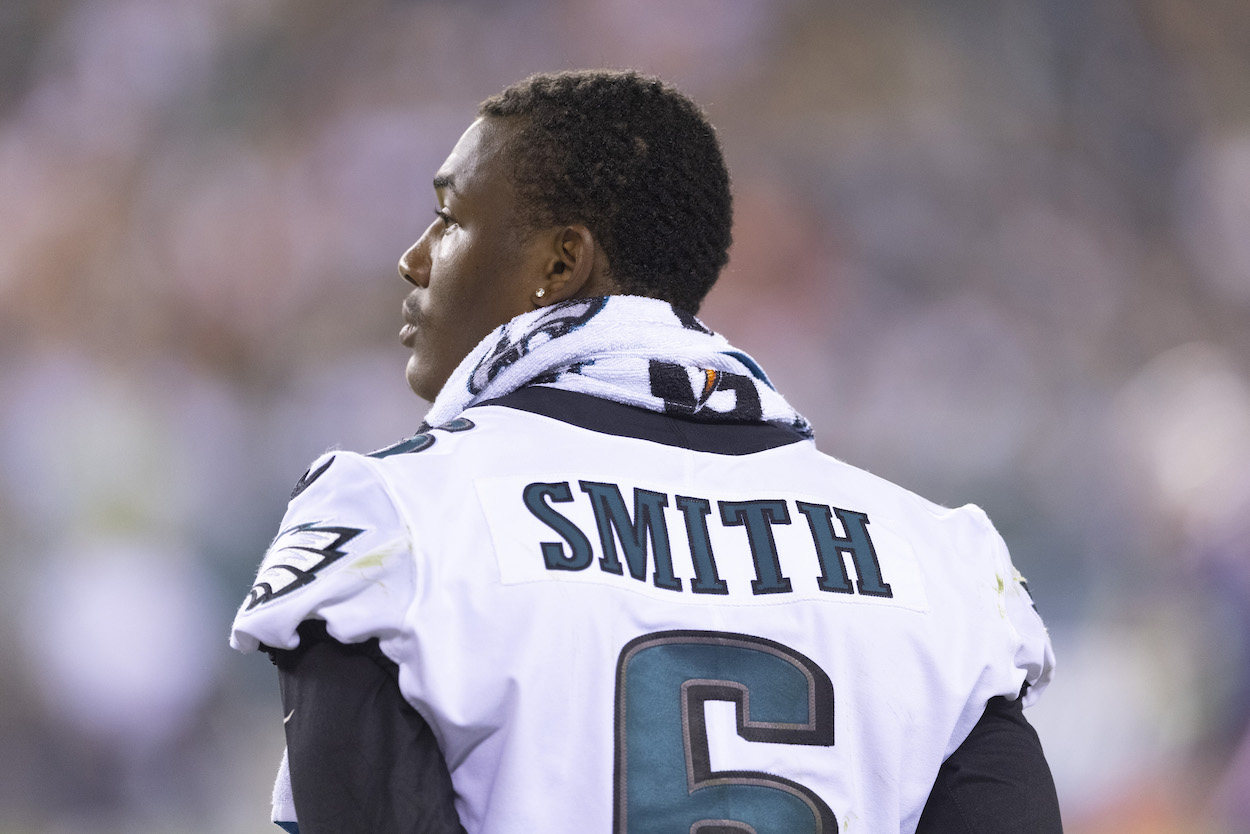 This isn't to say Smith can't have a productive rookie season. In fact, the odds are pretty high that he finishes 2021 as the Eagles' leading pass-catcher. They spent a premium pick on him and will force the ball his way at a high rate.
With that said, Smith has to start placing a larger emphasis on self-preservation and avoiding injury. Spending more time in the kitchen and the gym is essential for Smith to play all 17 games for Philly this year.
If Smith fails to add on an extra 5-10 pounds between now and the season beginning, it could be another long and painful year for Eagles fans.
Like Sportscasting on Facebook. Follow us on Twitter @sportscasting19.