DeVonta Smith Hasn't Played 1 Game for the Eagles but Already Has Philly Fans Turning on Him
Many Philadelphia Eagles fans were thrilled when their team took Heisman Trophy winner and former Alabama star DeVonta Smith in the first round of the 2021 NFL draft. Smith proved last season for the Crimson Tide that he has a ton of potential, and he also fills a massive hole on Philly's roster. However, while many fans are excited about the selection, some are already turning on the receiver.
It's actually for a light-hearted reason, though. Fans are just not too happy about Smith being a Boston Celtics fan.
The Eagles selected Alabama WR DeVonta Smith in the NFL draft
The Eagles had the 12th pick in the 2021 NFL draft. When they saw that the Heisman winner was available at No. 10, though, they completed a trade with their rival, the Dallas Cowboys, and took Smith.
Smith fills a major hole for the Eagles. Philly didn't have one receiver who gained over 539 receiving yards in 2020. Jalen Reagor, who the Eagles took in the first round of the 2020 draft, only played in 11 games last season, while Travis Fulgham led the team with 539 receiving yards in 13 games.
After trading Carson Wentz to the Indianapolis Colts this offseason, the Eagles will either have a young Jalen Hurts or an aging Joe Flacco at quarterback in 2021. Smith should significantly help either one of them.
However, while many Eagles fans are thrilled about Smith coming to Philadelphia, some are already turning on him. 
That is due to his NBA fandom.
The star pass-catcher is a Boston Celtics fan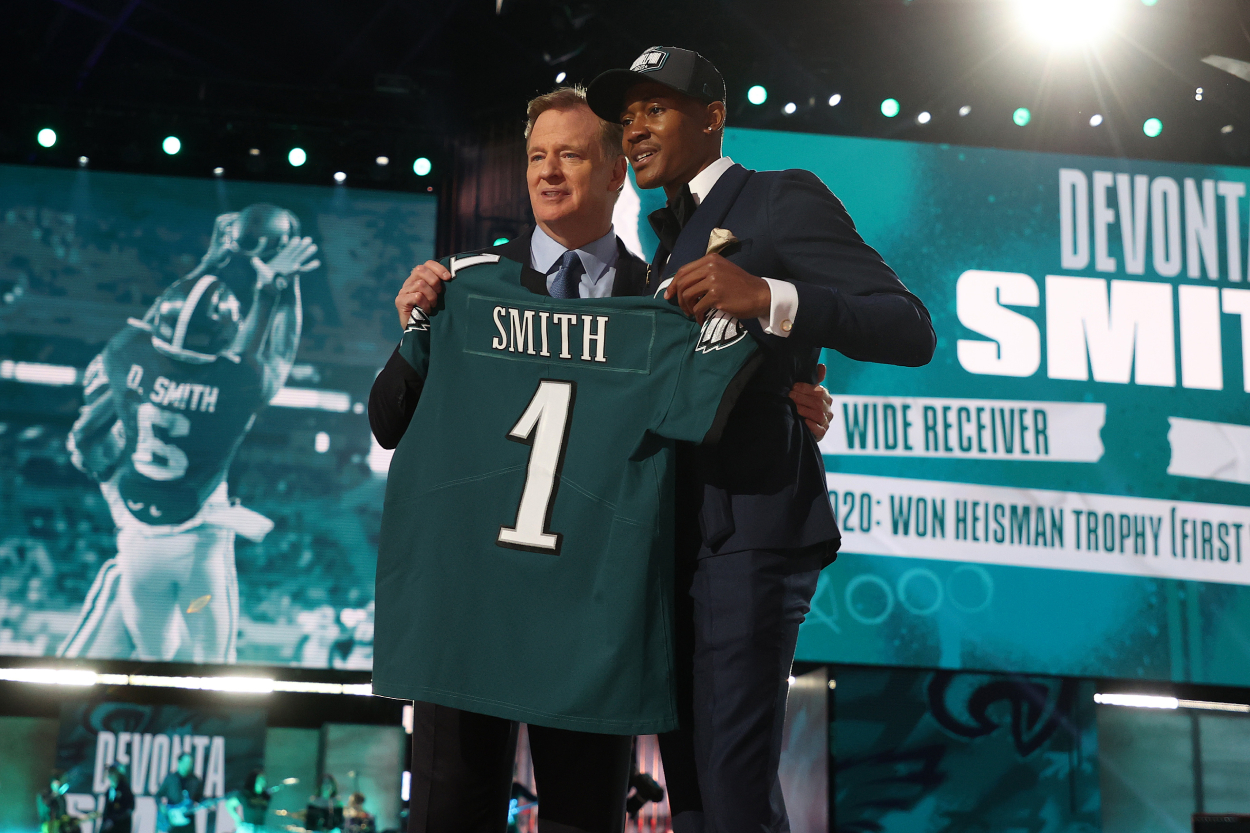 While it may not get as much coverage as Boston Celtics-Los Angeles Lakers, the Philadelphia 76ers and the Celtics also have a pretty storied rivalry. Of course, Boston has a significant edge over Philadelphia as the franchise has won 17 championships compared to the Sixers' three. The two teams, though, have had some epic playoff battles over the years. 
In fact, according to Sporting News, they have faced each other in the postseason 21 times, which is the most in NBA playoff history. Thirteen of those 21 also came with trips to the NBA Finals on the line.
Since most Eagles fans are 76ers fans, Smith had to let those diehards know of his love for the Celtics.
"You can for sure get me to the game, but convert me? I don't know about that one," Smith said of his Celtics fandom on the Takeoff With John Clark podcast, per NBC Sports.
As highlighted by NBC, several fans did not take this news too well. Some even went as far as to jokingly say the Eagles should just cut Smith now, while one Reddit user commented: "Honeymoon is over folks. I hate his guts now."
However, another fan on Reddit admitted they're OK with him liking the Celtics as long as he can "catch lots of passes and score lots of touchdowns on the Eagles."
That's probably how most of them really feel, too. If he can help the Eagles win, who cares about the Celtics and Sixers?
DeVonta Smith proved his superstar potential at Alabama
If Smith can perform for the Eagles at the level he did for Alabama, Philadelphia may have just drafted a superstar.
After catching 68 passes for 1,256 yards and 14 touchdowns in 2019, Smith potentially had the best season a college receiver has ever had in 2020. He caught 117 passes for the Crimson Tide to go with 1,856 yards and 23 touchdown catches. This led to Smith winning the Heisman Trophy, and he also helped Bama win the national championship.
The Eagles needed help at receiver, and Smith gives them exactly that and maybe even more. It'll be fun to see how he develops in Philadelphia.
Stats courtesy of Sports Reference and Pro Football Reference