DeVonta Smith Hasn't Played in 1 NFL Game but Has Already Put Julio Jones, Amari Cooper on Notice With His Recent Comments
DeVonta Smith is coming off one of the most historic seasons in Alabama Crimson Tide history. He won the Heisman Trophy and led his team to a national championship. Now, Smith will soon join the Philadelphia Eagles, who selected him in the 2021 NFL draft. However, although he hasn't played in one NFL game yet, Smith has already put guys like Julio Jones and Amari Cooper on notice.
DeVonta Smith had a historic season with the Alabama Crimson Tide
Smith had a pretty successful season in 2019 at Alabama. He caught 68 passes for 1,256 yards and 14 touchdowns. However, his 2020 campaign was maybe one of the greatest seasons in college football history.
Smith recorded 117 catches for 1,856 yards and 23 touchdowns last season. He ultimately won the Heisman Trophy before later leading the Crimson Tide to a win in the national championship game. Smith ended up catching 12 passes for 215 yards and three touchdowns in the title game.
In the 2021 NFL draft, Smith then saw the Philadelphia Eagles trade up from the 12th pick to the 10th to get him. He will now soon enter the league and team up with another former Alabama star in quarterback Jalen Hurts.
Despite not yet playing in an NFL game or even attending one practice, though, Smith has already put guys like Julio Jones and Amari Cooper on notice.
He thinks he's the best receiver to ever play at Alabama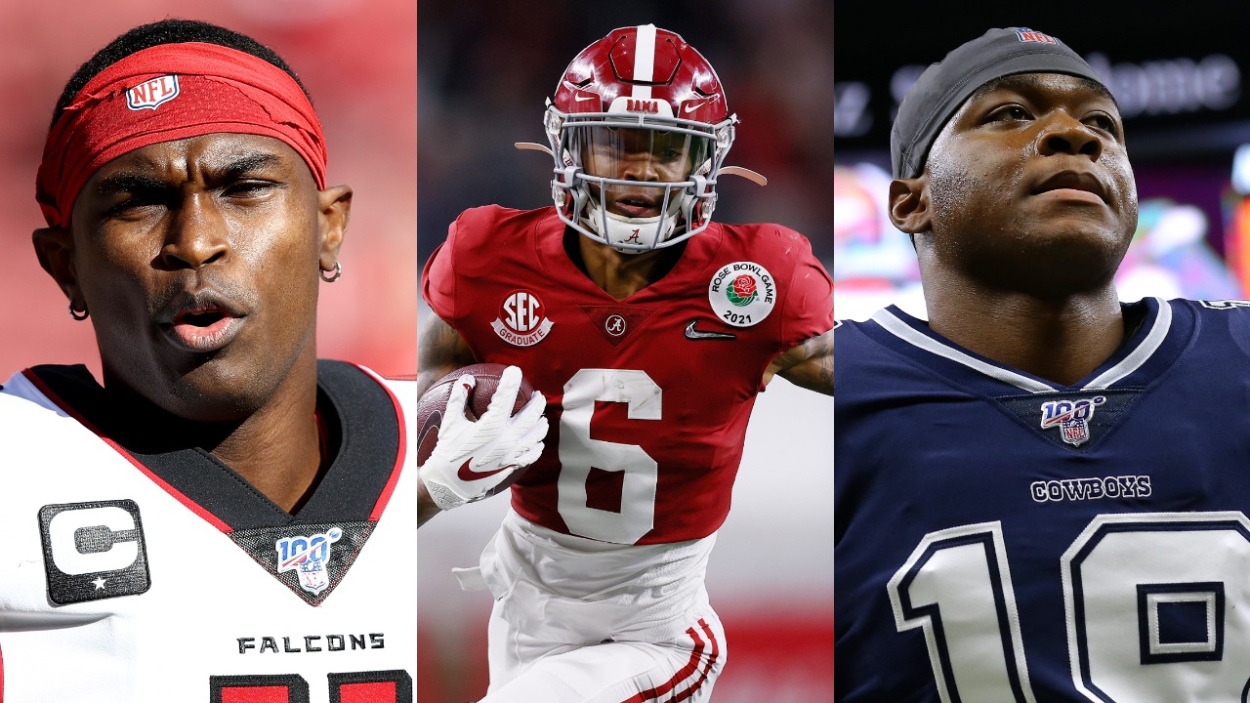 Smith recently appeared on Shannon Sharpe's Club Shay Shay, and he had a strong message about his fellow former Alabama stars.
"I consider myself as the best wide receiver to have came through," Smith said on the April 27 episode. "… Yeah, I consider myself as the best receiver to come through there. I mean, there's been some great guys like Julio, Coop, but I mean, we still watch film of them. There's stuff I took out of their toolbox to help me get to where I am. So, I don't get to where I am without them, without watching them."
That's essentially a nice way of saying that he thinks he'll go down as a better receiver than all the other receivers to ever play at Alabama. That's a bold claim.
Does he have a chance to prove it right, though?
Can DeVonta Smith become the best receiver in Alabama history?
If you're just looking at college stats, Smith certainly has a chance to become the best receiver to ever play at Alabama.
His 3,965 career receiving yards are No. 1 in school history, and his 46 career touchdown catches aren't just first in school history, but they are 15 more than anyone else (Cooper had 31). Smith's 2020 season was also the best season a Bama receiver has ever had. The soon-to-be Eagles star gained the sixth-most receiving yards in a single season in college football history with 1,856. That's compared to Cooper's 1,727 receiving yards in 2014, Jerry Jeudy's 1,315 in 2018, and Jones' 1,133 in 2010.
However, if we're looking at NFL success, it's going to be hard for Smith to beat out some of these guys. Jones is a seven-time Pro Bowl selection and a two-time First-Team All-Pro, as he has caught 848 passes for 12,896 yards and 60 touchdowns. Cooper has also earned four Pro Bowl selections, and has caught 449 passes for 6,211 yards and 38 touchdowns.
Smith has some big shoes to fill if he wants to surpass Jones and Cooper's NFL success, but if his pro career is anything like his time in college, he has a great chance to do it.
It'll be interesting to see if Jones, Cooper, or any other former Bama stars like Jeudy, Calvin Ridley, or Henry Ruggs have something to say about Smith's claim. Either way, it's clear that Alabama knows how to develop receivers.
Stats courtesy of Sports Reference and Pro Football Reference