Devonta Smith's Gruesome Finger Injury Will Make You Shudder
It's a rare feat for a wide receiver to win college football's most coveted individual award, the Heisman Trophy. Alabama's DeVonta Smith achieved that rare goal this year. He became just the fourth wideout in history to take home the Heisman. Smith then capped off the honor by taking the field — and ultimately winning — the national championship.
Yet Smith didn't make it all the way through that game against Ohio State. He was sidelined shortly after halftime by a gruesome finger injury — one that struck fear into fans' hearts. Let's look at Smith's incredible year, his finger injury, and his prospects moving forward.
DeVonta Smith's incredible year
RELATED: Alabama Head Coach Nick Saban Rakes in an Insane Salary
Smith had a strong junior year in 2019, catching 68 receptions for 1,256 yards and 14 touchdowns, according to Sports Reference. Yet coming into his senior year, few pundits would have pegged Smith as a candidate to take home the Heisman Trophy. "The Slim Reaper" soon proved his doubters wrong, stringing together one of the most productive receiving seasons ever.
By the time the dust had settled, Smith had racked up 117 receptions. His 1,856 receiving yards not only led college football but are sixth-most all-time in a single season, per Sports Reference. Likewise, his 23 receiving touchdowns are fifth-most all-time. And not only did Smith put up huge numbers, but he did so in often spectacular fashion.
For instance, he hauled down a breathtaking one-handed touchdown reception in a game against LSU. A week later, he scored a touchdown on an 84-yard punt return. His on-field exploits soon made him the first wide receiver to ever win the AP Player of the Year award, according to AP News. Soon he was announced as the winner of the Heisman Trophy as well.
A gruesome injury during the national championship
Despite Smith's slender frame — at 6-foot-1, he weighs just 175 pounds — he proves to be surprisingly durable. In fact, he played in the full complement of 13 games in 2018, 2019, and 2020. That streak of luck finally caught up with Smith in the Crimson Tide's national championship game against the Buckeyes.
Smith had an insanely productive first half, catching 12 receptions for 215 yards and three touchdowns. Yet just two plays into the start of the third quarter, he suffered a gruesome finger injury that forced him out of the rest of the game. Smith was trying to rein in a bobbled pass when he was tackled by a defender.
During the play, Smith's right index finger was jammed awkwardly against his defender's side. Doctors soon diagnosed it as a dislocation. According to Sports Illustrated, they spent around 25 minutes trying to get the finger back into its socket — without success. And so, although Smith was eager to get back into the game, his coaches had no choice but to hold him out.
Smith's prospects moving forward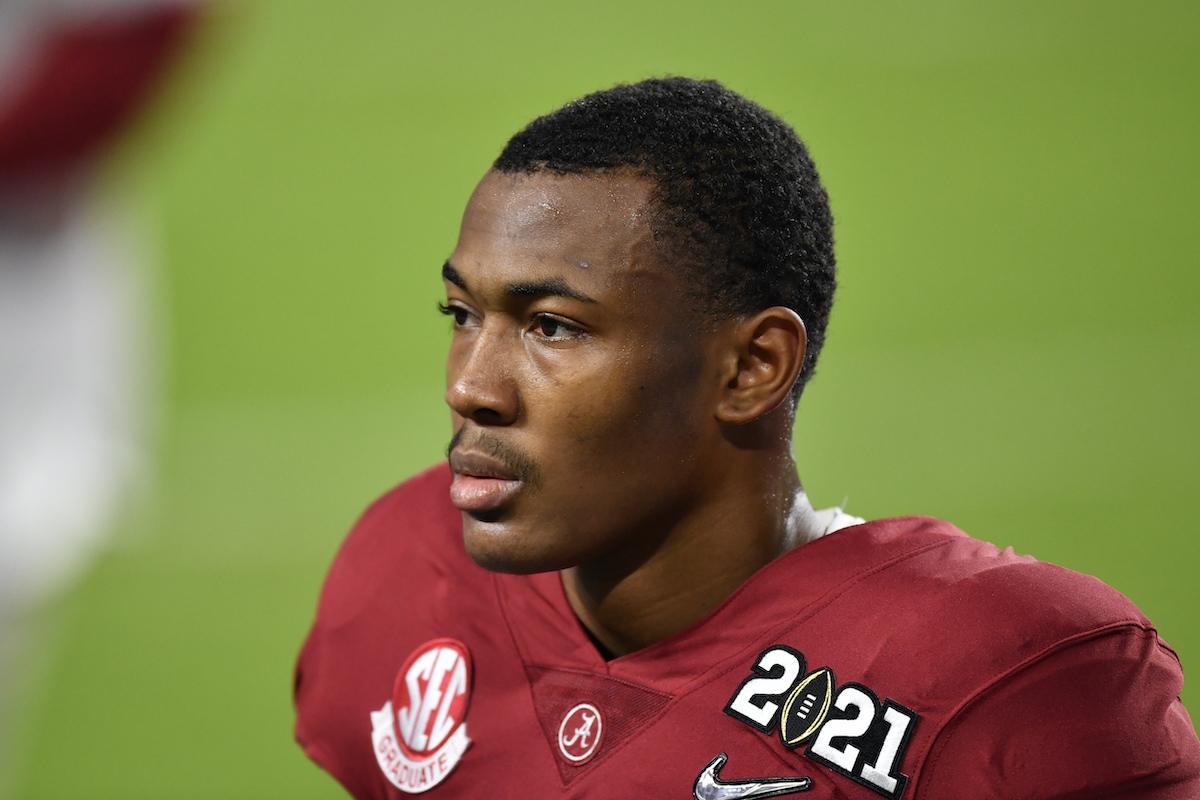 RELATED: How Many Championships Has Nick Saban Lost at Alabama?
Smith's fans were likely relieved to hear that the injury wasn't any worse than it was. He is expected to make a fairly quick recovery, with no long term issues. Smith's excellent conditioning should help ensure a speedy recovery. In particular, Smith is known for the grueling workout regimen he uses to build hand strength.
As part of that routine, Smith does all of his pushups on his fingertips, as reported by AL.com. His coaches also developed a set of drills designed to help Smith improve his hand strength. That said, no amount of hand strength can replace the time necessary to recover from a dislocated finger.
Fans hoping Smith would recover quickly enough to play in the upcoming Senior Bowl had their hopes dashed a few days ago. At that time, Senior Bowl executive director Jim Nagy tweeted that Smith "will not be cleared to participate in any on-field activities due to thumb injury." Nonetheless, Smith will be available to meet with teams interested in taking him the 2021 NFL Draft.