Dez Bryant Appears to Send the Dallas Cowboys a Strong Warning After Their Shocking In-Season Roster Move
Dez Bryant may no longer be on the Dallas Cowboys, but he still has opinions about decisions they make from time to time. So, when Dallas recently announced a shocking in-season move, Bryant appeared to have strong feelings about it.
What was the move? On Oct. 5, the Cowboys announced that they had cut linebacker Jaylon Smith, and just like NFL fans everywhere, Bryant seemed pretty shocked.
The Dallas Cowboys released former Pro Bowl linebacker Jaylon Smith
Jaylon Smith is one of the best stories in football. He was a big-time NFL prospect in college, but a knee injury he suffered in his final game at Notre Dame put his pro career in jeopardy before it even started.
After he went to the Cowboys in the second round of the 2016 draft and rehabbed throughout his rookie season, Smith eventually became a staple of the team's defense. He racked up 81 total tackles in 2017 before recording 121 and four sacks in 2018.
In 2019, however, Smith probably had his best year as a pro. He earned Pro Bowl honors after notching 142 total tackles, 2.5 sacks, and two forced fumbles. He also defended nine passes.
But that success didn't necessarily translate to 2020. The Cowboys had one of the league's worst defenses last season, and a lot of the blame fell back on Smith. He recorded a career-high 154 total tackles, but — despite having a contract that paid him over $11 million per year through 2024 — his struggles in coverage led to him having to answer questions about his future on the team.
With the Cowboys then also adding guys like Keanu Neal, Micah Parsons, and Jabril Cox this past offseason, Smith's playing time decreased through the team's first four games this year. He played in about 56% of defensive snaps and had 18 total tackles.
So, on Oct. 5, Dallas shocked everyone when it announced its decision to cut Smith despite owing his $7.2 million base salary for this season and still having a $6.8 million cap hit in 2022. Given those financial implications and the fact he just earned Pro Bowl honors in 2019, the move was a massive surprise — even to Dez Bryant.
Dez Bryant appeared to send a warning to the Dallas Cowboys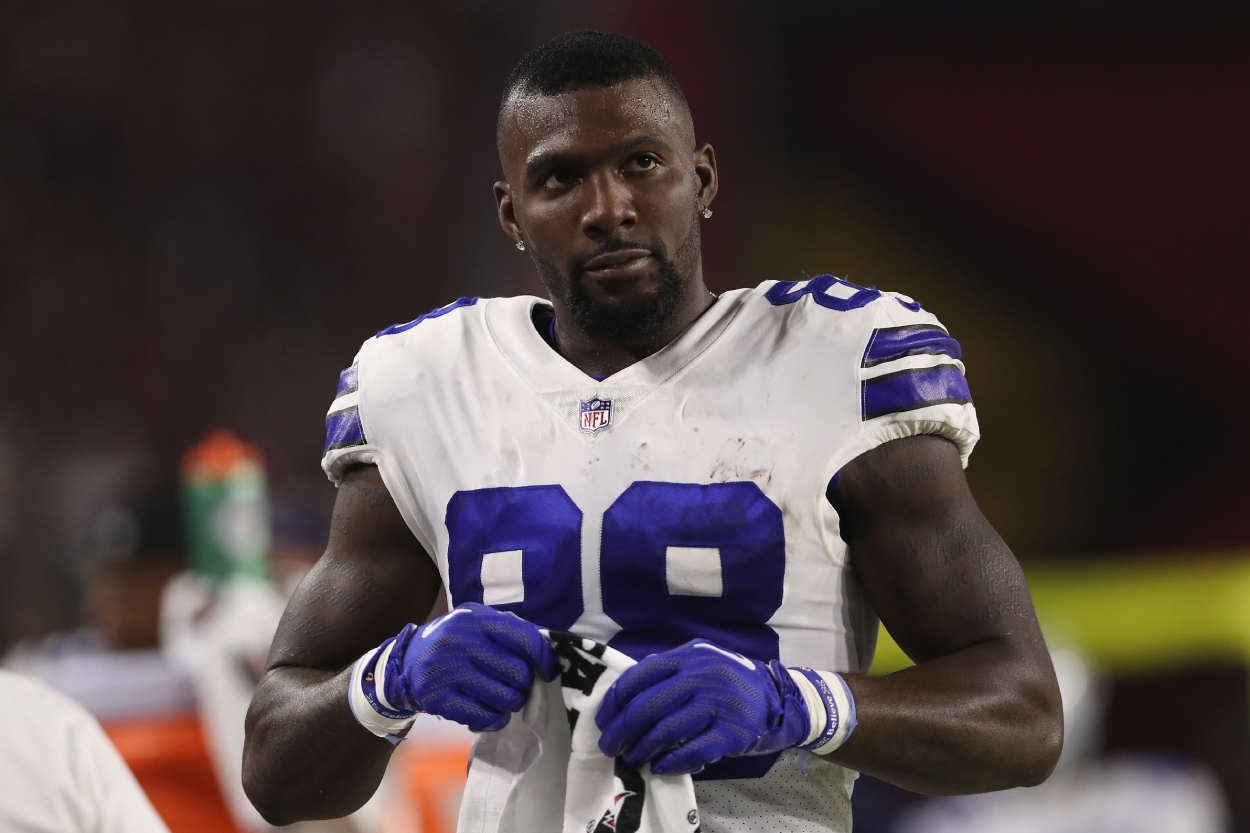 Just 11 minutes after ESPN's Adam Schefter announced the Jaylon Smith news, former Cowboys receiver Dez Bryant took to Twitter: "I did not see that coming at all!!! Wow!!!"
We don't 100% know that he was referring to Smith, but given the timing and the fact that he liked a reply that discussed the situation, it seems pretty reasonable to suggest that he was, in fact, talking about the shocking roster move.
It also appears Bryant had a warning for his former team, which currently sits at 3-1.
"I understand it's a business but you don't mess with a team whenever everything going right," he tweeted.
Bryant also quote-tweeted a post from Cowboys reporter Clarence Hill Jr. that said Smith "helped a lot of minority businesses get financial assistance" and that he's "a good businessman and will be successful." In response, Bryant tweeted two words: "Very Successful."
All in all, it seems Bryant was just as shocked as everyone else about Smith's release. However, was he right when he warned against messing with a team that is playing well?
What's in store for both the Cowboys and Jaylon Smith?
In terms of their on-field performance, the Cowboys should be OK. Smith only played in 40% of the team's defensive snaps during their Week 4 win over the Carolina Panthers. Linebackers Leighton Vander Esch and Micah Parsons have been playing well, too. But not having Smith's locker room presence could be a huge hit to the team.
Smith has been around the franchise since 2016, and everyone who has covered him has only spoken highly of his character.
"He's also on the short list of favorite people I've covered in my 30 years on the Cowboys beat," Cowboys reporter Mike Fisher wrote for Sports Illustrated in January.
Losing a leader like him could have a larger impact than fans may realize.
In regards to Smith's future, though, multiple teams will likely be after his services. He's from Indiana, and the Indianapolis Colts' defense has been a bit of a disappointment so far this year. Maybe his home-state team will want to bring him in to play with Darius Leonard? The Kansas City Chiefs also desperately need help on defense and haven't been afraid to add big names in recent years.
He should have plenty of options.
Overall, Smith will likely be OK. He will probably find a team that he can contribute to and help win games. The Cowboys, on the other hand, could end up learning that his locker room presence was more impactful than they realized. But if that's the case, hopefully they have enough talent to overcome his departure.
Stats courtesy of Pro Football Reference
RELATED: John Madden Hated Calling Dallas Cowboys Games Long Before He Began Traveling in a Bus