Dez Bryant Gave Cowboys Owner Jerry Jones High Praise Despite Ending His NFL Career Sooner Than Anyone Expected
The Dallas Cowboys drafted Dez Bryant to be the franchise's next great wide receiver. Jerry Jones gave him the illustrious No. 88 because he believed in the Lufkin, Texas native. All of Bryant's NFL success came in a Cowboys uniform, and his career basically ended at the hands of Jones. Still, the former All-Pro receiver holds the Cowboys owner in high regard.
The Cowboys cut Dez Bryant after the 2017 season
The Cowboys drafted Dez Bryant with the No. 24 overall pick in the first round of the 2010 NFL Draft. After turning heads during his time at Oklahoma State, Bryant entered the league with high expectations.
Bryant wore No. 88, which Jerry Jones has strictly reserved for wide receivers with superstar potential, including Michael Irvin and Drew Pearson. CeeDee Lamb is currently carrying the torch for the next generation.
Bryant made an immediate impact on the Cowboys offense. He caught 45 passes for 561 yards and six touchdowns as a rookie, earning him 2010 NFL All-Rookie Team honors.
In eight seasons in Dallas, the three-time Pro Bowler recorded 531 receptions for 7,459 yards and 73 touchdowns. His 16 touchdowns in 2014 led the NFL.
Bryant's production slipped during his final years in Dallas after signing a five-year $70 million deal in 2015. He failed to reach 1,000 yards or double-digit touchdowns in any of the following seasons. He was also demonstrative on the sideline at times, which shed light on his frustrations.
Due to the dip in production, the Cowboys cut Bryant in 2017 instead of restructuring his contract. Though not officially retired, he's only appeared in six NFL games since.
Dez Bryant loves Jerry Jones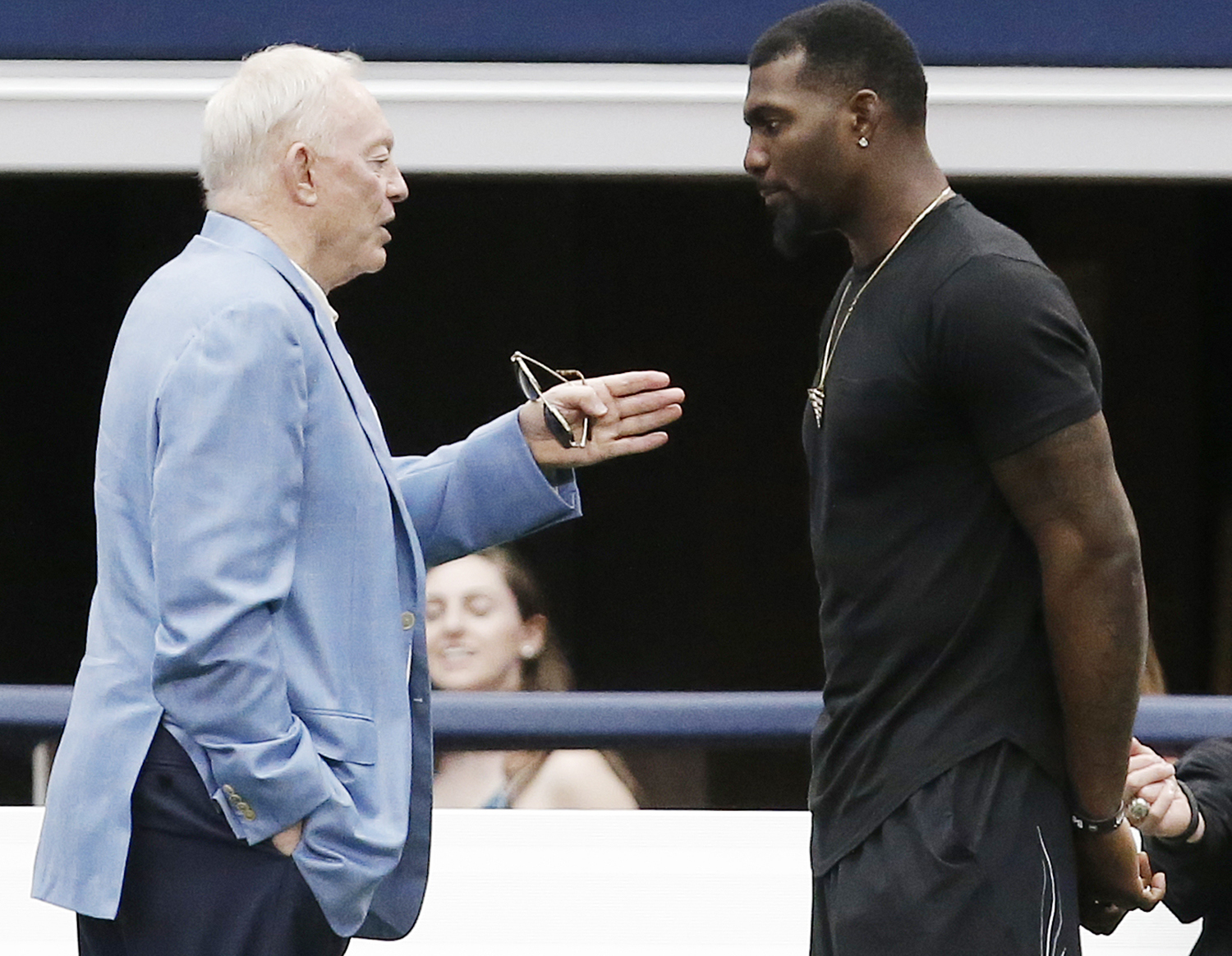 Despite ending his tenure in Dallas on seemingly rocky terms, Dez Bryant cleared the air about his feelings on Jerry Jones after the Cowboys cut him.
Bryant joined the I Am Athlete podcast as a guest and gave insight into the situation and how things ended in Big D. Brandon Marshall asked the former Cowboys wideout his thoughts on Jones. "I love him," he said with a smile. "He gave me my job. He gave me my dream."
The comments are a bit surprising, but Bryant has an affinity for the Cowboys organization and its owner. The Oklahoma State product praised Jones for "how he branded himself." He added that the owner had a polarizing personality. "He made everybody love him," said Bryant.
Although it was a less than ideal situation, Bryant understood why the Cowboys moved on from him. "When he cut me, from that point, I knew it was a business decision," he said. "I knew he loved me."
Bryant said that he maintained a good relationship with Jones, and after Dallas let him go, the owner called his former star receiver "pure."
Bryant said Jerry Jones brought fan engagement to the NFL
There's a reason that the Dallas Cowboys are considered "America's Team." That didn't just happen overnight. The franchise has won five Super Bowls in eight appearances. Naturally, people want to be fans of winners.
Many people love the Cowboys, but plenty others love to hate them. Regardless, they're still talking about them. Dez Bryant attributes that to the efforts of Jerry Jones.
Jones bought the team in 1989 and has been the owner, president, and general manager ever since. The value of the franchise has grown since he's been there.
Jones made a lasting impact on the NFL as well. He helped the league secure a lucrative television deal with FOX, which allowed them to take over broadcast NFC games, per ESPN.
"There is no NFL without Jerry Jones," said Bryant. "You brought fan engagement into the NFL. You did that."
The longtime Cowboys owner has poured millions of dollars into cultivating the fan experience, from marketing to a state-of-the-art stadium.
Jerry Jones is a businessman before anything else, and he makes that known. Dez Bryant understands and still respects him to this day because of it.
All stats courtesy of Pro Football Reference
RELATED: Dak Prescott and the Cowboys Just Saw Their Super Bowl Dreams Vanish Over a Risky Bribe Attempt