Did Chargers RB Austin Ekeler Just Give Away His Playing Status for Week 16?
As the NFL regular season reaches its conclusion, many teams are fighting for a playoff spot. Among them are the Los Angeles Chargers, who are currently right in the thick of the AFC playoff picture with an 8-6 record.
Next up for LA is a game against the lowly Houston Texans, another NFL squad ravaged by COVID-19 issues heading into the final weekend of December. However, the Chargers themselves have problems on their end with players entering protocols and landing on the COVID-19 list.
The Chargers have quite a few players on the list, including running back Austin Ekeler, whose playing status is still up in the air. But he might have dropped a massive, not-so-subtle hint in a unique way.
Austin Ekeler lands on the COVID-19 list ahead of Chargers matchup with the Texans
That is a long list of Chargers players who landed in the protocols, although there is a possibility some of them end up coming off before Sunday's game.
The most prominent names are Ekeler, Corey Linsley, and Joey Bosa. However, Bosa was confirmed to be out for Sunday and could end up missing the game in Week 17 against the Denver Broncos, depending on how the situation plays out.
While the Chargers have a more than favorable matchup against the Texans, being without Ekeler and Bosa would be a massive loss on both sides of the ball.
So, in a week, Ekeler gets snubbed from the Pro Bowl and lands on the COVID-19 list. Not a very good week for the talented running back.
But the question remains: Will he be able to suit up on Sunday?
The Chargers RB dropped a massive hint when giving Bills TE Dawson Knox some fantasy football advice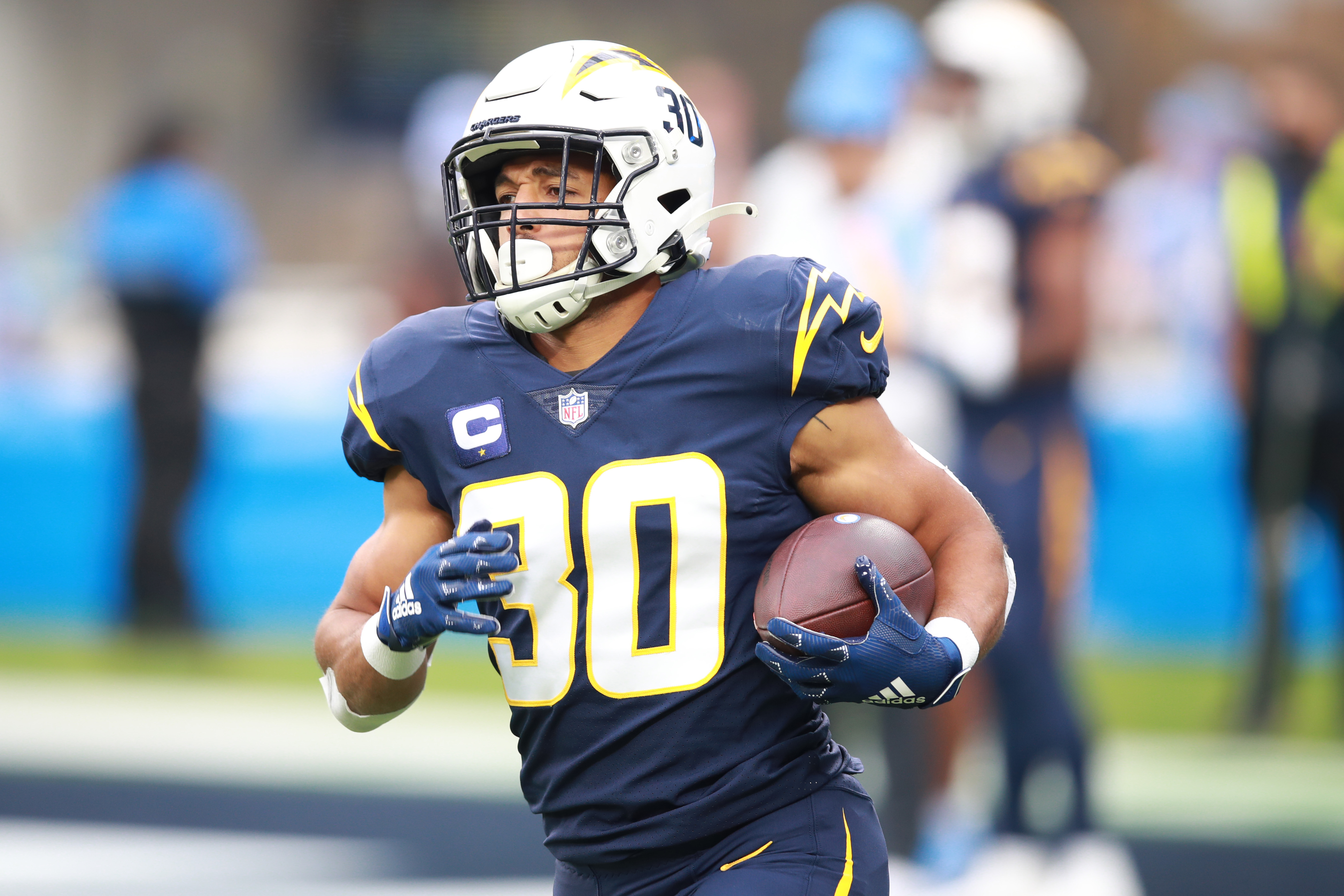 We all know that Ekeler is a fantasy football advocate. He gives away a signed jersey to one person a week who won their matchup with him on their team.
On top of that, Ekeler does a weekly fantasy football show with Liz Loza of Yahoo Fantasy entitled Ekeler's Edge. On this week's episode, they were joined by Buffalo Bills tight end Dawson Knox, who was anxious to know about Ekeler's availability for Sunday.
Well, the Chargers running back gave him a big piece of advice that hints at him missing the contest altogether.
There it is. "Pick up Justin Jackson" is a ringing alarm signaling that Ekeler probably won't go on Sunday. Now, anything can happen, but the Chargers star seemed pretty open and honest with Knox, just as he has
b\\een all season long on the show.
If that wasn't telling enough, Ekeler elaborated more on being in the protocols (h/t Chris Cwik of Yahoo Sports):
"We have new protocols in place. I had to get tested every day and have two negative tests and no symptoms. And so right now, I can tell you it's not looking good [for Sunday's game], just because the history of COVID and how long it usually takes to dissipate or at least for your body to beat it."

Austin Ekeler on status for Sunday
If you needed further proof, it isn't looking good for Ekeler ahead of Sunday's game against Houston.
If you're a fantasy football player, run to the waiver wire and add Justin Jackson — or Joshua Kelley, if you have to.
The Chargers-Texans game is hit hard by COVID-19 issues in both locker rooms
The Chargers' COVID-19 issues don't even come close to the Texans'. As of Thursday afternoon, Houston had 21 players on the list, including star wide receiver Brandin Cooks.
After Week 15, in which three games were postponed, the Chargers-Texans game looked like it might end up being shifted due to the high number of missing players.
Think again.
Why the NFL moved Cleveland Browns-Las Vegas Raiders, Seattle Seahawks-Los Angeles Rams, and Washington Football Team-Philadelphia Eagles but won't move Chargers-Texans is confusing.
Another game hit hard is the New York Jets-Jacksonville Jaguars contest, which the NFL still doesn't plan on moving. All in all, it's another week of the NFL being ravaged by COVID-19 across several teams, with the New Orleans Saints trotting out rookie Ian Book after Taysom Hill and Trevor Siemian landed on the list.
Nonetheless, as far as the Chargers are concerned, get ready to see an Ekeler-less backfield for LA.