Did Joe Buck Lie to Get His NFL Broadcasting Job?
Love him or hate him, there's no denying that one of the most prominent figures in sports broadcasting is Joe Buck. Buck has been the voice of professional baseball and football for over 20 years. The son of broadcasting royalty, he's called more big games than almost anyone else doing it today with the exception of very few. 
Buck relayed a story about his interview and audition with Fox Sports before he was hired there. Allegedly, he may have lied to get the job.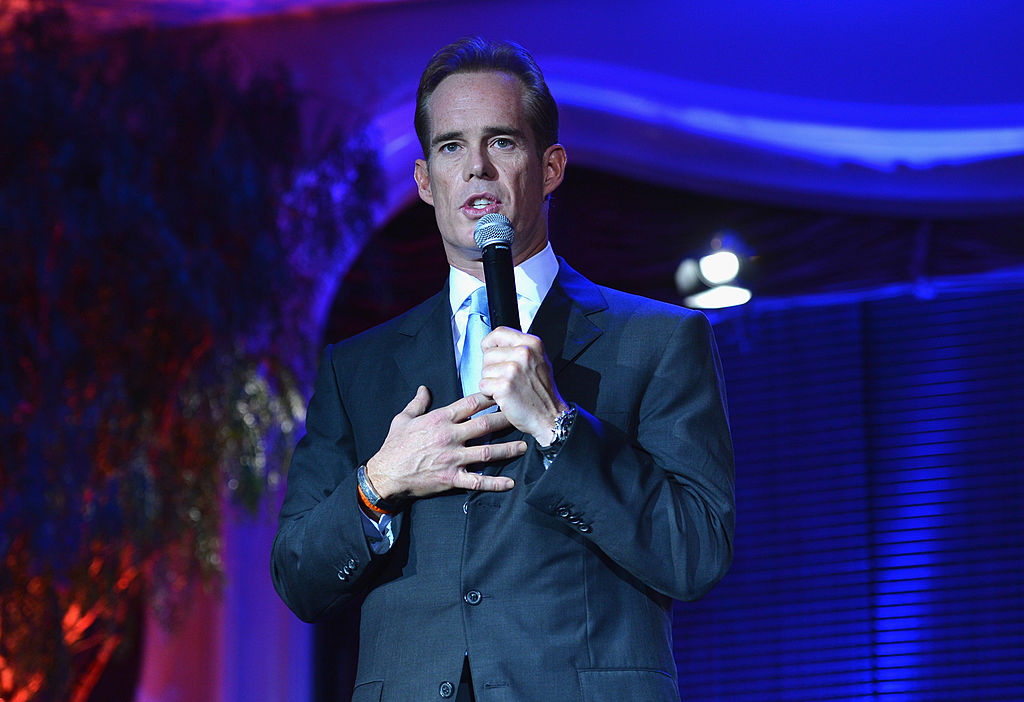 Joe Buck's broadcasting legacy
Buck's father was the legendary broadcaster Jack Buck, the former play-by-play commentator for the St. Louis Cardinals and for CBS. On Joe's 18th birthday, his father allowed him to step into the booth and call an inning of the Cardinals game. His father Jack also covered NBA, NHL, and NFL games, but it was baseball that was his true passion. "Baseball was my great love," Jack said in his autobiography. 
Jack retired in 2000 as the St. Louis Cardinals announcer after nearly a half-century behind the microphone. In 1998, the Cardinals put up a statue of Buck outside Busch Stadium — quite an honor for someone who never played in an actual professional baseball game. He passed away in 2002.
A long broadcasting career
Today, Joe Buck is known for his work on Fox Sports. Buck is the number one play-by-play commentator for both MLB and NFL games on Fox. His career began Cardinals' minor league games before moving up to work for the big club. 
Buck was the youngest person to call a World Series game at 27 years old when he called his first Fall Classic. It didn't take long for Buck to become recognized for his solid work. He won a 1999 Sports Emmy for "Outstanding Sports Personality."
Buck has drawn criticism for his style, with some fans saying he doesn't treat big moments with enough gravity or excitement. In fact, he may be one of the least-liked announcers out there. The Ringer profiled Buck a few years ago, explaining his approach to the booth: 
"To understand Buck, you have to understand he's working in the school of Pat Summerall. Over beers and lunch at his country club, Buck described his style as "minimalist." He wants to narrate a play with the fewest possible words and then go silent. Should he blab too much, he hears something like a bell ringing in his head — it's that old internal censor. "You're going on too long," it tells him."
Did Joe Buck lie to get his NFL broadcasting job?
Joe Buck was very young when first hired by Fox Sports to cover baseball and football for them. During his interview, he was asked about his ability to cover football. Since Buck had basically only covered baseball, he had to stretch the truth a bit to make a good impression. 
"I don't know if I lied. I think when I had conversations with them, and those guys who were my bosses then remain my bosses now. And we kind of laugh about that time because I'd never done football in my life. They were like, "You've done football?" I'm like, "Oh yeah, no I did it. I've done some in college, absolutely, I've got that down."
Buck's only video for his audition had baseball and horse jumping. He got the job with Fox Sports by nailing the audition. Now, Buck is known as one of the world's best and most famous announcers.
He anchors coverage for Fox's national game each week as well as Fox's MLB Game of the Week and World Series coverage. Whether Buck was lying or not, it's clear he's earned his spot with years of quality broadcasting on the biggest stages possible.