Did Joe Buck Play Any Professional Sports?
Joe Buck is one of the most polarizing figures in sports broadcasting. Many fans associate him with the best games in both MLB and NFL. Others see him as a partisan hack who doesn't get excited enough when the moment calls for it. With Buck's ability often discussed, it raises the question: did Joe Buck ever play any professional sports and how has that impacted his career as a broadcaster?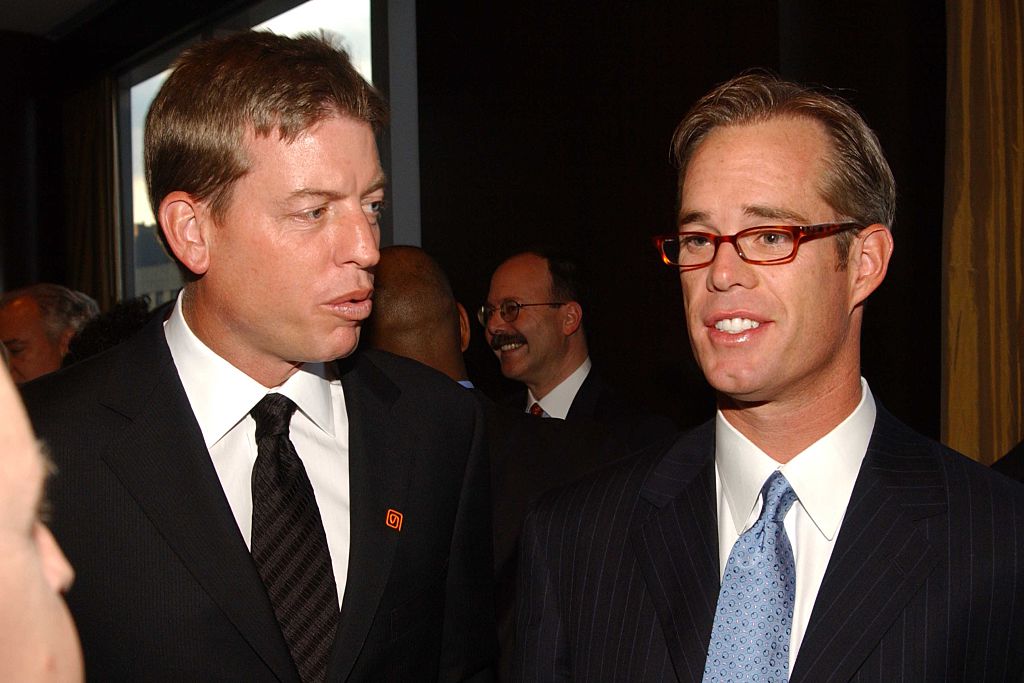 Joe Buck's career overview
Fox Sports hired Buck in 1994 as an NFL announcer. He also announced baseball games starting in 1996 as the network's lead play-by-play analyst.
In 2002 he assumed the duties of lead NFL play-by-play announcer, teaming with Cris Collinsworth and Troy Aikman. In 2004 Collinsworth departed for NBC Sports, and Buck has partnered with Aikman since 2005.
For MLB coverage, he was paired with Tim McCarver until McCarver's retirement. He now works with John Smoltz. Beginning in 2015, Buck has announced the U.S. Open in golf, as Fox has USGA golfing event rights.
Whether you like Buck or not, his track record is impressive. He's announced five Super Bowls, 21 World Series, and 23 baseball League Championship Series. He's also a seven-time Emmy winner.
Despite this impressive resume, many sports fans would beg to differ as to the quality of Buck's announcement. Their main criticism? He didn't earn his spot in broadcasting.
Accusations of nepotism
One major criticism of Buck is that he had a career due in large part to his father, legendary St. Louis Cardinals broadcaster Jack Buck. Joe got his start calling minor league games with the Louisville Redbirds, the affiliate of the Cardinals.
This position was clearly arranged by his father. The Huffington Post quoted Buck's comments on living in his father's shadow and the impact his Dad had on his career:
"I'm my dad's kid, and I'm still, right or wrong, fighting that uphill battle, and I'm not saying that makes sense. I mean my dad didn't hire me at FOX… but it certainly gave me my start, and I think I'm always kind of fighting that."
Did Joe Buck play any professional sports?
Joe Buck has never played sports professionally, which may affect his credibility in the eyes of some. Professional sports commentators are valued based on their credibility. It's the perspective of some fans that these commentators require the experience of having played to provide truly objective, incisive analysis.
The counterpoint to that argument is that analysis isn't really Buck's job. It's on him to provide an opinion at times for sure, but for the most part, it's his role as the play-by-play commentator to simply call the action as it's happening. He should also pose questions to his color commentators to facilitate their analysis of what's going on.
The bottom line is that Buck will always draw criticism. He's Fox Sports' number one broadcaster for both MLB and NFL, meaning he's going to call nationally televised games in both sports each week as well as the World Series and Super Bowl (when Fox has the rights). Someone exposed to that many sports fans is sure to attract plenty of critics. It comes with the territory.
Buck explained it himself one time, stating that fans are simply not used to hearing objective commentary most of the time:
"It's easily explainable in the baseball world," Buck said, per SFGate. "Fans are used to hearing their hometown guys. When you come at it objectively, people aren't used to it. It gets frustrating."
Buck isn't necessarily the greatest sports broadcaster ever, but the degree to which many fans pick apart his work probably goes too far.