Did Kyrie Irving Fake His Shoulder Injury to Avoid a Return to Boston?
The Boston Celtics and Kyrie Irving had a tumultuous relationship during Irving's two seasons with the team. Among the many issues that Celtics fans had with Irving, perhaps the biggest one was that he told fans during a pre-season open practice that he planned to re-sign in Boston, only to eventually go back on his word and leave during free agency to join the Brooklyn Nets. On November 27, 2019, Irving's Nets were scheduled to face the Boston Celtics in Boston.
Needless to say, this would have been an extremely hostile environment for Irving. But he wasn't in attendance for the game as he stayed at home in Brooklyn nursing a shoulder injury. Many aren't convinced that his shoulder was the real reason Kyrie Irving wasn't in attendance.
Kendrick Perkins claims Kyrie Irving faked his shoulder injury
Former Boston Celtics big man Kendrick Perkins is among those that believe Kyrie Irving faked this injury to avoid the wrath of Boston fans.
"Kyrie looked at the schedule before the season started and planned this whole injury thing because he didn't want to go back to Boston this upcoming week," Perkins tweeted last week. "He didn't want that smoke in the Bean Town."
Per ESPN's Adrian Wojnarowski, Irving had his right shoulder evaluated on November 22, and it was determined that he would miss Brooklyn's current three-game road trip. In addition to a return to Boston, Irving was also scheduled to play on the road in a game against his original team, the Cleveland Cavaliers.
Boston fans still mocked Irving relentlessly
Even without him being in attendance, Kyrie Irving was heavily taunted before and during the Brooklyn Nets' game against the Celtics. Fliers calling Irving a coward (among other things) were plentiful around the stadium, including one that featured Irving depicted as the Cowardly Lion from the 'Wizard of Oz'.
"Kyrie sucks" chants rained down from the crowd in Boston all night long. The crowd also chanted "Where is Kyrie?", among other taunts throughout the game. Some fans in attendance had turned their old No. 11 Irving jerseys into No. 11 Enes Kanter jerseys with a bit of paint or tape.
Celtics fans seemed to have a great time on Wednesday night between all of the Kyrie Irving bashing and their team coming away with a 121-110 victory.
The Celtics seem to be better off without him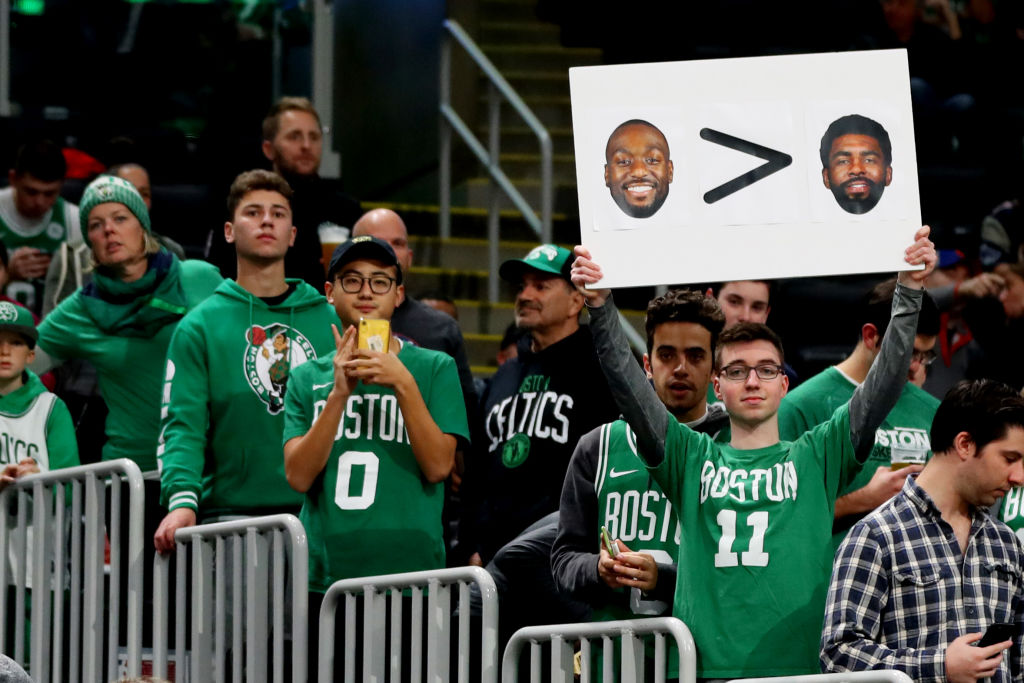 Had Kyrie Irving re-signed in Boston, the Celtics wouldn't have gone after his eventual replacement, Kemba Walker. Walker has been an instant fan-favorite in Boston and has enjoyed a productive season as the team's starting point guard. He went 6-for-10 from three-point range and scored 39 points in Boston's win against Brooklyn.
With that win, the Celtics improved to 13-4 on the season, which is tied for the second-best record in the Eastern Conference. At this point last season, Boston was just barely over .500 with a 9-8 record.
It's impossible to know for sure just how hurt Kyrie Irving's shoulder really is. The Brooklyn Nets host the Celtics on Friday, November 29; it would certainly be suspicious if Irving is suddenly well enough to play in that game. Boston fans will get another potential crack at Irving when the Celtics next host the Brooklyn Nets on March 3, 2020.