Did Michael Jordan Throw Shade at Phil Jackson With This Comment?
As the man who coached both Michael Jordan and Kobe Bryant through their best seasons, Phil Jackson is viewed by many as the greatest coach in NBA history. One might expect that he had the utmost respect from his star players.
This respect doesn't necessarily make Jackson the coach at the front of Jordan's mind, as he was also led by the legendary Dean Smith. At Jordan's Flight School, he spoke to a group of players about the two coaches, and he may have thrown a little shade toward Jackson in the process.
Phil Jackson's NBA journey
Jackson had a good playing career in the NBA, specifically with the New York Knicks, where he was part of the team's last championship. However, he's best known for his coaching acumen. While still playing in the NBA, he served as an assistant for the New Jersey Nets.
Jackson had a five-year stint in the Continental Basketball Association coaching the Albany Patroons. He returned to the NBA as an assistant coach under Doug Collins. In 1989, he became the head coach of the Chicago Bulls and the league would never be the same.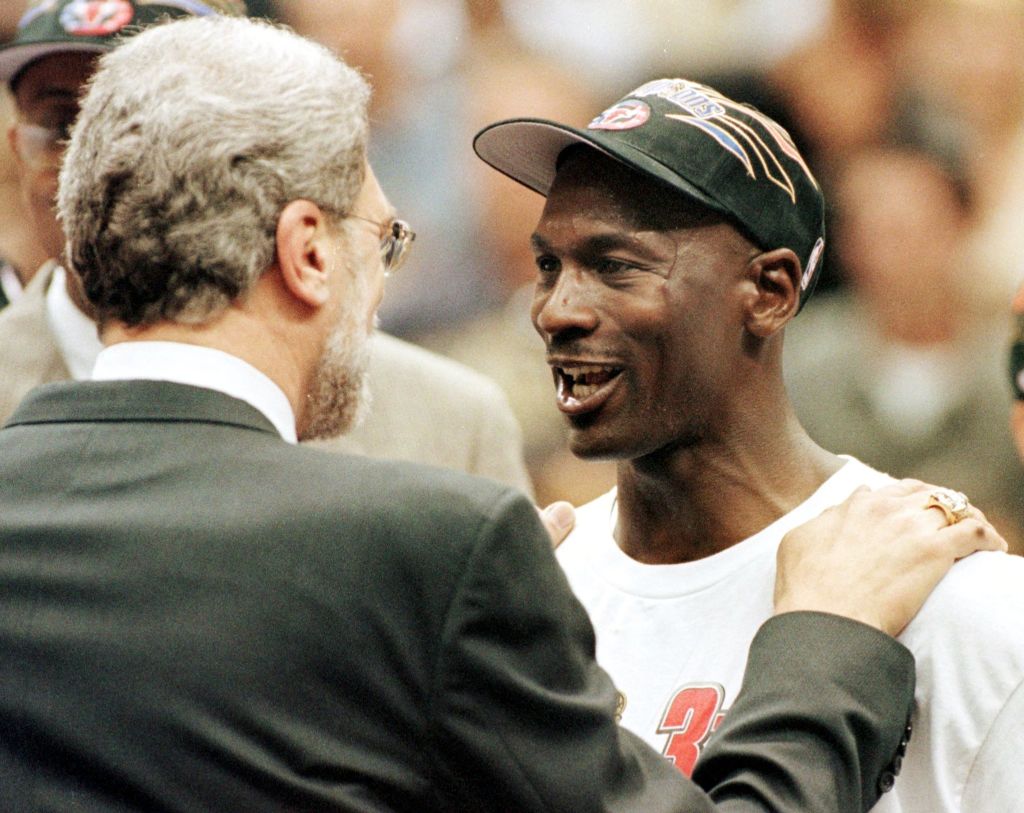 In just his second year, Jackson got the Chicago Bulls to a championship, and by his fourth season, the Bulls had three of them. After missing the next two seasons in large part due to Jordan's retirement, the Bulls won three more rings, making them the historic team fans still recognize today.
The Bulls fell apart, and Jackson landed on the Lakers' bench with Bryant and Shaquille O'Neal in 2000. He racked up three more championships before retiring two years later. After one year off, Jackson returned to the Lakers. With Bryant as the leader and Gasol by his side, the coach got two more rings for an NBA record of 11 total.
Dean Smith, Michael Jordan's other coach
A legend in his own right, Dean Smith was the head coach of the legendary North Carolina Tar Heels for an astounding 35 years. He took over for the college team in 1961, and while he saw some decent success at first, it wasn't until 1967 that Smith led the team to the NCAA tournament.
From there, he got the Tar Heels to 26 more tournaments, 11 Final Fours, and two championships. It's hard to compare a college coach to an NBA coach, as there are two different contexts in play. Smith, however, can be measured by the talent he turned into NBA players.
Not all of them are superstars, but Smith coached mighty fine players like Jerry Stackhouse and Brad Daugherty. Sam Perkins, who played alongside Jordan, had a 17-year career in the NBA. James Worthy proved to be a Hall-of-Famer himself, and Antawn Jamison became an NBA All-Star.
Aside from Jordan and Worthy, the next most iconic player to play for Smith may be Vince Carter, who spent three years at UNC and won back-to-back ACC titles. More impressively, 24 years after playing his first college basketball game, Carter is still going strong as a veteran role player for the Atlanta Hawks.
Jordan's coaches
Jordan had different relationships with these coaches. Although MJ and Jackson got along fine — especially compared to the up-and-down relationship Jackson shared with Bryant — Jordan always speaks more glowingly of Smith. He credits Jackson for leading the Bulls to those championships but doesn't believe it could've happened if he hadn't learned from Smith.
Jordan was asked who he would pick to coach a game to the children at Flight School, and he wasted no time answering. "Dean Smith," Jordan said, according to the Los Angeles Times. "Fortunately Dean Smith helped me become the basketball player I am today. Phil was lucky because I was taught the game by Dean Smith."
Whether this was a dig on Jackson or praise for Smith, only Jordan knows. Jordan and Jackson can both be hotheaded, so the idea that they may not have the warmest relationship isn't impossible.
The likely answer as to why Jordan chose Smith is because he built the DNA of the player Jordan was. Although he was not yet a champion when Jackson took over, he was already the best player in the NBA. He saw more growth behind Smith.