Did Team USA Scare Australia Into Tanking During the World Cup?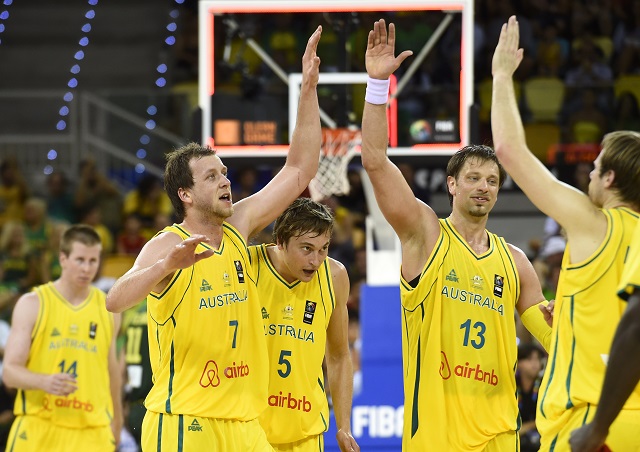 Even with the injuries and the missing faces, the 2014 FIBA Championship has always been Team USA's to lose. This is not news. We know it, you know it, and the international basketball community knows it. That's why the outcry was so quick when Australia, one of the stronger teams in this year's World Cup, lost a match in the group stages to Angola — saving themselves from a second round matchup against the U.S., who played Solvenia instead. This is, of course, not something that's done in polite circles, and certainly tanking for a more favorable matchup is shady. That's why FIBA's getting involved by officially investigating the game and seeing if punishment is worth pursuing.
"It is widely suspected that Australia lost that game in order to avoid having to face the reigning world champions USA until the Semi-Finals," FIBA announced, making sure to point out that Basketball Australia would have an opportunity to defend themselves against this allegation. On the other hand, they did decline to mention that Australia's plan didn't play off, as the team was eliminated in the Round 16 over the weekend.
While tanking is hardly unique to the NBA, or to basketball, most examples don't wind up being blasted by players on Twitter. "Basketball is a beautiful sport, there is no room for fixing the game like today Australia vs Angola!!" point guard Goran Dragi? wrote, although it's worth noting that Dragi? was representing Slovenia at the tournament, the very team who wound up playing the U.S. earlier than expected due to Australia's suspicious second half collapse.
Comparing Team USA to a dad playing against a five-year-old on a Nerf hoop, Sports Illustrated's Matt Dollinger suggested that the U.S.'s roster was "an unnecessary show of force," even with the absence of several of the NBA's best American players. While Dollinger's observation is correct — insofar as there is something inherently weird about watching a game that, in all likelihood, is going to be a blowout (and you can watch the video above to get a recap on Team USA's perfect group stage showing) — it opens the door for an invalidation-slash-copout that isn't explicitly addressed.
If Team USA didn't send the best available players to the FIBA World Cup and other international events, it would open any result that wasn't a first place finish up to an endless stream of excuses. Taking anything other than the best available players means that the U.S. would never have to face down a situation like Athens in 2004, which means that complacency becomes the name of the game, as well as turning any victory over the U.S. into a hollow one. That solution doesn't seem to help anyone.