Did the Pittsburgh Steelers Sign a Quitter in Tight End Eric Ebron?
The Pittsburgh Steelers signed former Indianapolis Colts tight end Eric Ebron to a two-year contract last week. The Steelers needed some help at the tight end position, and Ebron can certainly provide that. Did the Steelers add a quitter to their roster by signing him, though?
The Pittsburgh Steelers had a lack of production at tight end in 2019
It might have had a lot to do with quarterback Ben Roethlisberger only playing in two games last season due to injury, but the Pittsburgh Steelers did not have much production at tight end during the 2019 season. Vance McDonald played in 14 games for the Steelers, but he only caught 38 passes for 273 yards. Additionally, Nick Vannett caught 13 passes for 128 yards. 
The Steelers really didn't have any receivers put big numbers either, though. James Washington led the team in receiving last season, catching 44 passes for 735 yards.
However, the Steelers hope to have a healthy Roethlisberger in 2020, and a healthy JuJu Smith-Schuster. So, why not get Roethlisberger, an aging quarterback, another weapon? That is ultimately why they signed Eric Ebron. 
Eric Ebron has had an up and down NFL career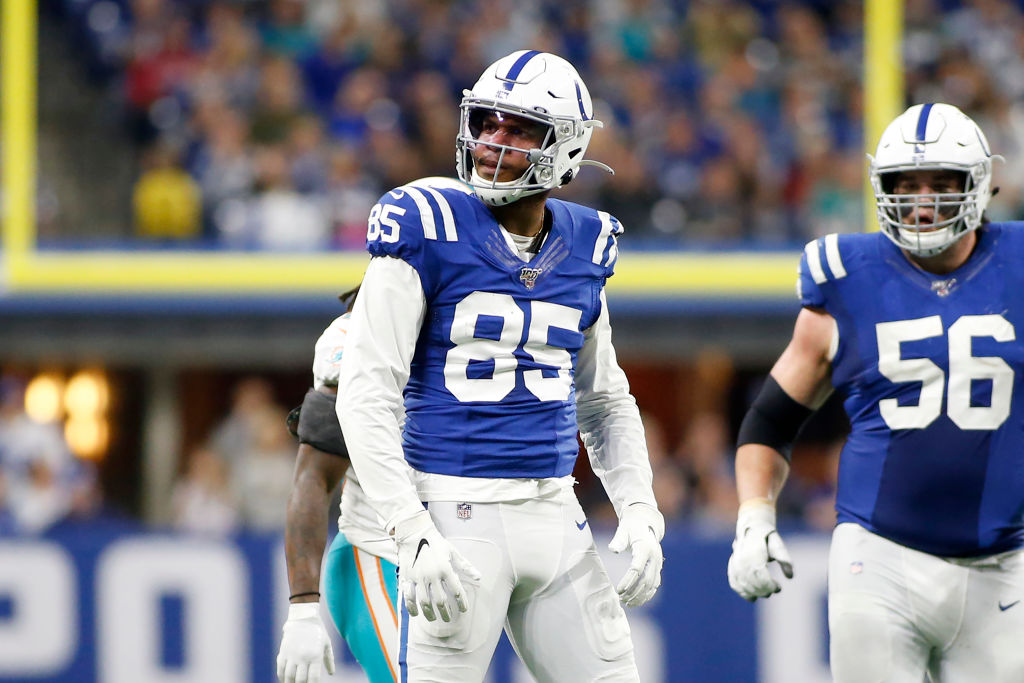 There were high expectations for Ebron when he came into the NFL. The Detroit Lions ended up selecting him with the 10th overall pick in the 2014 NFL draft. Ebron was a disappointment for the Lions, though.
Ebron caught 25 passes for 248 yards and only one touchdown his rookie season in 2014. He then improved his second and third seasons with the Lions, though. Ebron caught 47 passes for 537 yards and five touchdowns during 2015, and 61 passes for 711 yards and one touchdown during 2016. However, he did not play as well in 2017. Ebron's production took a hit as he caught 53 passes for 574 yards and four touchdowns. After catching 71.8% of his targets in 2016, he only caught 61.6% in 2017.
Ebron then signed with the Indianapolis Colts in 2018 and it seemed like he found a potential long-term home. With Andrew Luck as his quarterback, Ebron caught 66 passes in 2018 for 750 yards and 13 touchdowns. He was a big reason the Colts made the playoffs that season. He even earned his first Pro Bowl selection.
However, in 2019, Ebron was inconsistent again. With Jacoby Brissett as the Colts' quarterback, Ebron only caught 31 passes for 375 yards and three touchdowns. His catch percentage dropped down to 59.6% too, the lowest since his rookie season.
The Steelers potentially signed a quitter
Ebron only played in 11 games for the Colts in 2019 as he did not play in their last five games of the season. The Athletic's Bob Kravitz went on 93.7 The Fan Morning Show in Pittsburgh recently and said that the Colts felt that Ebron quit on them in 2019.
"The good thing is that he is a red-zone threat, without any question. The bad thing is he drops a lot of balls," Kravitz said. "The other downside is, and I'm sure the Steelers did their due diligence, but the reason the Colts let him go is because they felt he quit on them this season. He had, I think it was an ankle, that the team wasn't even aware was an issue and then all of the sudden he said, 'That's it, I'm shutting it down.' I remember asking Chris Ballard the GM, 'What are you going to do with Eric Ebron?' and he looked me straight in the eye and said, 'Yeah, we're done with him. We're moving on.'"

Bob Kravitz
Kravitz went on to say that if you can get Ebron in the right frame of mind, then he is productive, but that he is mercurial.
Ebron has shown that he can be productive, but he has also shown that he can be inconsistent and can, potentially, quit on his team. Time will tell which Ebron the Pittsburgh Steelers will get in 2020.