NFL: Did Following Tom Brady's Workout Routine Make Rob Gronkowski's Injuries Worse?
Rob Gronkowski is one of the greatest tight ends in NFL history, but is it possible the recently retired player could have had an even more impressive career? Injuries — especially in the last couple years of his career — caused him to miss time and may have affected his on-field performance when he did play. But could Tom Brady be partially to blame for Gronkowski's injuries?

Gronk's injury history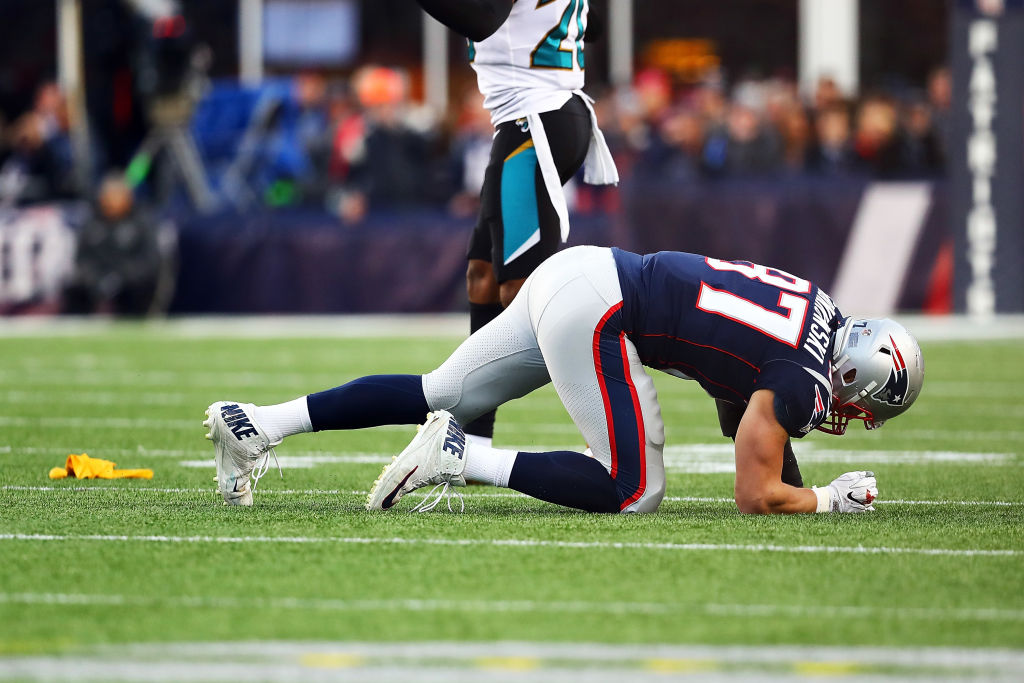 Gronkowski entered the league in 2010 and played in all 16 games, starting in 11 of them. He then started in all 16 games in 2011, but he didn't play a full season again after that.
He played in the fewest games of his career in 2013, when he played in seven games, including six starts. Over his nine-year career, Gronkowski played in 115 of a potential 144 regular season games, missing about 20% of the games the Patriots played during that time. Among the injuries Gronkowski suffered in his career were:
A torn ACL and torn MCL in 2013
A knee strain in 2015
A pulled hamstring and a herniated disc in 2016
Back and ankle injuries in 2018
The injuries in 2013, 2015, 2016, and 2018 were bad enough, but Rob Gronkowski's injury history was longer than that. He had a back injury in college, and he dealt with sprains and broken bones in 2012.
The injuries didn't affect Rob Gronkowski much
Despite all the time Gronkowski missed due to his various maladies over the years, he still ranks among the greatest tight ends — and pass-catchers — of all-time. He ended his career with 521 catches for 7,861 yards and 79 touchdowns in the regular season. In 16 postseason games, he added another 81 receptions for 1,163 yards and 12 touchdowns, helping the Patriots win three Super Bowls during his time with the franchise. He was also named to five Pro Bowls. He'd be one of the best tight ends ever based on his regular season output alone, but his postseason numbers take him to another level.

Gronkowki's relationship with Brady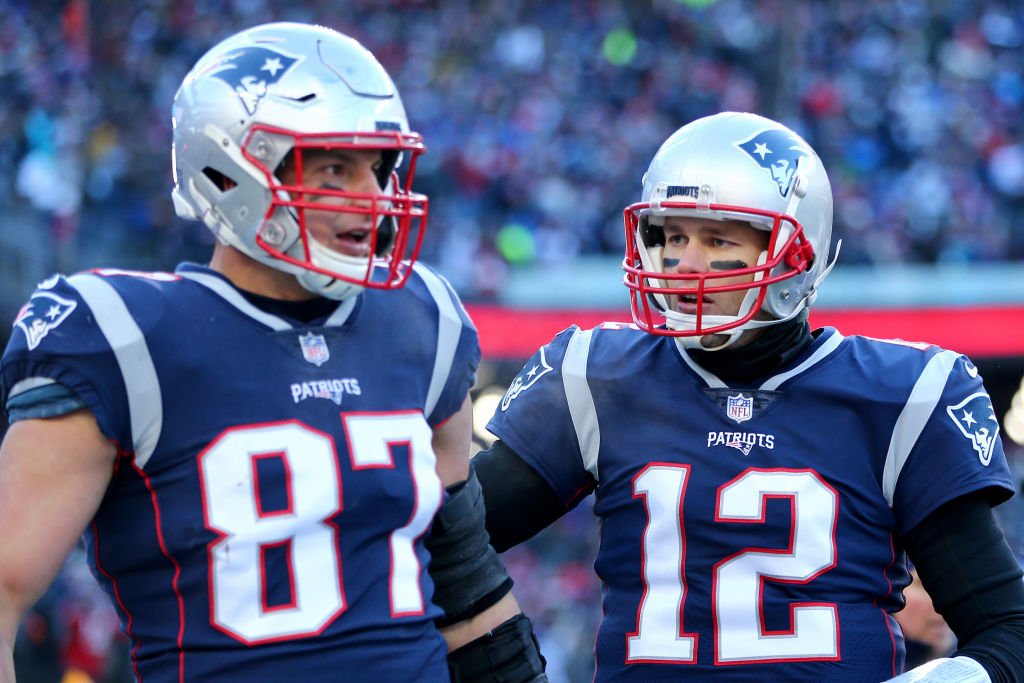 Rob Gronkowski and Tom Brady had a good professional relationship. Before the 2018 season, there were rumors that the Patriots may have been interested in trading Gronkowski to the Lions, but he nixed the deal — at least in part because he wanted to continue playing with Brady.

In an interview regarding that potential trade and why he didn't want to leave New England, Gronkowski said simply, "Brady's my quarterback. That's all. Wasn't going anywhere without Brady."

Tom Brady showed that Gronkowski's admiration wasn't a one-way street when the quarterback said on Boston radio station WEEI that "I feel as strongly about [Gronk] as he does with me."

Did Brady's TB12 method negatively affect Gronk?
NFL Network's Michael Girardi reported earlier this year that the Patriots felt Gronkowski following the TB12 training method caused or contributed to his injury troubles. The team felt that because Gronkowski went with his own training regimen, rather than going with the team's workout program, he brought some of the injuries on himself, particularly his Achilles, back and ankle injuries from last season.

Girardi reported that, "during the offseason when he reported, he came in not as strong, not as fast and not as explosive …The Patriots feel as though if maybe he had done it their way, as opposed to the TB12 way, of which Gronk is devoted to, maybe things would have been different."

Is Rob Gronkowski really retired?
There has been chatter recently that Gronkowski may end up coming back to play football again and isn't completely retired. He quickly tried to put that speculation to rest, though, by saying that he's "feeling good" and "in a good place" regarding his decision to retire.

Gronkowski just turned 30 in May, so he likely has some more good years left in him if he does decide to return to the gridiron. But he also has other options if he wants to stay in the entertainment industry, with rumors that he may take up acting or go to the WWE if he really is done in the NFL.