Dirk Nowitzki Became an NBA Legend but Prepared for His NBA Exit Before His Career Even Began
Dirk Nowitzki did the unthinkable and beat the Miami Heat's Big Three to win the 2011 NBA Championship. He will be a first-ballot Hall of Famer as soon as he becomes eligible. But things didn't start as swimmingly as they ended.
Thankfully for him, NBA fans, and his pocketbook, Nowitzki went on to have a 20-year NBA career. Still, before the German arrived stateside, and even after his rookie season, the future MVP was prepared to head back to Europe if his NBA career didn't pan out.
Dirk Nowitzki was all set to return to Europe before he even started his NBA career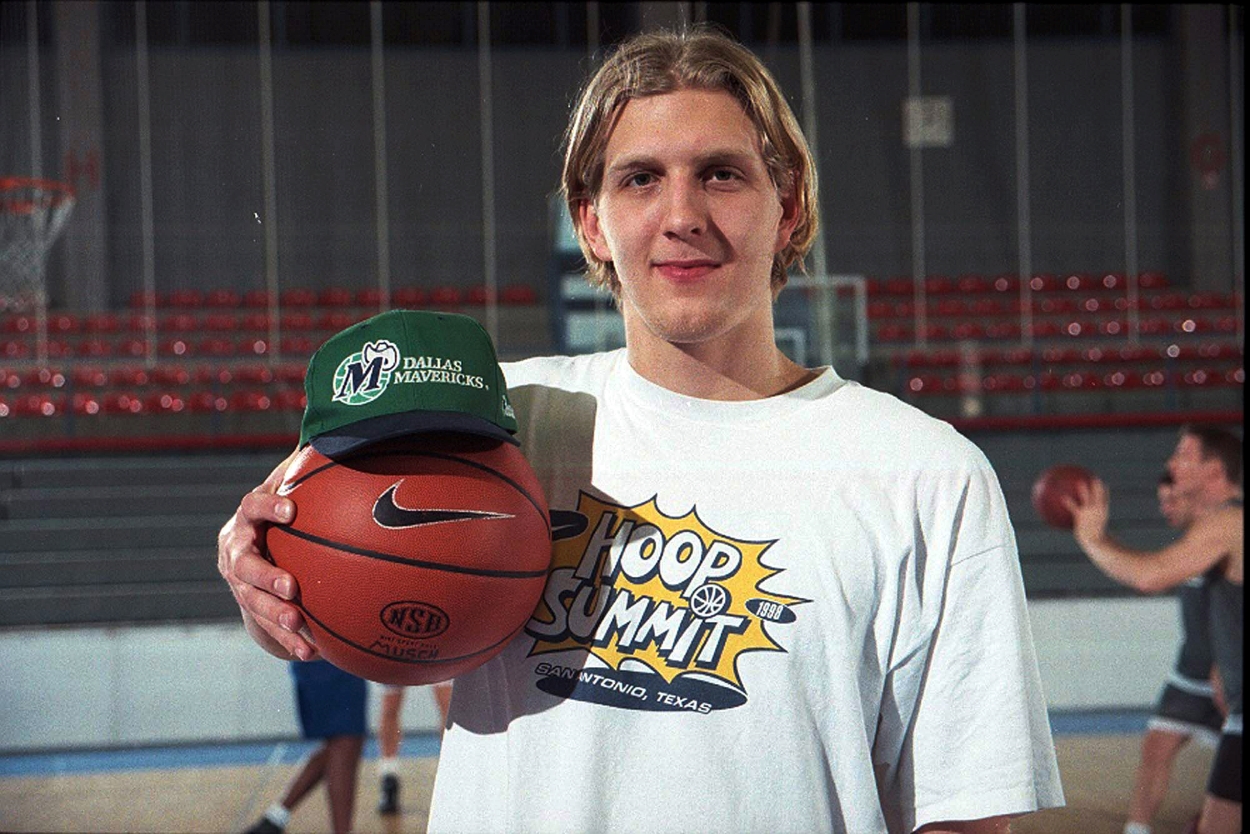 The first decision the 7-footer had to make after he was drafted was whether to come to the NBA right away or stay in Europe and play for a few seasons first. According to a story published on DMagazine.com, Mavericks head coach Don Nelson called Nowitzki after the draft and told him immediately, "We are coming to Germany."
That set everything in motion as the future 12-time All-NBA star appreciated someone from the organization flying all the way to his home country just hours after he was selected. So Nowitzki decided to return the favor and headed to Dallas.
In his rookie campaign, the 20-year-old didn't see major minutes until late in the season. He struggled with relatively simple things off the court as well, like paying bills or finding somewhere to eat. He had to keep improving his English to better communicate with teammates. It was a lot to take in for a young player in a new country.
According to former beat writer Marc Stein, it was a tough first season for the future NBA champion:
It was just a bad year all around. He didn't really talk about it at the time, but he definitely said years later that he gave real thought to going back to Europe after the first year.

Marc Stein on Dirk Nowitzki's rookie season in Dallas, according to DMagazine
Nowitzki decided he would at least try to stick things out through the end of his rookie contract
Early in his career, Nowitzki kept it in the back of his mind that he could head back to Europe to finish out his career if he needed to:
"So once I was here, I thought, now you've made the decision. You have to at least fight through the first contract and see how it goes. I figured, if it doesn't work out, I can always — after three years — go back and play in Europe."

Nowitzki on possibly returning to Europe if he failed in the NBA
The future Finals MVP only played in 47 games his first season in the NBA and started just 24. He had a stat line of 8.2 points and 3.4 rebounds per game. He averaged more turnovers than assists.
But the physical traits were apparent to everyone immediately. Nowitzki was a 7-footer doing things no other 7-footer had done yet. He was dribbling around defenders, pulling up for jump shots, working in the post, and draining threes in defenders' faces. It all set the stage for what would eventually become an NBA staple — the stretch four.
In his second season, Nowitzki played in all 82 games, starting all but one. He played almost twice as many minutes as he did his rookie year. His scoring more than doubled, and he shot 37.9% from deep on more than twice as many attempts.
The signs of what he would eventually become started to pop. His points per game increased again in his third season, as did his 3-point attempts and percentage. Nowitzki had not only made it through his rookie contract but had become a franchise player in those first three years.
Nowitzki proved to himself he could play in the league and stayed for another 17 years after that rookie deal
The 9th overall pick in the 1998 draft averaged better than 20 points per game each of the next 12 seasons. He revolutionized the big man position, shooting 38% from three for his career. He shot higher than 40% from long-range five different seasons.
After more than a decade, Nowitzki won his title against what was thought to be an unbeatable team in 2011 and added a Finals MVP to his resume.
He wasn't sure what his first few seasons in the NBA would bring, and he already had a fall-back plan if they didn't bring success. But in the end, Nowitzki proved to himself he belonged in the NBA and went on to become of the greatest players in league history.
All statistics courtesy of Basketball-Reference.
RELATED: Paul Pierce Used a Major Career Disappointment as a Catalyst to Reach the Hall of Fame: 'It Motivated Me Every Day'