Disastrous Carson Wentz Trade Should Have Colts GM on the Hot Seat
When Indianapolis Colts general manager Chris Ballard first pulled the trigger on trading for Carson Wentz last offseason, the thought process was he was acquiring a franchise quarterback for the first time since Andrew Luck. Sure, Colts head coach Frank Reich was a strong Wentz supporter and firmly pushed his front office to make the move. However, Ballard was the one with the final say.
Not only did Ballad make the move, but he gave up a first-round pick in doing so. It was a blockbuster decision that put all of Indy's eggs into the Wentz basket.
Now, Wentz is on his way to play for the Washington Commanders, and the Colts still don't have a clear solution at the quarterback position. Questions about Ballard's decision-making process over the past few seasons need to start being asked.
Chris Ballard did a poor job building a winning team around Carson Wentz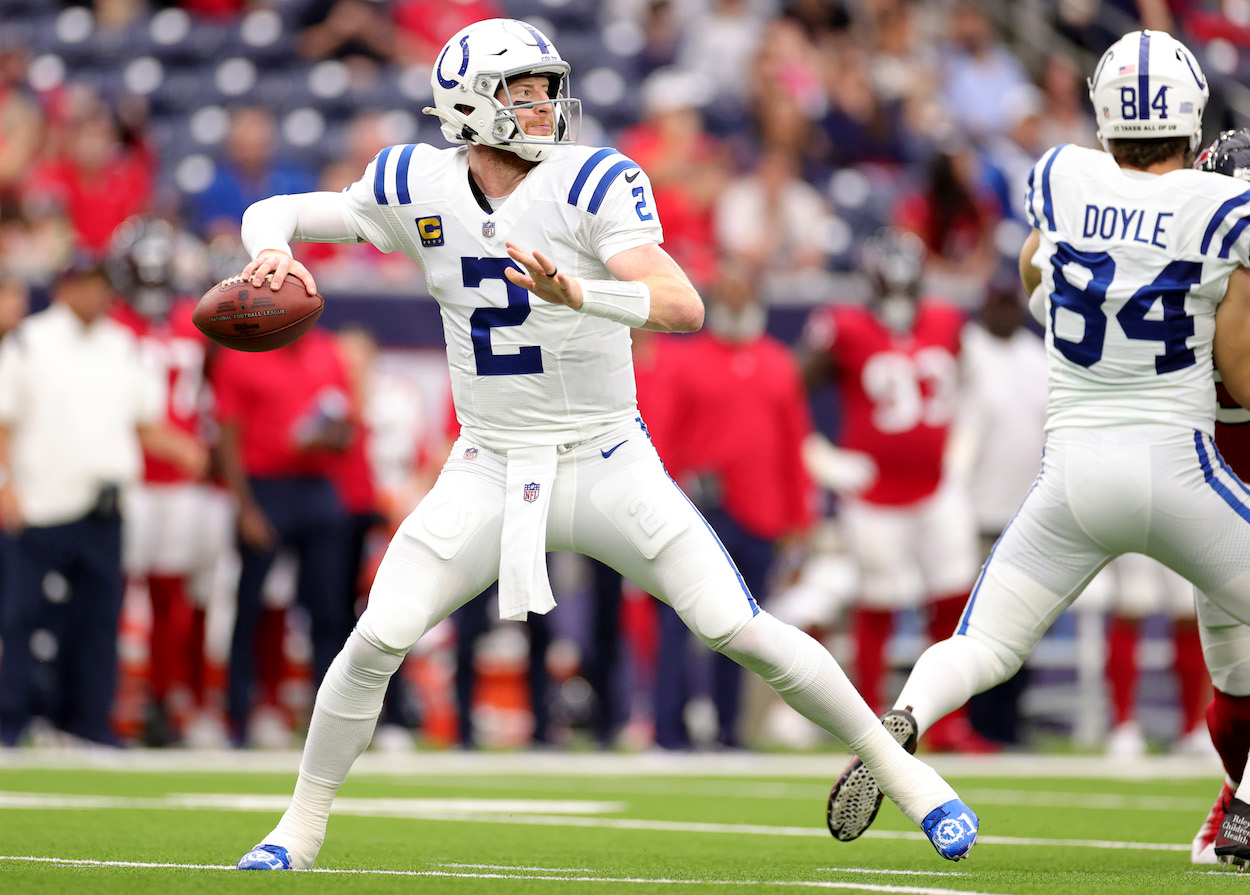 Before diving into the finer details of the Wentz-to-Washington trade, it's crucial to acknowledge that Ballard never seemed fully committed to the idea of building around his new quarterback in the first place. Ballard failed to acquire a true WR1 for Wentz last offseason and went into the regular season with an aging and injured Eric Fisher at left tackle.
By the end of the year, the offensive line was barely holding up, and Michael Pittman Jr. was the only pass-catcher Wentz could trust on offense. If it wasn't for RB Jonathan Taylor having a historic year running the football, the Colts easily could've finished the year below .500.
Despite sacrificing a first-round pick and close to $30 million in cap space to acquire Wentz, Ballard never placed all his chips into the "win now" basket. In hindsight, this was Ballard's first big mistake. If he didn't believe in Wentz as a championship-caliber QB, he should've never traded for him in the first place.
The Colts ultimately lost draft picks for nothing
Looking at the trade details of Wentz moving to Washington, it's clear the Colts got absolutely worked over the past two offseasons.
Ballard initially gave up a first-rounder and a third-rounder to acquire Wentz in 2021. He just traded Wentz away for two third-rounders and a second-round pick swap. That's a crucial first-round pick flushed down the drain.
The good news for the Colts is that they're free of Wentz's lofty salary and managed to recoup some minor draft capital in the process. However, looking at the whole sequence of trades as one giant transaction, Ballard lit draft picks on fire and has absolutely nothing to show for it.
That's some terrible general manager work from a man who's been historically considered one of the more brilliant executives in football.
With Wentz gone, what next for the Colts?
To make matters even worse for Ballard, it's hard to identify a logical path to a franchise quarterback this offseason. They already missed out on Russell Wilson and Aaron Rodgers. It's also hard to imagine the Houston Texans trading Deshaun Watson to a divisional rival.
Jimmy Garoppolo is the biggest name left on the trade block. However, he's an extremely limited passer. The San Francisco 49ers have tirelessly worked to hide his flaws over the past few seasons.
Ultimately speaking, the Colts wholly botched this situation, and Ballard is to blame. Barring a miraculous 2022 season from Indy, one can reasonably assume his seat is starting to get a little warm.
Like Sportscasting on Facebook. Follow us on Twitter @sportscasting19.
RELATED: Russell Wilson Just Helped Reveal Eagles' True Feelings on Jalen Hurts